BREZICE, Slovenia -- A day before a European summit on the migrant crisis, Slovenia's president demanded immediate action from the European Union, and tempers flared at one overcrowded center as thousands more asylum seekers poured into the Alpine nation.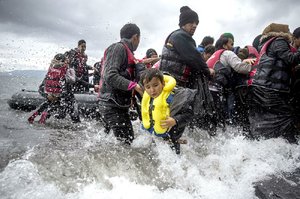 Photo by SANTI PALACIOS / AP
A small boat carrying migrants lands on the Greek island of Lesbos on Saturday.
European nations have been criticized for being slow to react as hundreds of thousands of people seeking safety pour in through Greece and Italy. But a draft plan on the matter -- submitted by European Commission President Jean-Claude Juncker to the countries represented at today's summit in Brussels -- was already drawing strong opposition.
Croatian Prime Minister Zoran Milanovic said the EU plan urges countries not to "wave" asylum seekers across their borders without first consulting with their neighbors.
"That is impossible. Whoever wrote this does not understand how things work and must have just woken up from a monthslong sleep," Milanovic said Saturday.
Slovenia's president declared that if the EU summit fails to produce an acceptable solution to the crisis, his nation will act on its own.
"Slovenia cannot become a pocket in which refugees would be stuck if the Austrian and German borders close, because the country could not handle that," the state STA news agency quoted President Borut Pahor as saying.
Pahor did not elaborate, but other Slovenian officials have suggested erecting a fence along the border with Croatia. Slovenian police estimated Saturday that 13,000 people had entered the country in the past 24 hours, and 58,000 had arrived in the past week.
The leaders of EU members Austria, Bulgaria, Croatia, Germany, Greece, Hungary, Romania and Slovenia have been invited to the Brussels summit along with two nonmember countries, Macedonia and Serbia.
On the ground across the Balkans, the biggest problems have emerged when the torrent of migrants is bottlenecked at one border or another. And the numbers of those crossing the seas from Turkey into Greece have surged as of late, driven by a fear of cold weather, cold water and more European border closures.
Milanovic said the only solution to get the migrant surge under control lies at the border between Turkey and Greece, where the travelers first enter the 28-nation EU.
"Everything else is a waste of time," he said, adding that EU rules that say migrants should stay in the country where they first enter the bloc are "not realistic."
At the Brezice camp near the border with Croatia, Slovenian police used pepper spray Saturday to break up a scuffle when a quarrel between two groups of migrants escalated into a fight. Packed behind metal barriers, and guarded by riot police and armored vehicles, crowds at Brezice chanted "I need to go!" and demanded more water.
With temperatures sinking lower and lower on the route into Western Europe, it's been tough going for those seeking new lives.
Habibi Ullah, a 19-year-old who had walked from Croatia into Slovenia, was waiting in a muddy field for transportation to the Brezice camp.
"It took me 40 days to come here. Was very hard and difficult," the Afghan said in broken English. "Hardest is the cold weather. We stay [outside] in cold weather. Not for me but families and children -- so hard for them."
At the Croatian border with Serbia, tensions have eased since authorities have become better organized. In the past 36 hours, some 7,000 people entered a camp in Berkasovo in western Serbia, Niklas Stoerup Agerup, a field officer with the U.N. refugee agency, said Saturday.
"But the border has been continuously open, with small breaks, meaning that there has been a continuous outflow of people as well as an inflow, and the buses have been driving all night," he said.
Farther along the route, Austrian authorities said at least 6,000 more asylum seekers were expected to reach a registration camp in the town of Spielfeld on the border with Slovenia.
The flow of buses to take the people on to Vienna to board trains for their final destinations has been slow, and many refugees have been waiting for days. Hundreds of taxis swarmed the area, seeking to pick up those who could afford the $440 fare to the Austrian capital.
In Libya, the Red Crescent said the bodies of 40 migrants had washed ashore, and search efforts were underway for another 30 people who authorities believe were on a boat that capsized.
Red Crescent spokesman Mohamed al-Masrati said 27 bodies were found Saturday in the western town of Zliten, east of the capital, Tripoli. The rest were found along the shores of Tripoli and the nearby town of Khoms. He said most of the migrants were from sub-Saharan African countries.
Also Saturday, Bulgaria, Romania and Serbia expressed concern ahead of today's summit that the potential closing of borders to migrants by some EU countries may cause a bottleneck, stranding millions on their territory, forcing the three states to close their borders as well.
Bulgarian Prime Minister Boyko Borissov met Romanian and Serbian counterparts Victor Ponta and Aleksandar Vucic in Sofia on Saturday to coordinate their policies.
"If Germany and Austria or other states close their borders for migrants, we won't allow our countries to become a buffer zone for millions of migrants stranded between Turkey and the new barriers that may follow," Borissov told reporters in Sofia. "We're also prepared to close our borders immediately."
"If you look at the map, Bulgaria, Serbia and Romania are the gate to Europe," Romania's Ponta said at the same briefing. "We have to act together and with all other EU states, but when someone behind these three countries raises a new gate, we'll have to reconsider our policy."
"If someone thinks that we're the place where there will be 2 [million] or 3 million refugees, that's an unrealistic position," Serbia's Vucic said at the briefing. "Our three states agreed that they cannot accept such a scenario."
Information for this article was contributed by Amer Cohadzic, David Rising, Radul Radovanovic, Ivana Bzganovic, Masha Macpherson, Jovana Gec, Balint Szlanko, Sabina Niksic, Almir Alic and Petr Josek of The Associated Press; and by Slav Okov of Bloomberg News.
A Section on 10/25/2015