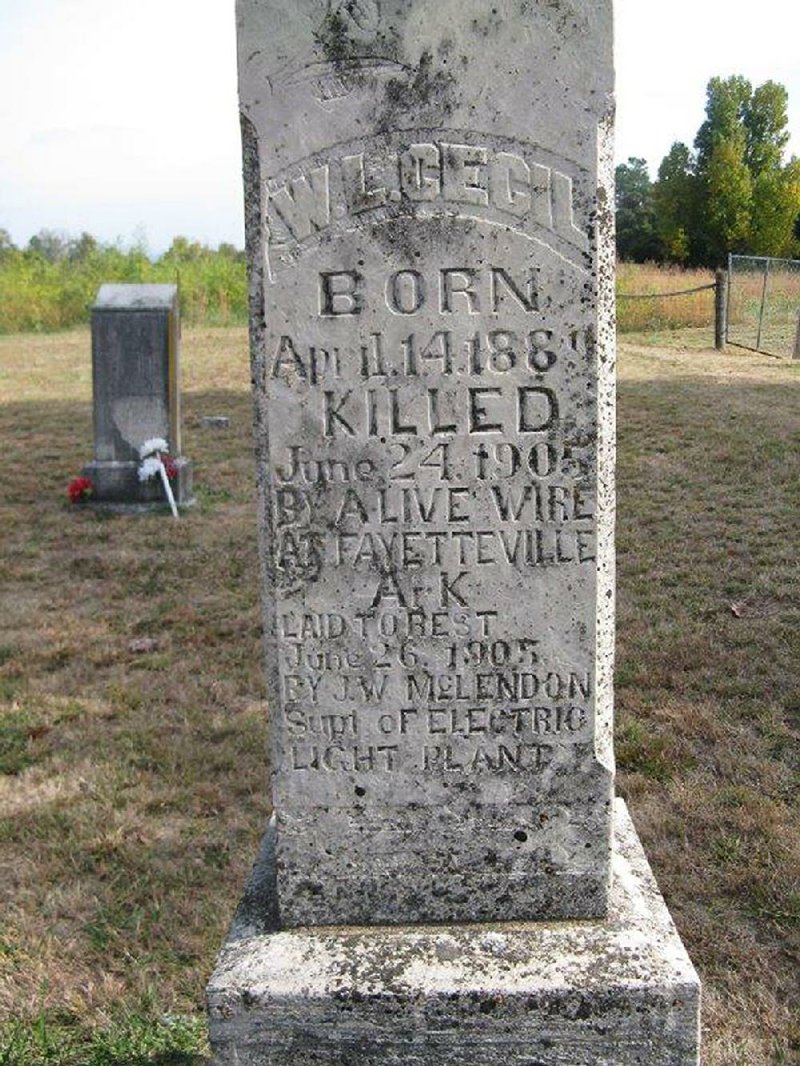 William Lafayette Cecil's tombstone in McFerrin Cemetery in Newton County proclaims that the apprentice electrician was "killed June 24, 1905, by a live wire at Fayetteville, Ark."
Mary Beller Russell never struck her children -- it says so on her tombstone.
Photo by Anthony Reyes
Abby Burnett of Kingston checks for damage on a tombstone in April at Bluff Cemetery in Springdale. "We have such a diversity of information on tombstones," said Burnett, author of a book on burial customs in the Ozarks.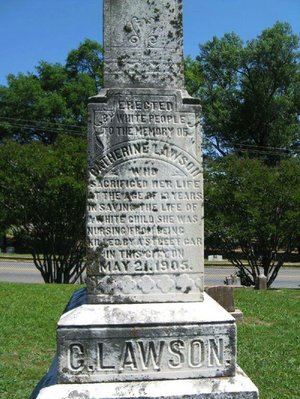 Photo by Bill Bowden
This tombstone at Oakland-Fraternal Cemetery in Little Rock notes the story of Catherine Lawson, a 13-year-old black girl who died in 1905 when she rushed to save a 20-month-old white child who had run in front of a streetcar.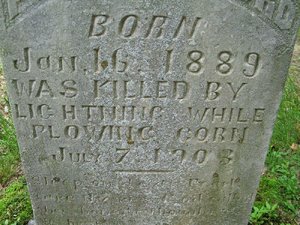 Photo by Bill Bowden
Pearl Oxford's tombstone near Alpena explains that he was killed by lightning while plowing corn in 1903.
Russell is buried in Bellefonte Cemetery in Boone County. She died on Feb. 14, 1902.
Russell's epitaph has added meaning in light of the fact that she was a schoolteacher, said Abby Burnett of Kingston, author of Gone to the Grave: Burial Customs of the Arkansas Ozarks 1850-1950. The book was published last year by the University Press of Mississippi and recently came out in paperback.
"We have such a diversity of information on tombstones," Burnett said of the Ozark Mountains. "People here were trying to commemorate the loved one in a personal way, so we do have some unusual stuff."
Burnett said she's always been interested in graveyards and tombstones.
"I started out loving all the lambs on tombstones, especially the ones so ineptly carved they looked like dogs," Burnett said. "Then I'd see the carver's signatures, and I got interested in that."
Tombstones in Arkansas cemeteries can include some unique details about the demise of the deceased.
Pearl Oxford's tombstone in Auman Cemetery near Alpena indicates he was "killed by lightning while plowing corn" on July 7, 1903.
Oxford was a farmhand, Burnett said.
William Lafayette Cecil's tombstone in McFerrin Cemetery in Newton County reads, "killed June 24, 1905, by a live wire at Fayetteville, Ark."
Cecil was an apprentice electrician who threw his arm over a power line.
Both were 16 years old.
Other epitaphs are inexplicable, Burnett said.
John Holt's tombstone in Newton County indicates he "weighed 190 lbs." Holt died May 3, 1884.
Other one-liners documented in Burnett's book include:
"Revenge is my motto" (Washington County, 1869).
"Death is a great boon to the old and suffering" (Johnson County, 1883).
"A lying in his grave" (Newton County, 1884).
The Rev. Alexander Stevenson's 1875 tombstone in Searcy includes his last words: "This can't be death. I feel too good."
Odus Davidson's tombstone in Boone County made more sense after a little research, Burnett said.
According to the epitaph, "his life taken Aug. 11, 1913, by misrepresentations born of excitement."
It turns out, Davidson was hanged for murder, Burnett said.
Instead of "died," some tombstones in the Ozarks detail that the deceased was "murdered," "assassinated" or "shot and killed."
A 1906 tombstone in a Boone County cemetery includes the inscription "Murdered by Frankey Seel."
"Frankey Seel was visiting her friend Hattie Youngblood when she noticed an old pistol, 'playfully' pointed it at her friend and pulled the trigger," Burnett wrote in her book. Youngblood died as a result.
"According to local lore, the girls were in love with the same boy," Burnett wrote. Newspaper articles about the death indicated that they were good friends.
The tombstone of Deny Hill in Franklin County names two murderers: "Bill Chinouth & Joe Forbush murdered this lovely child and hid her in the creek to get the family out to look so they mite rob & steal."
Hill, who was 3 years old, died in 1871. Forbush supposedly made a confession on the way to jail, and the two men were killed when they tried to escape, Burnett said.
Although Burnett's book is about the Ozarks, she has done research on cemeteries elsewhere in Arkansas.
One tombstone that stood out was in Little Rock's Oakland-Fraternal Cemetery in a part of the cemetery devoted to black graves.
The inscription on a large monument there reads, "Erected by white people to the memory of Catherine Lawson, who sacrificed her life at the age of 13 years in saving the life of a white child she was nursing from being killed by a streetcar in this city on May 21, 1905."
According to an article that was published in newspapers at the time, Charlie Carlin, who was 20 months old, ran onto the streetcar track. Catherine rushed over and seized him.
"Before she could turn, the car struck her," according to the article. "As she fell beneath the wheels, she threw the baby clear of the track."
A collection was taken to buy a monument for Catherine's grave.
The symbolism on tombstones might not always be what it appears, Burnett said.
"Three-dimensional tree stumps, often incorrectly called the exclusive symbol of the Woodmen of the World, mark both adult's and children's graves, denoting a life that was cut down too soon," Burnett wrote. "The column, or obelisk, broken to represent a life cut short, today is often mistaken as vandalism."
Clasping hands usually symbolizes the hand of a deceased person coming from the left, Burnett wrote. It is grasped by the hand of a living person coming from the right. A ribbon at the top of the tombstone often contains the words "A Sad Farewell" or "We will meet again."
The Ozark Mountains are also home to some rare tombstones called "necked discoids" whose origins are unclear, Burnett wrote.
They're stone tablets carved to represent the outline of a human being, including a head, narrow neck and squared-off shoulders.
"Some variations include heads in the shape of a rectangle, an arrowhead or -- for want of better descriptions -- mushroom or lampshade cross-sections," wrote Burnett.
"From a distance, this shape resembles a human form sitting up in its grave, although they do not have facial features," wrote Burnett.
Mike McNerney of Carbondale, Ill., an authority on necked discoids, believes they are a corruption of the classic Celtic cross, with the ends of the cross being dropped from the design.
Some tombstone inscriptions are nothing more than tall tales.
The tombstone of Tony Griffin Sherrod in Conway proclaims: "Died while fending off a great white shark during a triathlon." Sherrod was a triathlete, but he actually died in 2010 of colon cancer, according to his obituary.
"Carved in stone does not mean accurate," Burnett said.
Metro on 10/25/2015
Print Headline: Tombstones of past alive with details
Sponsor Content