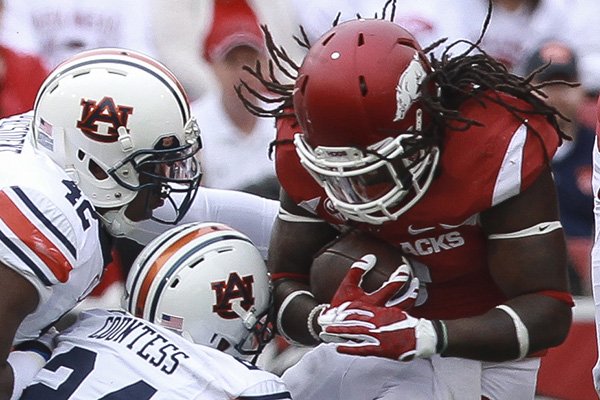 Arkansas running back Alex Collins is tackled during a game against Auburn on Saturday, Oct. 24, 2015, at Razorback Stadium in Fayetteville. ( Benjamin Krain)
FAYETTEVILLE -- Alex Collins and Kody Walker are listed as co-No. 1 at tailback for Arkansas heading into Saturday's game against Tennessee-Martin.
Collins, a two-time 1,000-yard rusher, has five 100-yard performances this season, but he also arrived late for the pre-game breakfast on Saturday and had two fumbles while rushing for 105 yards in Arkansas' 54-46 victory over Auburn.
The fumbles were recovered by teammates Hunter Henry and Brandon Allen, but running backs coach Jemal Singleton wasn't pleased, especially as Allen got hit on the ground on his recovery.
"Two fumbles is unacceptable," Singleton said. "We can't win with that. He's got to take care of the football or he can't play. He's got to show he can do that."
Walker, in his first game back from suffering a dislocated thumb, excelled in overtime with two touchdowns and a 2-point conversion catch.
"You look at Kody and how he played and finished the game for us, it was unbelievable," Singleton said. "For him to play in the overtimes like he did and get his pads going downhill, scoring a touchdown and catching a pass, he just added a dimension."
Collins and Walker are the only healthy experienced tailbacks now, with 1,190-yard rusher Jonathan Williams out with a foot injury and freshman Rawleigh Williams lost during Saturday's game with a neck injury that required surgery.
"You never want to see a guy go down," Walker said. "Our prayers are out to him, but I'm in that spot and I have to step up."
'Corn' grows
Receiver Jared Cornelius was a full contributor in Tuesday's practice as expected, meaning the sophomore could be back on the field Saturday, six weeks after suffering two broken bones in his left arm.
"He had a good practice today, took a bunch of reps and he's put himself in a position to get back in the starting lineup," receivers coach Michael Smith said.
Quarterback Brandon Allen said seeing Cornelius' injury as he fell out of bounds at the end of a long gain against Texas Tech was tough.
"When you see that injury, it really looks painful and looks like he's out for the year," Allen said. "But he rehabbed and he's back faster than I've ever seen. He was out there running around today and back to his old ways. He looked great."
Injury report
Receivers coach Michael Smith said receivers Keon Hatcher and Cody Hollister, who suffered broken bones in their foot three days apart in mid-September, are back in meetings instead of rehab and getting a small taste of practice.
"I know those guys are hungry to get back," Smith said. "They were both actually out at practice today for probably two or three periods and caught some balls, so that's always encouraging."
Who's that?
Arkansas fans might do a double-take when Tennessee-Martin takes the field on Saturday, thinking a smaller version of Auburn is still in town. The Skyhawks have the same burnt orange and navy blue color scheme as Auburn, and their helmets and both sleeves have a thick orange stripe flanked by two thinner blue stripes, just like the Tigers' jerseys.
Greenlaw wins
Linebacker Dre Greenlaw was named SEC freshman of the week by the conference office after he led the Razorbacks with 16 tackles in their victory against Auburn.
Greenlaw's tackles tied for the most by a freshman this season with Wisconsin's T.J. Edwards and Florida Atlantic's Azeez Al-Shaair and were the most by a Razorback since Alan Turner's 16 against Mississippi State in 2013.
"The good news was Dre got a lot of tackles, but he can play a lot better," Coach Bret Bielema said. "If I had one or two more linebackers, I think we'd actually be playing better because he's getting worn so thin.
"He's back there as a kickoff returner as well because he does a great job back there. He's on kickoff coverage. We just need to continue to build depth to help our program overall."
Greenlaw, who took over at weakside linebacker in the third game against Texas Tech, leads SEC freshmen with 53 tackles and ranks sixth nationally.
Fullback duo
Freshman Kendrick Jackson, who sat out the Auburn game with a concussion, is back at practice and competing with sophomore Chris Jones.
Jones played 21 snaps against Auburn, but had minuses on more than half of those plays, running backs coach Jemal Singleton said, because of poor blocking techniques.
"We saw him in the right place, but he's got to be more fundamentally sound," Singleton said. "There were some times he was basically on a block and didn't get it done. So he's got to keep coming on. Kendrick's going to be pushing him."
Sports on 10/28/2015
Print Headline: Fumbles, late arrival hit Collins
Sponsor Content