Little Rock police investigate outside a home at 25 Applegate Court on Wednesday where an officer responding to a burglary call fired his gun at a person seen running away. ( Stephen B. Thornton)
Little Rock police were investigating after an officer responded to a house burglary and fired at a fleeing man Wednesday morning.
Right2Know
Arrest date: October 29, 2015
Right2Know
Arrest date: October 28, 2015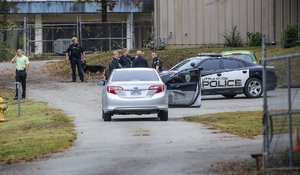 Photo by Stephen B. Thornton
Little Rock police officers search behind a business on Hoffman Road for a person who fled the scene of a burglary Wednesday at nearby Applegate Court.
Officers were called about 11:05 a.m. to 25 Applegate Court, where three men reportedly had broken into a one-story home on the dead-end residential street. According to police spokesman Lt. Steve McClanahan, two men ran from the house and one suspect was in a nearby stolen car when officers arrived. All three had been arrested by Wednesday night.
"The patrol officer, in uniform, made contact with one of the suspects, who appeared to have a weapon. A gun was recovered at the scene. The officer did fire a shot at the suspect," McClanahan said.
The fleeing man did not shoot, according to police. Whether he pointed a gun at the officer was unclear. Further details of the encounter weren't immediately unavailable.
No injuries were reported.
Police positioned officers on surrounding streets in southwest Little Rock and used search dogs in an effort to find the man.
He was identified as Mark Anderson, 18, and he was arrested late Wednesday at 5620 Southwick Drive without incident, McClanahan said. Anderson faces charges of aggravated assault, burglary, theft of property and fleeing.
Earlier Wednesday, police also arrested Timothy Barton, 18, McClanahan said. Barton was charged with burglary, fleeing and theft of property. An arrest report said that when police arrived, Barton was coming out of the home and that he ran from police before being caught a short distance away.
The third teenager, who was sitting in a stolen gray Jeep Cherokee when police arrived, also was arrested and charged with theft by receiving, burglary and theft of property, McClanahan said.
An arrest report identified that teenager as Demetrius Clark, 17, and said he will be charged as an adult, according to Pulaski County Prosecuting Attorney Larry Jegley. The report also said property from the house was in the Jeep Cherokee, which was stolen in Conway.
Clark and Barton were on the Pulaski County jail roster Wednesday night. McClanahan said police do not believe that anyone else was involved in the burglary and are not seeking additional suspects.
Police hadn't named the officer who fired his weapon. He was placed on paid administrative leave in accordance with department policy. McClanahan said the officer would be identified today.
An investigation is ongoing.
"The officer is going to be interviewed," McClanahan said. "I don't know if that's happened yet. They will talk to him today, and he'll give his account of what happened ... and we'll do our investigation to see if everything was proper, as far as using deadly force."
According to department policy, "officers may only use deadly force to protect themselves or others from what they reasonably believe to be an immediate threat of death or serious physical injury."
The policy also states that deadly force "shall be the last alternative" and officers "must remember their basic responsibility is to protect life."
"Officers shall not fire their weapons under conditions that would unnecessarily subject bystanders or hostages to death or possible injury, except to preserve life or to prevent serious physical injury," according to the policy.
McClanahan, speaking to reporters at the scene, said it didn't appear any homes or vehicles in the neighborhood were struck by gunfire.
Part of Applegate Court was cordoned off as investigators combed the area for evidence.
Several residents watched from their front steps as officers paced around the house and brushed aside leaves with their feet.
McClanahan said police were searching for the shell casing from the officer's gun.
"If we can find that round, we will recover and, of course, keep it for forensics," he said.
Aretha Barnes said she owns the home that was burglarized. She said she arrived home from work Wednesday to find police would not let her inside.
Mostly older couples live in the area, she said, and the neighborhood has its own watch program.
Barnes said she was grateful she was not home, adding that neighbors witnessed the break-in and called 911.
"I thank God because I was told there were guns involved," she said.
Police records show that before Wednesday, the last crime reported on the street was an auto theft in June 2013. But Barnes said her home has been broken into in the past and she's scared it could happen again.
"I want others to know you don't just go around breaking into other people's homes," she said.
Wednesday was first instance of gunfire involving a Little Rock police officer this year, according to the department.
There were two last year.
Information for this article was contributed by John Moritz of Arkansas Online and by Emily Nitcher of the Arkansas Democrat-Gazette.
Metro on 10/29/2015
Print Headline: In burglary, officer's shot misses, 3 held
Sponsor Content