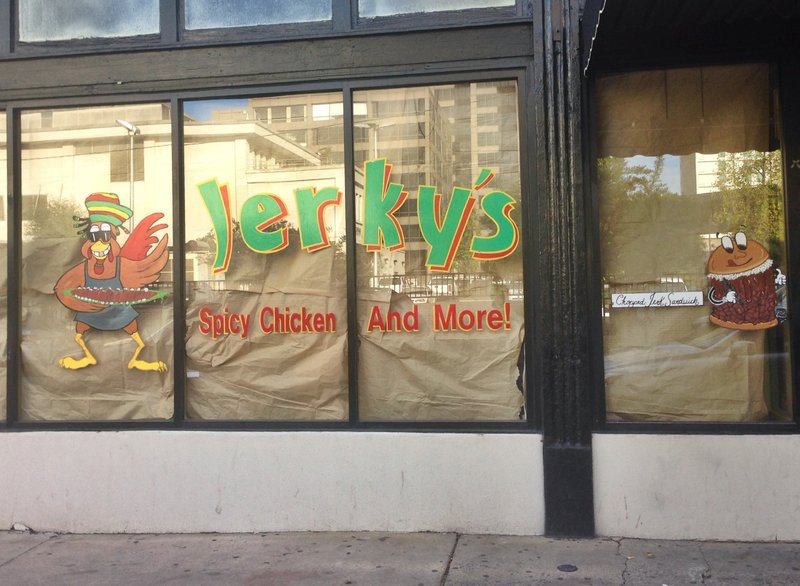 The soon-to-open Jerky's Spicy Chicken and More on Center Street in downtown Little Rock. ( Sara Janak)
According to a couple who have been "very regular customers for many years" of Fu Lin Chinese Restaurant in the Bowman Curve Center II shopping center, 200 N. Bowman Road, Little Rock, owners Wei Chiu and Jing Wen How have retired and sold the business to a gentleman named Yitan Chen. We've been unable to come up with any other details so far, but we'll keep checking.
Fu Lin is one of the area's oldest continually operating Chinese restaurants -- 38 years. Chiu and How bought the business and its already well-respected name in 1992 from co-founder Yah Lin "Charlie" Trie, who got snarled in campaign contribution scandals in the mid-'90s connected to fundraising for friend and longtime customer, then-President Bill Clinton.
Perhaps very few remember that Trie and his sister, Dai Lin Outlaw (who had owned a small Little Rock Chinese restaurant called Charlie Chan's), opened Fu Lin in 1977 next to the Markham Inn on West Markham Street, now the home of Jimmy's Serious Sandwiches. They moved the business to 320 W. Victory St. in the early '80s, adding another location in Conway. They also briefly, in 1985, operated a place in the Continental building at Second and Main streets, selling it that year to Robert Lin, who reopened it as Taiwan.
Trie moved Fu Lin again in 1989 to its current location on Bowman Road. Outlaw, who ran another short-lived Charlie Chan's in North Little Rock and China Gourmet on Geyer Springs Road in Little Rock, is probably still best known as the founder and longtime operator of Nan King, just off Cantrell Road in Little Rock's Pulaski Heights.
Fu Lin's hours are 11 a.m.-9:30 p.m. Sunday-Thursday, 11 a.m.-10 p.m. Friday-Saturday. The phone number is (501) 225-8989.
...
It looks like Jerky's Spicy Chicken and More may finally, at long last, be open soon at 521 Center St., Little Rock. At least, that's what we derive from the voicemail message at (501) 246-3096, which has changed from "we're not open yet/keep checking for updates" to a list of hours -- 11 a.m.-6 p.m. Tuesday-Saturday, 11 a.m.-5 p.m. Sunday -- and a tag line, "We look forward to serving you." However, there was still brown paper over the windows and door was still locked as of our Tuesday morning deadline. There's no confirmation at the website jerkys.net. And the most recent post on the "Jerkys Jamerican" Facebook page (facebook.com/jerkys.jamerican) was Oct. 15: "Our Downtown location was approved today with flying colors and we expect to open in a few days." We also found out via that page that the cause of the delay in getting the place open was "an issue with our smoke venting out."
Dallas-based fast-casual pizza chain Pie Five Pizza opens its first Arkansas outlet Friday in Hurricane Creek Village, next to the Academy Sports and Outdoors store, at 20770 Interstate 30 N., Benton. According to the website (PieFivePizza.com, where you can also get a look at the menu), you get "a personal handcrafted pizza ... cooked in custom-designed, state-of-the-art pizza oven -- all in under 5 minutes." Arkansas franchisee Rob Byford has said this will be the first of at least 10 outlets. He's searching for a Little Rock location for the second. Hours are 11 a.m.-10 p.m. daily. (Friday's opening ceremony will be at 10 a.m.) The phone number is (501) 794-4900.
The Hot Springs Sentinel Record lists an Oct. 20 building permit for Vina Morita Restaurant and Wine Bar ("Authentic Latin-Mexican Cuisine with a Touch of Culinary Innovation") at the Springs Hotel & Spa, 135 Central Ave., Hot Springs, which would apparently portend a move up the street from its current location, 610 Central Ave. Among the yet unanswered questions: whether the current hours -- 4-9 p.m. Monday-Friday, 11 a.m.-2 p.m. and 4-9 p.m. Saturday and noon-8 p.m. Sunday -- would change. We got no response by deadline to a message we left on the voicemail at the restaurant's phone number, (501) 625-7143; there's no indication as yet on the website, vinamorita.com.
Though there won't be any in Kroger stores this year, Honey Baked Ham Co will be operating three satellite "express" locations: 500 Amity Road, Conway, next to Bedding Mart; 2755 Lakewood Drive, North Little Rock, next to Books a Million; and 14810 Cantrell Road, Little Rock, next to Buffalo Wild Wings. They'll be selling everything the headquarters store (9112 N. Rodney Parham Road, Little Rock) has except whole turkeys, 10 a.m.-6 p.m. daily Nov. 18-28. Call the home store, (501) 227-5555, for more information.
The Little Rock Farmers Market closes out its 2015 season 7 a.m.-3 p.m. Saturday in the River Market Pavilions, behind the Ottenheimer Market Hall, 400 President Clinton Ave., Little Rock. The market will return with fair weather, starting in May. Visit rivermarket.info.
...
More than a dozen establishments in and around Eureka Springs will participate in the annual Eureka Springs Food and Wine Weekend, Nov. 12-15, including:
• Cottage Inn Restaurant, 450 W. Van Buren St. Wine dinners 5-8 p.m. each evening (wine flights from Uruguay and a choice of two dinner specials Nov. 12 and 15; five-course meal with wines from Argentina, Nov. 13-14.
• Grand Taverne Restaurant, 37 N. Main St., food and wine specials, Nov. 12-14.
• DeVito's, 5 Center St., wine flight and food and wine specials, Nov. 13-15.
• Cuisine Karen (cuisinekaren.com) will offer three culinary classes out of the French Provencal kitchen at 10 Woolridge St.
• The Stonehouse, 89 S. Main St. Wine flights and cheese pairings from Domaine Bousquet Winery in Argentina and a three-sherry flight with specific cheese pairings, 1-10 p.m. Nov. 12-14.
• KJ's Caribe Restaurant and Cantina, 309 W. Van Buren St. Local farmers-market-oriented specials and pairings with Railway Winery.
Visit eurekaspringsfoodandwine.com.
...
Long John Silver's restaurants in Little Rock, Russellville, Van Buren, Rogers, Springdale and Fort Smith, as well as the one that will have its grand opening at 10:30 a.m. Nov. 11 in Conway, are raising money through Nov. 15 for the Children's Miracle Network and Arkansas Children's Hospital via sales of $1 Miracle Balloons. (The Conway location, at 309 Oak St., will offer its first 50 guests after the doors open free lunch, and they can enter a contest to win free food for a year.)
Nov. 23 is the deadline to register for the fourth annual "Say It Ain't Say's" Sweet Potato Pie Baking Contest, 2-5 p.m. Dec. 6 at the Mosaic Templars Cultural Center, 501 W. Ninth St., Little Rock, in conjunction with the center's annual Holiday Open House. Somewhere between 12 and 16 bakers will compete for bragging rights for central Arkansas' best sweet potato pie in professional and amateur categories plus a people's choice award. There's no fee to register, but participants must bring a toy to donate to Robert "Say" McIntosh's "Black Santa" toy drive. The registration form is available online at tinyurl.com/nuru4j4; call (501) 683-3593.
And 11 Arkansas organizations — Arkansas Food and Farm, Arkansas GardenCorps, the Arkansas Hunger Relief Alliance, the Arkansas Local Food Network, the Center for Agricultural and Rural Sustainability at the University of Arkansas, Feed Fayetteville, the Indigenous Food and Agriculture Initiative, Little Rock Urban Farming, Ozark Slow Food, Southern Sustainability Working Group and Walker Park Community Garden — are included in the second annual Good Food Org Guide, compiled by the James Beard Foundation (jamesbeard.org) and Food Tank (foodtank.com), along with an advisory group of more than 70 food system experts. The guide lists nearly 1,000 food-related U.S. nonprofits "that are doing exemplary work … in the areas of food and agriculture, nutrition and health, hunger and obesity and food justice," according to a news release. Visit goodfoodorgguide.com.
Has a restaurant opened -- or closed -- near you in the last week or so? Does your favorite eatery have a new menu? Is there a new chef in charge? Drop us a line. Call (501) 399-3667 or (501) 378-3513, or send a note to Restaurants, Weekend Section, Arkansas Democrat-Gazette, P.O. Box 2221, Little Rock, Ark. 72203. Send email to:
eharrison@arkansasonline.com
Weekend on 10/29/2015
Print Headline: TRANSITIONS
Sponsor Content