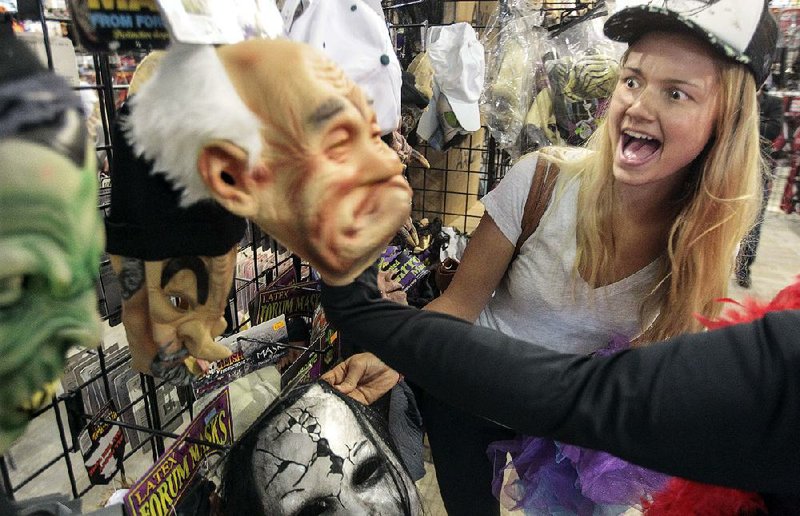 Lianda Creed shops for Halloween costumes Friday to wear while passing out candy to trick-or-treaters. ( Benjamin Krain)
A storm system that entered the state from the Plains on Friday evening will continue to bring rain through tonight, forcing trick-or-treaters to consider incorporating umbrellas and rain gear as part of their Halloween costumes.
All of the state will see precipitation today -- some with heavy rainfall and thunderstorms -- said National Weather Service meteorologist Chris Buonanno of North Little Rock.
The system will move across the state from west to east, and by nightfall today, when children begin their hunt for candy, most of the heavier rainfall will be gone.
Still, Buonanno said, there will be a chance for light rain and drizzle in the evening across central and northern Arkansas. He urged motorists to pay close attention for any trick-or-treaters amid reduced-visibility conditions.
There's also a chance for some thundershowers in southeast Arkansas tonight, adding to the spooky ambiance, he said.
The storm is similar to the one that brought rain to the state last weekend. Last week, rainfall totals were much higher than what is expected this weekend, though, because the remnants of Hurricane Patricia were churning into the southern half of Arkansas.
The threat of today's inclement weather was enough to force the fifth Annual World Cheese Dip Championship under cover in downtown Little Rock. The event, scheduled from noon to 3 p.m., will be held in the River Market pavilions on President Clinton Avenue.
Rain is also forcing some children to consider changing their costume ideas for tonight.
Purge, or blank-faced, masks are popular at Halloween Express Little Rock on Chenal Parkway, employee Sarah Fulmer said.
"We're seeing a lot of masks, rather than makeup, sold because of the rain," Fulmer said. "They're going for the simpler stuff. They don't want the makeup to wash off in the rain."
She said popular costumes this year include Marvel Comic heroes, Minions and Walt Disney characters.
"Girls are buying Disney princesses all day," Fulmer said. "Boys are getting the Marvel characters. They all want to be super heroes."
State Desk on 10/31/2015
Print Headline: Forecast for Halloween ghastly
Sponsor Content