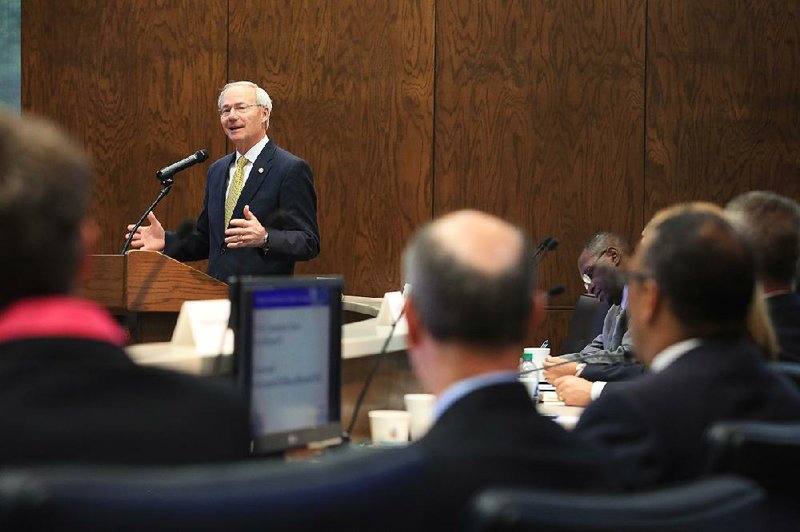 "We can do so much more as a state when we grow economically in job creation, and that is my focus," Gov. Asa Hutchinson said Tuesday in laying out his goals for the state's higher-education system. ( Rick McFarland)
Gov. Asa Hutchinson on Tuesday called for a retooling of the state's funding for higher-education institutions, including changes to the lottery scholarships.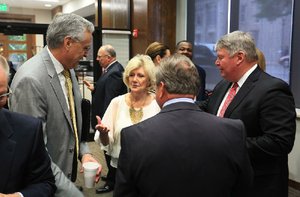 Photo by Rick McFarland
Awaiting Gov. Asa Hutchinson's address Tuesday on his goals for higher education at the Department of Higher Education offices in Little Rock are Dan Rahn (facing, from left), chancellor of the University of Arkansas for Medical Sciences; former state lawmaker Mary Anne Salmon; and University of Central Arkansas President Tom Courtway.
The governor asked higher-education leaders Tuesday to help the state Department of Higher Education review and polish recommended policies to go before the Legislature. The policies are tailored on Arkansas' newly announced goals to increase degree attainment that historically falls behind most states in the nation.
Hutchinson laid out that and other goals, including raising student success among minority groups and increasing adult enrollment.
"We can do so much more as a state when we grow economically in job creation, and that is my focus," said the governor, a Republican who took office in January. "Obviously, we cannot achieve those goals without being successful in secondary education."
State leaders have said degree attainment is linked to attracting business and industry.
The state funds its public colleges and universities, along with the Academic Challenge Scholarships. Currently, for institutions, 90 percent of their state money is based on enrollment, while the remainder is based on different measures known as performance-based funding.
That funding breakdown is "outdated," Hutchinson said.
Aside from enrollment and performance-based metrics, colleges and universities should be funded on certain incentives -- a way to encourage the institutions to align with the state's goals -- and on innovations, or new and successful initiatives that could benefit other institutions, he said.
None of the current funding models is ideal, Higher Education Department Director Brett Powell said. Enrollment is always in flux, especially at community colleges, he said.
"When the economy is good, people go to work. They don't go to a college," Powell said. "When an economy is bad, they get a degree. So we're hoping to get away from enrollment-based funding as much as possible and base a bulk of the funding on outcomes, what institutions are able to achieve."
And the current performance model is designed in a way that sets colleges and universities up to fail, Powell has said. If a college or university doesn't improve on the measures each year, it will face losing a portion of its state funding.
"Our goal is to revise the model so that it can be more of an incentive-based model to help institutions improve on areas where they're weak and help strong institutions come up with some creative ways to do something new that would enroll more students or improve graduation rates or something ... that helps with the goals of the state," Powell said in an earlier interview.
Neighboring Tennessee was a trailblazer in enacting a performance-based funding model, and it's now become a template for all state allocations based on performance. Tennessee is one of about 30 states that have a type of outcome-based funding model in place.
"I'm not really sure we want to be as ambitious as Tennessee at this point," Powell said. "Perhaps we can work toward that."
The goal is to present the changes in formula funding to Arkansas legislators during the 2016 fiscal session, If not then, the department will wait until the next regular session in 2017. Higher-edu­cation leaders will have to fill in some gaps, such as what percentage of state funding should be based on enrollment versus performance-based measures and what would constitute "innovation" or "incentives."
Arkansas State System President Charles Welch said the funding changes are a good conversation to have.
"The current funding formula is very complex," he said. "It's not very widely understood. I think it's important that we have a formula that perhaps is more widely understood, and one that puts it in some accountability measures that would be helpful to an institution -- and not harmful to an institution -- and one that does reward institutions that do think outside of the box."
University of Arkansas System President Donald Bobbitt, who has championed performance-based funding, said higher education has a role to play in meeting the state's needs.
"We'll be expected to meet those needs, be measured and resourced -- or not resourced," he said.
"If you look at the states that have acquired pretty significant new industry over the past 10 years, there's a direct correlation of educational attainment in the state and industry," he said, adding there are many secondary benefits to having an educated workforce.
For scholarship funding, Hutchinson said he wanted a portion of the money to go toward targeted populations, including adult learners, nontraditional students, or minority groups.
"If we believe our goal should be increasing the participation in education by adult population, if we believe we should be encouraging technical degree attainments, if we believe we should be increasing the attainment of minority populations, then our funding should align with that as well," Hutchinson said. "That should not exempt and exclude our scholarship funding."
During the last session, legislators approved a change in eligibility for Academic Challenge Scholarships, requiring a minimum ACT college-entrance exam score of 19. In May, Higher Education Department officials said they estimated the change would disqualify some 1,800 students.
The change came as revenue was lower than expected from the Arkansas Scholarship Lottery, which funds the scholarship program. The lottery proceeds have helped finance more than 30,000 scholarships during each of the past five fiscal years.
The state's other higher-education goals include raising college attainment levels -- especially among minority groups -- improving college readiness, reducing the number of students who need noncredit remedial course work upon entering college, focusing on adult and other underserved populations, and increasing college affordability.
Hutchinson wants to raise completion and graduation rates by 10 percent. Currently, 40 percent of 15,193 students who entered in the fall of 2009 graduated six years later. The four-year graduation rates for universities are about 25 percent, according to department data.
The governor also wants to raise attainment rates of underserved student groups to the level of other groups. Colleges and universities should meet the needs of the nontraditional students through means such as online courses or courses offered at a later time, he said.
Part of increasing affordability, Hutchinson said, is reducing the time it takes to earn a degree. If high school students enroll in college-level courses, they can earn associate degrees and high school diplomas at the same time. In fall 2014, some 10 percent of the 166,269 students enrolled in college were high school pupils, according to Higher Education Department data.
Another part is increasing efficiency on college and university campuses, Hutchinson said. He encouraged all higher-education institutions to have an efficiency task force for self-evaluations.
The goals will become a part of the state's master plan, called Closing the Gap 2020. The plan -- which has been in the works since Powell took office earlier this year -- is still in draft form, but he hopes to present it to the Higher Education Coordinating Board during its Oct. 30 meeting.
Powell is looking for volunteers to serve on committees to help refine the plan. The committees can be found at adhe.edu/institutions/higher-education-master-plan/. Interested parties also can give recommendations on the site.
Bobbitt, the UA System president, said Tuesday that his system has its own strategic plan to ensure that its schools' first-year retention average rates and six-year graduation average rates are on par with peer schools.
"It is a lofty goal, and frankly, I hope we aren't happy with being just as good as our peers," he said. "Every year, we're going to be making progress on those goals, or see why we're not. We all believe that we can improve. None of our schools are happy with where they're at."
Welch, the ASU System president, said he plans to send a memorandum to his campus leaders to see what the campuses are doing that is in line with the state's goals and what they could be doing.
"This gives me some very direct areas to be focused on," he said. "It's not one size fits all. Where can we fill the gaps? Where can we address some of these things? Where can we make sure we're all rolling in the same direction?"
The master plan is an opportunity for higher-edu­cation leaders to redefine themselves, to illustrate to the public and to policymakers what the leaders are doing and how they're carrying it out, Welch said.
He said he was encouraged by the governor's remarks.
"We're not unrealistic. We realize the challenges of funding for other high-need areas of the state," he said, referring to money for prisons and Medicaid. "Restructuring the way we do things ... that could help us. We're going to have to innovate our way out of this dilemma."
Print Headline: Hutchinson urges redo of fund flow to colleges
Sponsor Content