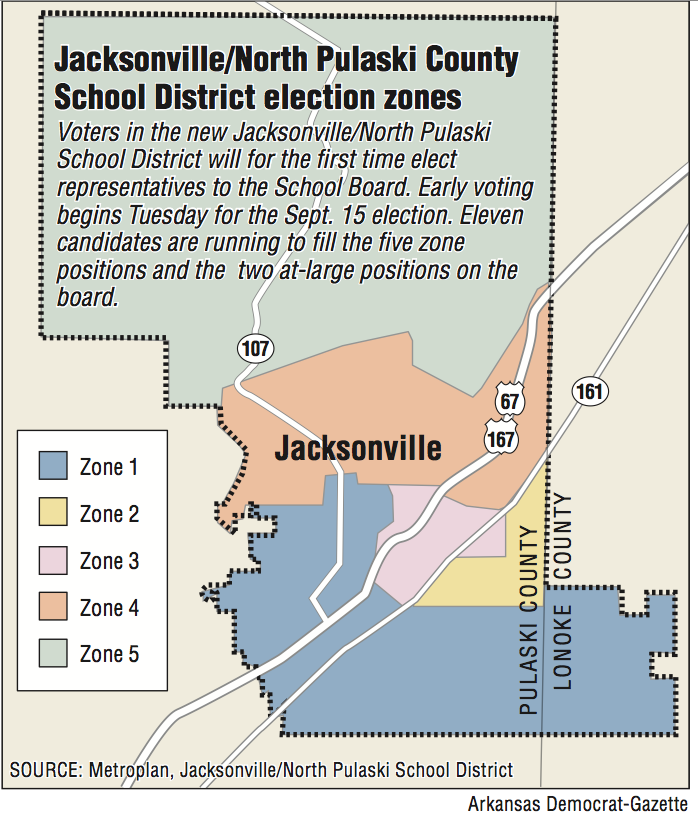 A map showing Jacksonville/North Pulaski County School District election zones. (Arkansas Democrat-Gazette / Source: Metroplan, Jacksonville/North Pulaski School District )
The annual school elections on Sept. 15 in Pulaski County -- for which early voting starts Tuesday -- will be like none other in the history of the county.
Photo by Source: NLRSD / Arkansas Democrat-Gazette
A map showing North Little Rock School Board election zones.
That's largely because the new Jacksonville/North Pulaski School District -- created late last year by order of the Arkansas Board of Education -- will elect its first school board of seven members. Five members will be selected from election zones, and two members will be elected at large.
The elections are also different this year in Pulaski County in regard to what is missing: There are no elections of any school board members in two of the most populous districts in the state.
The Little Rock and Pulaski County Special districts are operating under state control and without elected school boards. That's been the case since 2011 for the Pulaski County Special district. It's a first this year for the Little Rock district.
Arkansas Education Commissioner Johnny Key, who leads the state Department of Education, serves in lieu of a school board in both of the districts.
Pulaski County Special won't have a vote on the district's current tax rate this month. The district had a special election in May on a proposed tax increase. Although the increase was rejected, the special election fulfilled the district's legal obligation to have an annual tax rate vote.
People in the Little Rock School District can vote on the current 46.4-mill tax rate -- but only in early voting.
"We won't have anything opened south of the Arkansas River on election day," Pulaski County director of elections Bryan Poe said of polls.
It's business as usual only in the North Little Rock School District, where three of the seven board seats are open. There is just one contested race -- a spirited one between former North Little Rock mayoral candidate and former state Sen. Tracy Steele and attorney Alicia Walton -- for Zone 2, which encompasses downtown North Little Rock.
Early voting for the school elections can be done at three locations in Pulaski County: downtown Little Rock, North Little Rock and Jacksonville.
The first election for School Board members in Jacksonville/North Pulaski School District comes after a vote last September in which 94.5 percent of nearly 4,000 voters said they wanted a school district separate from the Pulaski County Special district.
Shortly after, the state Board of Education appointed an interim School Board, and approved steps to divide assets and liabilities and otherwise prepare the Jacksonville/North Pulaski district for operating on its own.
The district remains under the direction of the Pulaski County Special district this school year but plans to be operating independently starting July 1.
"Our community is chomping at the bit to see some real action and have full control," said Daniel Gray, chairman of the interim Jacksonville/North Pulaski School Board and an unopposed candidate for the elected board.
Gray said the Pulaski County Special district remains the "captain of the ship" and is working to help the new system.
"A lot of the weed-cutting is behind us," Gray said. "We have a clear road map laid out. This election will cement that. It's our first real elected board. Our community can really own that. I think there's a lot of excitement about it."
He expects the turnout for the election this year to be "greater than most communities," but he stopped short of predicting numbers larger than last year's vote on the district's separation, which was an election decades in the making.
Candidates
Gray is a Jacksonville real estate agent, father of two school-age sons, husband to a teacher at Sylvan Hills Elementary in Sherwood and immediate past president of the Jacksonville Chamber of Commerce. He is running alone for at-large Position 1 on the new board.
He doesn't hesitate when asked what the biggest, most immediate challenge for the new board will be: "The facilities and getting a school construction plan," he said.
"One of the reasons we wanted to detach for so long is that our facilities were not up to par with the rest of the state, and our kids deserve much, much more.
"We have to figure out how to accomplish that and meet the timelines that exist for participating in the state partnership funds. Our backs are up against the wall, so we need to buckle down and do what we need to get it done as quick as possible."
The interim board met Monday and Tuesday to interview construction management and architecture firms with hopes of entering into contract negotiations with firms this week.
"Once we get those secured, we want them to start working, like the next day, to plan things out," he said.
In all, 11 people are running for the seven seats in the Jacksonville/North Pulaski district. Five of the 11 are current members of the interim board.
Ronald McDaniel, an interim board member, and Celeste Williams are vying for the Position 2 at-large seat.
Marcia Dornblaser and Richard Moss, an interim board member, are running for the Zone 1 board seat.
Carol Miles, an interim board member, is running unopposed in Zone 2.
The Zone 3 race features Jim Moore and Jerald Reichenback, plus write-in candidate Barry Roper.
LaConda Watson, an interim board member, is running alone for the Zone 4 seat.
Dena Toney is unopposed for the Zone 5 seat.
Millage rate
In addition to choosing their representatives, Jacksonville/North Pulaski district voters will be asked to vote on a 40.7-mill property tax rate to support the operation of the district. That is the same rate that Jacksonville/North Pulaski district residents have been paying for years as part of the Pulaski County Special district.
"There is no increase in millage," Superintendent Tony Wood said. "We're trying to be very clear in communicating that."
Wood said an affirmative vote on the ballot question will enable the new district to issue bonds supported by 14.8 of the existing 40.7 mills. Money raised by the bond issue would be used to help the new district pay for the schools and bus lot it is acquiring from the Pulaski County Special district.
Scott Beardsley, a financial adviser to the new district, has said the district could finance as much as $15,365,000 in 20-year construction bonds. About $10.8 million of that would be used to pay the Pulaski County Special district for the school buildings that are within the new district's boundaries.
The Pulaski County Special district must sell its buildings, which were constructed with public funds, at fair market value to preserve the tax-free status of its own bonds and avoid lawsuits from bondholders who were willing to buy low-interest bonds because they were tax-free.
If a majority of the Jacksonville/North Pulaski district voters reject the millage rate proposal at the September election, the tax rate applied in the new school district will still be 40.7 mills, but the $15.365 million bond issue won't be authorized, Beardsley has said.
The School Board at that point could choose to sell second-lien construction bonds that don't require voter approval, he said. Those second-lien bonds would be supported by revenue generated by the 14.8 debt service mills, Beardsley said.
North Little Rock
In North Little Rock, voters will be asked to decide on the district's current 48.3-mill property tax rate. There is no change in the rate.
Voters who live in zones without contested races can vote on the millage and/or their unopposed School Board candidate in early voting or on election day. Voters should check precinct lists for any one-time changes in their polling places.
School Board candidates are running in three of the district's zones.
Steele, who is the governor-appointed director of the Arkansas Health Services Permit Agency, and Walton, who specializes in legal services for children and youths as a partner in the Green and Walton law firm, are running for the Zone 2 position being vacated by School Board President Scott Miller.
Darrell Montgomery, a contract specialist for the U.S. Army Corps of Engineers, is running for re-election to a fourth three-year term in Zone 3. He is a write-in candidate, meaning he didn't turn in a petition of at least 20 signatures by the filing deadline in July. However, because he is unopposed and the incumbent, his name is on the ballot, said Poe, the county election director.
Luke King, father of two young children and an investment portfolio manager for the Bank of the Ozarks, is also unopposed in his bid for re-election from the district's Zone 7.
SundayMonday on 09/06/2015
Print Headline: '15 school elections unlike in years past
Sponsor Content