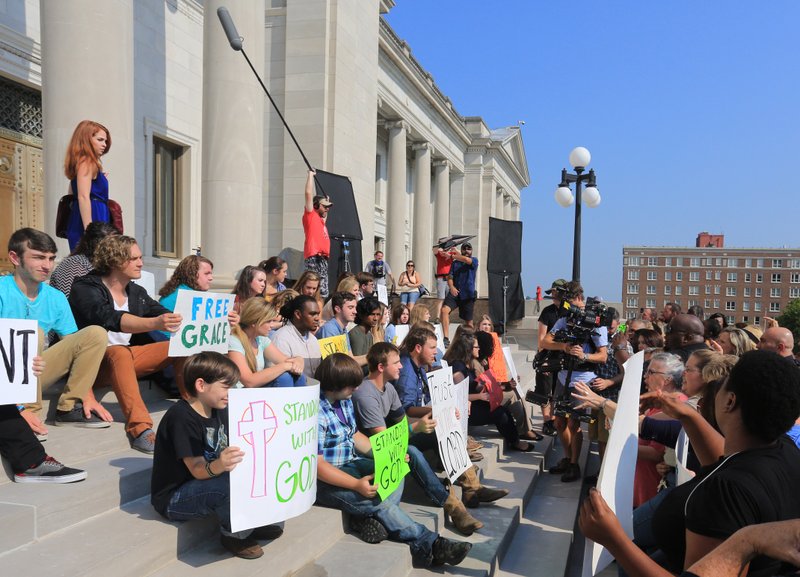 Trisha LaFache (standing, left), an actress from New York, takes part in a protest scene filmed on the state Capitol steps Wednesday in Little Rock for the movie God's Not Dead 2. ( Rick McFarland)
Tax credits, a welcoming governor, and the Bible Belt location and atmosphere all made Arkansas' capital an attractive place to shoot a faith-based motion picture, the filmmakers say.
Filming in Little Rock wrapped up Friday, at least for the time being.
After two months in Little Rock earlier this summer, some of the cast and crew of God's Not Dead 2 -- the sequel to the 2014 Christian film -- returned for re-shoots, exterior filming and other mop-up work to fill out a film that is expected to be released sometime after Easter.
Two days of shooting ended Friday with publicity shots, according to Pure Flix Film Entertainment producer Brittany Lefebvre, who said it became clear during the editing process that they needed to return to Little Rock to close some gaps in their earlier footage.
Midway through filming, one of the movie's stars, David Arquette, left over creative differences.
In October, the film crew could return to Arkansas again for one more day of shooting, depending on actor availability, Lefebvre said.
God's Not Dead 2 follows a theme of Christian faith that's similar to the first film, which grossed more than $60 million at the box office. It had a production budget of about $2 million.
In the original, a college student clashes with a philosophy professor who tells students he'll flunk them if they don't declare that "God is dead."
USA Today film critic Claudia Puig panned it, writing: "Not only is the film preachy, its premise is implausible."
But the Hollywood Reporter, while calling it "propaganda," said the movie was "slickly produced, with a competent cast."
In the latest movie, a high school teacher -- played by Melissa Joan Hart -- is named in a civil lawsuit after she introduces her Christian background into her teaching and is literally put on the stand to defend her faith.
Hart was the star of Sabrina, The Teenage Witch, which aired for years on ABC and The WB Television Network.
Earlier this year, the Arizona-based film production company was looking at filming in Michigan and Louisiana, both well-known for their favorable tax credit programs that attract film and TV crews every year.
But a visit to Arkansas turned the producers' heads. A talk with the governor, Asa Hutchinson, will do that, according to Arkansas Film Commissioner Christopher Crane.
"The governor was instrumental" in attracting the filmmakers to Arkansas, Crane said. "We got them into a conference with him. He was very cordial and very welcoming. They said in the 12 films they've produced, they've never been able to sit down and meet with any governor."
Lefebvre said the tax credits, local talent, and the support of Hutchinson, Crane and other state officials were major factors in the decision to film in Arkansas.
Given the conservative cachet of the film, Lefebvre said, filming in the Bible Belt made sense.
"It's not normal for Hollywood to be making Christian films, until recently," Lefebvre said. "It was always exciting for us to know we'd be in a community that's in the Bible Belt, where people know the first film and would be excited to have this kind of film come to their state."
The first visit to Arkansas and the meeting with Hutchinson were in early April, not long after the end of this year's legislative session, in which the state's Religious Freedom Restoration Act was passed.
The law prohibits government from doing something that can put a "substantial burden" on an individual's religious practices without demonstrating a "compelling" state interest and that it is being done in the "least restrictive" means possible.
The movie's staged protests on the Capitol steps, which were shot last week -- replete with red-faced protesters, placards, chants and fake news reporters -- mirrored the final days of the legislative session, when opponents of the new law argued that it would allow discrimination against gays.
Supporters of the law also demonstrated at the Capitol, arguing that the law was designed to protect any faith from government overreach.
The timing, according to Lefebvre, was merely a coincidence.
"We were oblivious to the fact of all the political things that were happening. We were actually more interested in the [tax] incentives," Lefebvre said. "It was more just bizarre timing than anything else."
Crane said the opportune timing continued. The Christian film production company was shooting key court scenes in the Pulaski County Courthouse on June 26 when the U.S. Supreme Court ruled that bans on gay marriage were unconstitutional.
"You have the film, that with the backdrop of religious freedom and the reality of the equality ruling coming down the same day they were shooting, that was kind of surreal. ... It was absolutely coincidental, you might even call it ironic," Crane said.
Asked if the filmmakers would have gotten the state red-carpet treatment if the movie had been about an atheist or agnostic being persecuted by people of faith, Crane said they absolutely would.
"It's business. It's economic development. ... We want good, wholesome films made here, too, but we're not in the business of censorship," Crane said. "We're not going to open up the Capitol to a porn [movie] or anything like that, but we're looking at it as economic development."
God's Not Dead 2 isn't the first film shot at the state Capitol.
Crane said there have been a number of films shot in the Capitol or on the grounds. The most well-known was the 1991 action movie Stone Cold.
It starred former football player Brian Bosworth as an undercover agent infiltrating a band of murderous bikers.
The 1990 filming involved gunfights, explosions and a helicopter crash on the Capitol grounds.
During filming, an explosion singed the Capitol dome, according to Crane, and the company paid for its restoration.
"We take more care of what we do now," Crane said. "And how we approach the buildings."
In 2013, lawmakers built on existing tax incentives for the state's film industry.
Companies of a certain size are eligible for tax rebates of 20 percent of their production costs. They also get 10 percent tax rebates on payroll taxes of Arkansas employees working on a project.
Crane said his office is waiting for the latest film to complete postproduction before it goes through the financial paperwork, but he said the company easily spent more than $3 million in the Little Rock area and that most of the production crew and cast were Arkansans.
Crane said he believes the Stone Cold filming was "handled incorrectly. Now we go through a full logistics plan with the secretary of state's office. They know exactly what's going to happen, when it's going to happen ... back then that wasn't the case."
Metro on 09/06/2015
Print Headline: Filmmakers find state welcoming
Sponsor Content