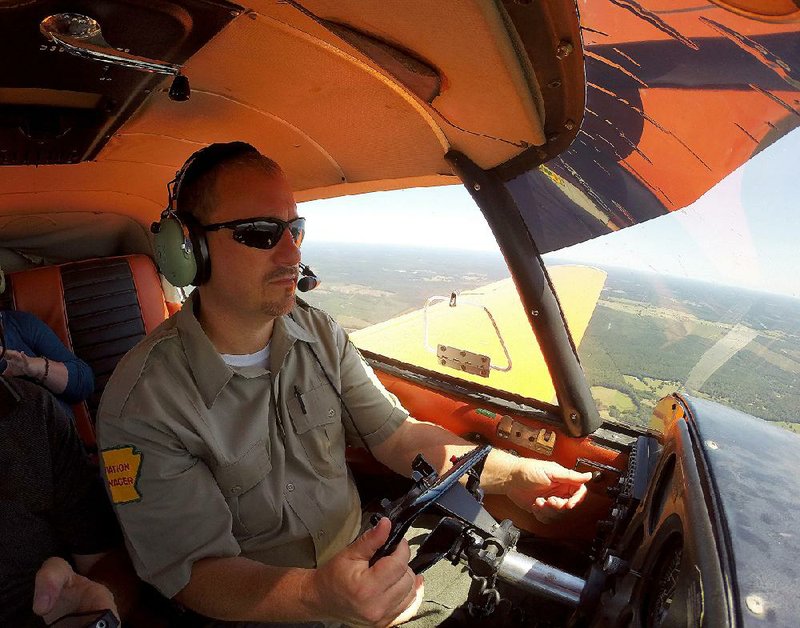 Arkansas Forestry Commission Aviation Manager Michael Sellers watches for fires and signs of timber damage or disease during a flight near Malvern in late August. ( Stephen B. Thornton)
Every firefighter has that one blaze he will never forget.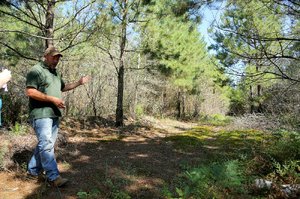 Photo by Stephen B. Thornton
Bart Batchelor, Hot Spring County ranger, stands Aug. 25 on the first fire line that was plowed to try to control an arson fire that burned 486 acres of forest in and around Traskwood in October 2010.
For Bart Batchelor, it was Traskwood.
Standing in the middle of a rough dirt road carved by state Forestry Commission dozers to fight the fall 2010 fire, the Hot Spring County ranger cupped his left hand and put it up to his mouth as if it were a two-way radio receiver.
"I keep up with my men," Batchelor said. "I know exactly where they're at at every moment in a fire. The only thing I want to know is, 'Are you OK?' We can grow more trees. The safety of my men comes first."
Batchelor's blue eyes widened, his gold wedding band cast a reflective arch across the forest floor as the firefighter used a black ballpoint pen to point to the tops of the pine trees.
"We had 120-foot flames heading toward a residential community," Batchelor said. "The pines were 40-foot tall. There was a shed with flames blowing out the roof."
Traskwood was arson, he said. He knew that from his nearly two decades of fighting forest fires. He knew it as soon as he arrived at the rural Saline County scene that fall day in 2010 -- long before investigators officially confirmed it.
When all was said and done, the fire burned 486 acres of forest as about 100 firefighters from various agencies around the state -- including the U.S. Forest Service and the Arkansas National Guard -- battled the flames for more than 12 hours.
"The governor himself was there," Batchelor said, speaking of former Gov. Mike Beebe.
Batchelor looked down at the temporary road, now overgrown with moss and forest vegetation. He kicked a boot into a pile of dry pine needles, exposing moist ground underneath.
"I think our chances are better this season," he said of not having a lot of forest fires.
Since Jan. 1, the agency has responded to 729 wildfires that have burned 10,676 acres, putting the current fire season on track to surpass the 2014 yearly total of 1,240 fires and 16,687 acres burned.
"It's highly unlikely that our statistics will be anywhere near those in 2010-2012," said Adriane Barnes, Arkansas Forestry Commission spokesman. "Those have been our most active wildfire years, and though 2015 may beat 2013-2014, those totals are still low for our state average."
In 2010 -- the year of the Traskwood fire -- the agency responded to 1,222 fires that burned more than 35,000 acres of wilderness.
Guardians of the Forest
Of the 19 million acres of Arkansas forestland, the state Forestry Commission is responsible for protecting 15.85 million acres of non-federal land. The U.S. Forest Service is in charge of the state's three national forests that account for 2.7 million acres.
The state agency employs nearly 300 firefighters and support personnel in eight strategically located districts around the state. In total, there are 104 firefighting units, each composed of a bulldozer and transport truck, as well as 52 communications towers and 12 base stations.
The operation is cohesive, exact and vigilantly on alert.
A room at the commission's Central Dispatch Center at the Malvern Municipal Airport is designed for function and immediacy. Dispatchers' desks are equipped with computer screens, radios and multiple phones. Maps and directories are tacked up on the wooden cubicle walls.
A tall, nearly 3-foot-wide, 18-foot-long wooden counter splits the four cubicles in half. Opening the small door at the end exposes mini-highways of black, blue and red cables.
"That's how we keep it all going. This is the center for the whole state," Barnes said. "That's our brain."
In the corner of the room, dispatch supervisor Sherry Russell clicks a computer mouse with her right hand, and instantly dots pop up on an Arkansas map on the screen. Dozens of pink dots appear first, followed by baby-blue, red and finally purple.
"The red ones are wildfires, blue are controlled and purple are people who called in to say they're doing a controlled burn," Russell said. "The light pink ones have been out for three days."
Russell clicks on a purple dot. The property owner's name instantly pops up.
"We work with the landowners to keep our ownership records up-to-date," she said.
The commission's fire suppression and timber-disease prevention efforts depend on that partnership with individuals and outside agencies around the state.
The rangers work hand in hand with private landowners to thin out the growth on forest grounds, which will slow the spread of a blaze if one breaks out. They search land for signs of disease in the trees, visit schools and day cares -- often in a heavy, furred Smokey Bear costume -- and support rural volunteer fire departments through training and equipment purchase assistance.
And they lend a hand nationally.
A handful of Arkansas Forestry Commission firefighters are currently in Texas, Idaho, Montana and Washington, battling wildfires for the U.S. Forest Service.
"These assignments to Western wildfires provide invaluable training to Arkansas wild-land firefighters, unlike any other type of training they might receive," Barnes said. "They bring that back with them to help protect Arkansas residents and forests. We are not only helping our neighbor/partner agencies, we are absolutely building the ability, knowledge and skill of Arkansas wild-land firefighters by assisting out west and anywhere we are needed in wild-land fire response."
From Land to Air
Flipping up his sunglasses atop his head, Forestry Commission Aviation Manager Michael Sellers looks out at the small, twin-engine plane on the Malvern tarmac.
"She was up for nine hours on Traskwood," he said, referring to the 2010 blaze.
He turned his gaze to the forest bordering the airfield, then up at the sky.
"I doubt if we'll see anything today. We just had a rain," he said.
The commission has 15 aircraft in its fleet, with four full-time pilots who scour Arkansas' forestland for flames and signs of timber damage or disease.
"You can spot a southern pine beetle infestation from miles away," Sellers said. "You'll see green forest and then a big patch of brown, dying trees."
Sellers went into a supply closet at the airport and returned clutching a yellow metal box with a black band around it and another black box with red, blue and green buttons across the top.
They are new tracking devices. Their installation last year in all of the agency's planes is a point of pride for Sellers.
The "Spider Tracks" device is a satellite-based system that automatically tracks a plane's path on each flight. Every two minutes, the unit sends a position report that is displayed on a map in Central Dispatch, reporting the date, time, latitude/longitude, speed of the aircraft and direction it is traveling.
"You get over a fire, and you need to be watched a little closer, you can hit the blue button," Sellers motioned. "It will send a report every minute to dispatch. And everybody knows what the red button means. You're in trouble."
Each aircraft was also outfitted with the yellow metal boxes that contain an emergency locator transmitter. A crash will prompt the device to send a position report every 50 seconds and initiate monitoring by the Air Force Search and Rescue Center.
The new equipment was installed just weeks after Forestry Commission pilot Jake Harrell was killed on Jan. 31, 2014, when his plane went down during a fire-detection flight over the Ouachita National Forest. The search for his downed plane was one of the state's largest and included local, state and federal agencies. Harrell and his plane were located deep in the forest on Feb. 11, 2014.
"He [Sellers] spent a lot of time researching the absolute best tracking systems for his pilots," Barnes said. "All you can do is improve after a tragedy happens."
Future Fires
Across the parking lot from Central Dispatch in front of a Forestry Commission maintenance shop, Batchelor grinned broadly.
A brand new John Deere 105-horsepower bulldozer sat on a trailer in front of him. Batchelor bent down to tug at the winch attachment on the back of the tractor.
"You can pull yourself out if you get stuck," he said, then ran a hand over the smooth side of the dozer. "It's very awesome. It hasn't got but maybe four hours on it."
The dozers are the front line of defense for the crews, and are used to create walls of dirt and trees called "firebreaks" to stop a fire or to carve out roads where only forest was before. Most are equipped with environmental cabs that protect the operator from scorching temperatures.
"At the Traskwood, we had eight dozers going," Batchelor said. "You have to flank the fire until you pinch it off. One was deep into the fire-line when at the last minute the wind shifted. I called him out of there immediately. You can replace a dozer. When it comes to the safety of my men, all bets are off. There have been no injuries in Hot Spring County in 22 years."
And the county ranger plans to keep it that way.
Each big fire is followed up with a work session with the firefighters and officials from all involved agencies. The goal is to analyze what went wrong and make a plan to ensure it doesn't happen again, Batchelor said.
"If we have this again, where did we mess up? That's the only way we're going to learn," Batchelor said. "I love the responsibility, and I love what I do. But any success I've had is all due to the good Lord, my guys and my dad. Every bit of it."
SundayMonday on 09/06/2015
Print Headline: In forested Arkansas, rangers ever vigilant
Sponsor Content