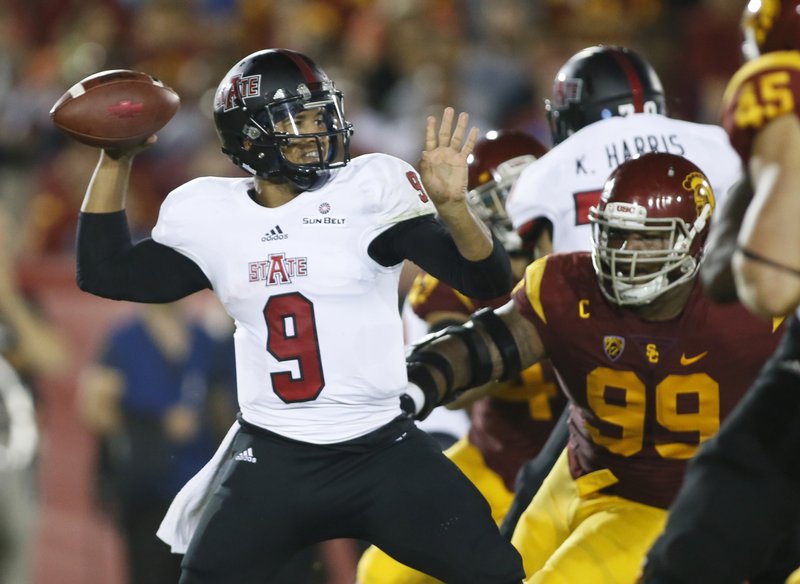 Arkansas State quarterback Fredi Knighten throws under pressure against Southern California during the first half of an NCAA college football game, Saturday, Sept. 5, 2015, in Los Angeles.
Arkansas State traveled west in hopes of pulling off what would have been one of the biggest upsets of college football's opening weekend.
But, a big play put ASU in a hole in the opening minutes, then turnovers and Southern California's collection of talented skill players turned Saturday's opener into a rout.
JuJu Smith-Schuster caught a pass over the middle on the game's fourth play, then jetted down the left sideline for a 61-yard touchdown that got No. 8 USC going in a 55-6 blowout of ASU late Saturday night at Los Angeles Memorial Coliseum.
No. 8 USC gained 509 yards of offense and in addition to Smith-Schuster's long touchdown catch, Ronald Jones II ran for a 44-yard score, Tre Madden had a 65-yard burst for a touchdown and Osa Masina returned a fumble 46 yards for another score.
It all helped in the largest blowout of an ASU team since a 53-3 loss at LSU on Sept. 11, 2004 and its six points were its lowest total since a 35-0 loss at Alabama on Nov. 1, 2008.
"If you don't play your best against a team with this kind of talent, you get exposed," ASU Coach Blake Anderson said. "That's exactly what happened. Some things that were uncharacteristic of us, the things that turned into big plays for them, made it look pretty bad. Things you've got to learn from."
ASU had trouble getting its offense going after USC put it in a hole 74 seconds into the game.
The Red Wolves, who gained 401 yards of offense, punted on their first two possessions without getting a first down and quarterback Fredi Knighten threw an interception on the third. ASU's next four possessions ended with punts, too, and a 14-yard Cody Kessler pass to Steven Mitchell Jr., a 65-yard run by Tre Madden and a 2-yard Kessler pass to Taylor McNamara gave USC a 28-0 lead at halftime.
USC had 315 yards at halftime, while ASU was held to 135 yards.
One of the brightest spots from an otherwise tough opening night, was ASU's ability to pressure Kessler in the first half. ASU finished with five sacks, three of which freshman linebacker Tajhea Chambers played a part and Chambers led ASU with 13 tackles.
"It looked like we were making them earn it," Anderson said. "We were holding the line of scrimmage a bit. But, at the end of the day, there were still too many points on the board."
More came in the second half after ASU's best drive of the game opened the third quarter.
Knighten's 41-yard pass to Tres Houston opened the drive, then he converted a third-and-5 on a five-yard scramble, and Michael Gordon rushed for 18 yards up the middle, then 9 for a touchdown to make it 28-6.
ASU turnovers helped end any chance of a comeback, though.
On ASU's 34, Knighten's pass went off the hand of Tyler Trosin and was intercepted by USC linebacker S'ua Cravens and returned to the 8. Two players later, Kessler's pass to Madden made it 35-6.
Later, USC's Osa Masina scooped up a lateral pass by James Tabary dropped by Michael Gordon and returned it 46 yards for a touchdown. ASU had four total turnovers, two that led to USC scores, and USC didn't have any.
Knighten, last year's Sun Belt Conference Offensive Player of the Year, struggled for much of the first game of his senior season. He completed 8 of 23 passes for 86 yards and rushed 14 times for 58 yards. Tabary, playing for much of the second half, completed 7 of 11 passes for 95 yards in his collegiate debut.
Gordon added 55 yards rushing and freshman Warren Wand gained 52 yards on 10 carries.
USC's Kessler completed 19 of 26 passes for 236 yards and 4 touchdowns. Madden finished with 106 yards and three different Trojans ran for scores.
Sponsor Content