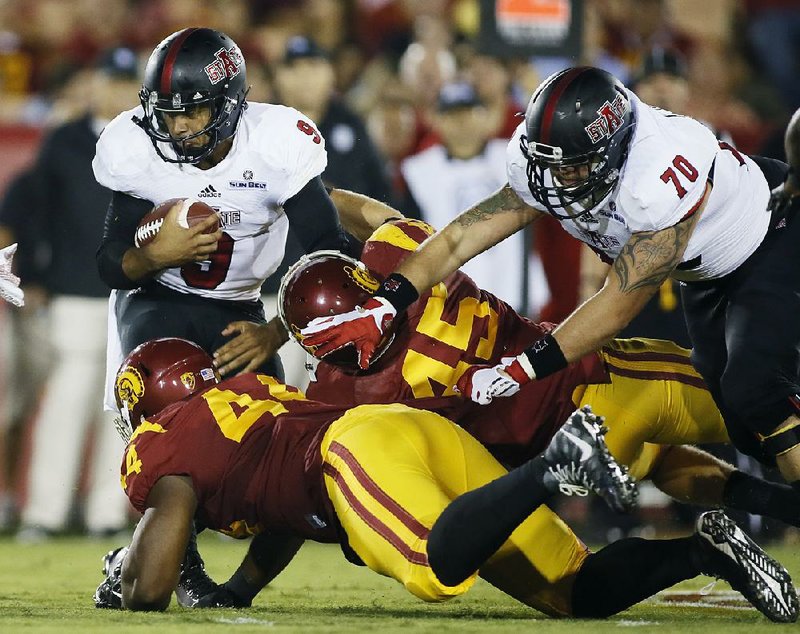 Arkansas State quarterback Fredi Knighten (left) is sacked by two USC defenders while lineman Kyle Harris (70) tries to hold a block during Saturday night's game. Knighten finished just 8 of 23 passing for 86 yards and threw 2 interceptions in the loss. (AP / DANNY MOLOSHOK )
JONESBORO — Arkansas State Coach Blake Anderson applauded his team's effort Monday but didn't accept some of the mistakes made during a lopsided season-opening loss.
ASU lost its season-opener 55-6 on Saturday night at No. 8 Southern California, a game in which Anderson said Monday his team "didn't play well enough at any point in any phase of the game."
ASU gained 401 yards against USC but committed four turnovers, two that led directly to Southern Cal touchdowns. Senior quarterback Fredi Knighten was 8 of 23 passing for 86 yards and 2 interceptions, and his 144 yards of offense were his lowest total in 14 career starts.
"It's just not what we expected from him," Anderson said. "And not what he expects from himself, and we're not going to be very successful if he continues that trend."
Anderson and ASU spent Sunday and Monday turning the page to No. 24 Missouri, which visits Centennial Bank Stadium at 6:30 p.m. Saturday. It's the first time a standing member of the SEC has visited ASU since Ole Miss in 2001.
"Knowing that there is a huge challenge coming to our place this year, yeah, you've got to move forward," Anderson said. "You can't be lingering in the past."
It's one of ASU's most-anticipated home games in recent memory because of the high-profile opponent but also because it will mark the opening of a newly built press box, a $15 million project started last year that includes new suites and loge box seating.
"I hope it's standing-room only; I hope to see people sitting on the grass," Anderson said. "I hope it's that way; I dream of it being that way; I expect it to be that way. That's exactly what I expect — to break every attendance record in school history and have an unbelievable Saturday night at home."
Anderson said defensive tackle Chuks Ota, who missed Saturday's game with an ankle injury, is expected to return against Missouri. Left tackle Jemar Clark and cornerback Blaise Taylor also suffered ankle injuries Saturday, but Anderson said they're not considered serious.
Sponsor Content