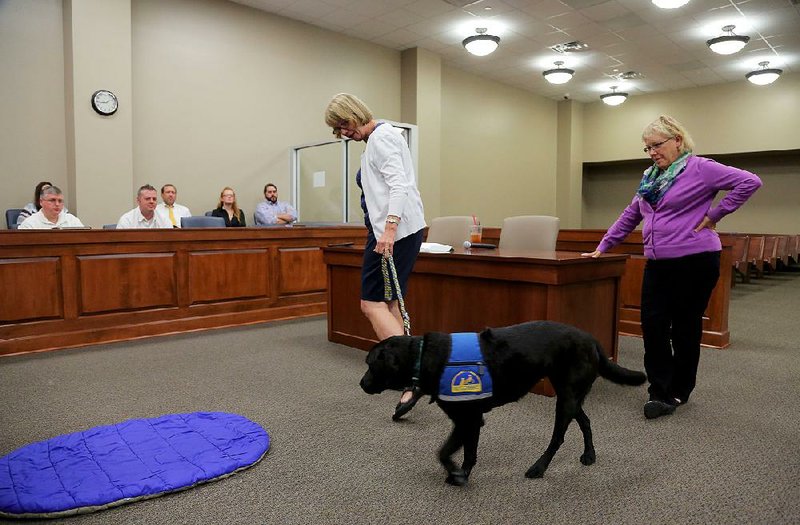 Faulkner County Courthouse workers and law enforcement officers sit in a jury box Wednesday as they watch Ellen O'Neill-Stephens (center) and Celeste Walsen lead Molly, a "facility dog," at the Faulkner County Criminal Justice Center in Conway. ( Stephen B. Thornton)
CONWAY -- Molly B. strolled through court security and boarded an elevator to train judges, prosecutors and others on how to behave when she's in court.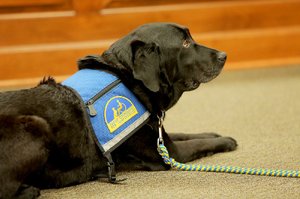 Photo by Stephen B. Thornton
Molly listens to Courthouse Dogs Foundation founder Ellen O'Neill-Stephens as she talks with Faulkner County Courthouse workers Wednesday at the Faulkner County Criminal Justice Center in Conway.
The visit by Molly, a dog so gentle that she sometimes falls asleep and snores in court, was aimed at preparing personnel and police for a canine-companion program designed to help calm child witnesses during interviews and testimony.
The workshop in Faulkner County Circuit Court last week included videos, demonstrations and occasional "breaks" for Molly, who's three-fourths Labrador retriever and a quarter golden retriever.
At 8 years old, Molly is in her prime, weighing 57 pounds and displaying a shiny black coat. She's so well-trained that she can watch a stranger or even a kitten walk by and neither bark nor give chase. And she's exactly the kind of dog the 20th Judicial Circuit hopes to get to help child witnesses mostly in Faulkner County, but also Van Buren and Searcy counties.
"We have a lot of child rape victims and child witnesses," chief deputy prosecutor Hugh Finkelstein said. "This could be beneficial to them."
Molly and two of her handlers with Seattle-based Courthouse Dogs Foundation -- former prosecutor Ellen O'Neill-Stephens and veterinarian Celeste Walsen -- visited Conway to show court personnel how to handle such a dog during trials and pretrial interviews with young witnesses and what to expect when the animal is in court.
Dogs "have a very positive energy in an adversarial environment," O'Neill-Stephens said. "These dogs are a huge benefit during investigations" in helping calm prospective witnesses long enough to tell their stories.
Even "the attorneys are better behaved when dogs are there," she said.
"Your heart rate goes down" around dogs, Walsen explained.
Conway police Sgt. Mike Welsh said he'd only just heard about the program but could already see its benefits.
"We run into a lot of kids who are just scared about what's going to happen," he said.
Conway police Detective Brian Williams asked if authorities could use such a dog when they are questioning children during the investigation.
"Absolutely," O'Neill-Stephens replied. "These dogs are a huge benefit during investigations."
There are 86 such "facility dogs" working in the legal system in 28 states. The one proposed for Faulkner County would be the first in Arkansas.
These dogs are not used as police or drug-sniffing dogs. Nor are they considered "therapy dogs," O'Neill-Stephens said.
O'Neill-Stephens showed a group seated in the courtroom's jury box a video of a girl who had been sexually abused and was about to be interviewed during the investigation -- with the help of a "facility" dog.
At first, the child on the video strokes the dog nervously, quickly, repeatedly.
After a few minutes, she stands up, walks away and returns to the dog. She pets it more gently, far less rapidly. Through it all, the dog remains calm. And finally, the girl quietly lays her head on the dog.
In another case, an 11-year-old said he wouldn't tell the authorities what he had been through but agreed to tell a dog.
The child then raised the dog's ear, said, "'I'm sorry I have to tell you this,'" and proceeded to tell the dog about the abuse he had suffered, O'Neill-Stephens related. The child's account was videotaped.
"The dog, unlike humans, is not going to have any facial reactions," O'Neill-Stephens said. So it's easier for some children to tell a dog than a human.
Prosecuting Attorney Cody Hiland said the program is about helping children.
"This is not about giving a leg up to prosecutors," he said.
Hiland, who successfully worked for a state law allowing such dogs in courtrooms when approved by a judge, said the statute is open and does not prohibit a defense attorney from using a dog to help a child testifying for the defense.
Both male and female dogs are used.
As for Molly, she was originally named Bennie but later renamed Molly B.
When Molly is on the job, she wears a blue and yellow vest, stays quiet and relaxed, keeping at least 70 percent of her body on her mat when that's in order, Walsen said.
If stressful events happen around her -- whether it's a cat's mere presence or a noisy, angry crowd at an ice-hockey game -- Molly and other "facility dogs" have been trained to stay calm to the point of looking downright bored.
The dogs are trained by the Canine Companions for Independence in California, where 50 percent of them aren't "good enough" and drop out, according to O'Neill-Stephens and Walsen.
After a dog is matched to a law-enforcement agency, a courthouse or a victim-advocacy center, the new handlers in that locale are trained, as well.
Those two steps are the next ones for the 20th Judicial Circuit, although Susan Bradshaw, the circuit's director of victim services, said she doesn't know when either will happen.
Bradshaw will be the chosen dog's primary handler and caregiver.
Each dog comes with a $1 million liability insurance policy and is free to the agency but still owned by the foundation until the dog "retires," when the primary local handler gets to keep it.
When Molly's job takes her to court, she is escorted into the room while jurors are away and is seated on the floor behind the witness box. There, she stays out of sight until she's escorted away after the witness has testified and after jurors have left the room.
During an almost two-hour presentation Wednesday, Molly first lay on her belly patiently, then her side. She napped, snored and, when told to get up, did so, though with a healthy stretch, a body shake and a couple yawns.
Later, she obediently followed Walsen to the witness box, where she stayed quietly for several minutes.
"This is a dog that has the ability to be in court without distracting the proceeding," O'Neill-Stephens said.
Not everyone is sold on the courthouse-dog idea, however.
"Just because the Legislature passed it, it doesn't mean it's a good law," defense attorney Frank Shaw said Friday. "The Supreme Court has yet to rule on the issue of dogs in a courtroom."
Besides, he said, "There are going to be people who don't like dogs that you're going to have to exclude from the jury. I just think it's a Pandora's box or a can of worms."
O'Neill-Stephens advises judges to tell jurors that a dog is in the courtroom, even if it's never seen. Otherwise, jurors might wonder what's going on if the dog starts snoring or something else unexpected occurs -- someone spilling water on it, for instance.
On this day, Molly obeyed commands, such as shaking hands with a paw and fetching a dropped cellphone.
Once she's off work, her vest is removed and she's free to kick back and have fun, whether that means chasing a ball or getting a belly rub.
One caution: The program is strictly for dogs. "We don't recommend cats," Walsen said.
State Desk on 09/07/2015
Print Headline: Courtroom dog gets first look
Sponsor Content