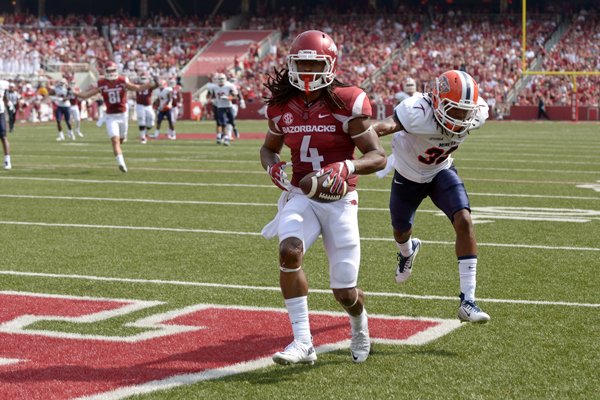 Arkansas wide receiver Keon Hatcher scores a touchdown under defense from Kalon Beverly of UTEP on Saturday, Sept. 5, 2015, at Razorback Stadium in Fayetteville. ( Ben Goff)
FAYETTEVILLE -- Arkansas' season opener against Texas-El Paso turned out well for the 18th-ranked Razorbacks because of what they did and didn't do.
The Razorbacks gained 490 total yards -- including 308 passing -- and scored touchdowns on their first four possessions en route to a 48-13 victory Saturday. They didn't have any turnovers or serious injuries.
"It felt good to go out there and just play a different team," Arkansas senior receiver Keon Hatcher said. "Go to war with your boys."
Hatcher also made sure to keep the margin of victory in perspective considering UTEP plays in Conference USA and was starting three freshmen in its secondary because of injuries.
"That's UTEP, and I'm not saying that in a bad way, but we're in the SEC and we expect big things from ourselves," Hatcher said. "We've just got to continue to work and get better each and every day."
Arkansas' reserves played much of the fourth quarter.
"It was a good opener for us," junior tailback Alex Collins said. "Being that we started off so strong, it allowed our backups to get in there and get some playing time and get that game feeling.
"They needed to get that experience of playing another team and see how it feels to be in front of the fans with the noise."
Razorbacks senior quarterback Brandon Allen set career-highs for yards (308) and completion percentage (78.7) as he hit on 14 of 18. All four of his touchdowns were in the first half.
"I thought offensively we came out humming," Arkansas Coach Bret Bielema said. "I told you all along we'd be able to throw the football, and I think our guys took that to a level that hopefully is going to prove well for us in the future."
Hatcher, who had 6 catches for 106 yards and 2 touchdowns, said it was nice for the receivers to show their critics they can make plays. Junior Drew Morgan and sophomore Jared Cornelius also caught touchdown passes.
"I was talking to the boys on the sideline about that, how it was pretty cool for the receivers," Hatcher said. "I bet a couple people are rethinking what they said about us."
Allen said he wasn't surprised by the receivers' performance.
"They've been talking about it and I've seen it in practice," he said. "I think they really wanted to show it today, and I think they did.
"Short passes went for long gains. They broke tackles and ran well and blocked well. They did everything they needed to do."
Arkansas held UTEP to 204 total yards and an average of 3.8 yards on the Miners' 53 snaps.
Bielema credited defensive coordinator Robb Smith and his assistants -- Clay Jennings, Rory Segrest and Vernon Hargreaves -- for making good halftime adjustments. UTEP's only second-half points came on a field goal.
"Robb and his staff are very good," Bielema said. "Clay's up in the box and has really got a good set of eyes.
"It's invaluable to have him up there. He gives a lot of really good information for us to have down on the field. Rory and Vernon did a nice job of adjusting with Robb on the sideline."
The defense forced turnovers on UTEP's first two possessions of the third quarter, with an interception by sophomore nickel back Henre Toliver and fumble recovery by senior safety Davyon McKinney on a fumbled punt snap, to set up touchdowns that pushed Arkansas' lead to 42-10.
"It was huge, just putting out the fire immediately," Arkansas junior linebacker Brooks Ellis said.
Collins said it was fun to see the Razorbacks, known for their bruising run game, score their first four touchdowns on passes.
"UTEP was more concerned about the running at the beginning of the game, which got a us a lot of passing touchdowns, which is good for us," Collins said. "It helped us get a win."
Sports on 09/07/2015
Print Headline: Gotta pass? Hogs unveil know-how
Sponsor Content