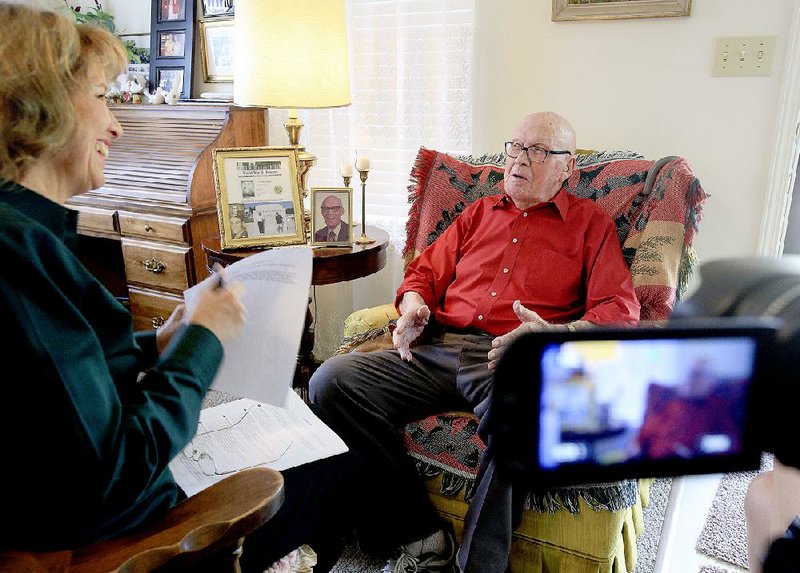 World War II veteran Arlis Owens talks about his time in the war Wednesday with Anita Deason before being interviewed for the Veterans History Project, a Library of Congress initiative that aims to collect firsthand accounts of American veterans from every conflict since World War I. Deason is the military liaison for U.S. Sen. John Boozman's office. ( Staton Breidenthal)
A World War II veteran leaned back in a yellow-green velvet armchair inside his small duplex in North Little Rock, and a recently retired colonel sat directly across, holding a list of questions.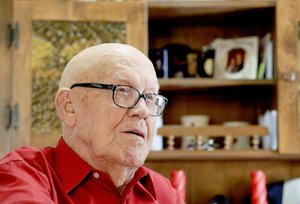 Photo by Staton Breidenthal
World War II veteran Arlis Owens, 92, of North Little Rock talks about his time in the war Wednesday before telling his story for the Veterans History Project.
Arlis Owens, 92, a one-time private first class, asked Anita Deason, military liaison for U.S. Sen. John Boozman, to scoot a little closer. He then grabbed the remote that controls his hearing aid and dialed up the volume. Another congressional staff member pressed "record" on a small camera directed at the two, and Deason began.
"It wasn't good. You sat with a long face for a long time because you knew
you was going to have to go."
Arlis Owens, 92, a World War II veteran, on getting his draft notice
"Good afternoon. I'm your interviewer today," she said. "I'm Anita Deason with Sen. John Boozman's office, and today is Wednesday, the second of September, 2015. I'm interviewing World War II veteran Arlis Owens."
Deason interviewed Owens for an hour, about everything from his experience in the war to his childhood and family members -- most of whom were pictured in the dozens of photographs that covered his walls and sat on every shelf of two bookcases in his main sitting room.
The interview was the first Deason had conducted for the Veterans History Project, a Congress-mandated initiative that aims to collect firsthand accounts of American veterans from every conflict since World War I. In an effort to reinvigorate the 15-year-old project, Boozman's office held two workshops this summer to teach people how to collect and preserve the stories of Arkansas veterans.
The video of Owens' interview will be placed in the Library of Congress archives, available for viewing at the library in Washington, D.C., said Bob Patrick, director of the Veterans History Project. Owens will have his own page on the library's website that will list his name and basic information.
Patrick said 1,077 veterans in the project's archives were either born in Arkansas or lived in the state. The entries include videotaped interviews, photographs and letters, or journal entries.
The oral histories like Owens' are the "heart and soul" of the project, Patrick said.
"Everyone's story is important. We're not looking for just the things you see on TV and the movie screen," Patrick said. "All stories are important and make up the grander story of what it's like to serve one's country."
Getting his draft notice
Without too much prompting, Owens rattled off his stories Wednesday afternoon, beginning with being raised on his family's farm near the White County town of El Paso where they grew "cotton, corn and cockleburs" and then getting into his military experience, which included receiving a U.S. Army draft notice at age 19, landing at Normandy the day after D-Day and spending 297 days in combat without relief.
Owens entered the Army on January 22, 1943, and was honorably discharged on January 30, 1946. According to his enlisted record, he spent one year, 11 months and 15 days overseas.
When Owens got his draft notice, he had recently been married to a girl from El Paso named Corene. When Deason asked how he felt in that moment, Owens replied, "It wasn't good. You sat with a long face for a long time because you knew you was going to have to go."
He left for training at Camp Maxey in Paris, Texas. From there, he shipped out to England.
Owens was assigned to Battery A of the 250th Field Artillery, where his job was to drive a truck and help set up guns. According to his transcript of military record, he served in four campaigns: Normandy, Northern France, Rhineland and Central Europe.
At Normandy, Owens saw the bodies of soldiers that were still floating in the water and lying on the beach after the invasion the day before, he said. He remembered navigating a truck through the dead, trying not to run them over.
"Felt terrible," Owens said of the day. "You can't explain it. But after a while you went on. Then you didn't pay no attention to it. You got tough to it, you know? It didn't bother you too bad then. Later on, it got you."
In winter 1944-45, Owens was at the Battle of the Bulge, a major German counteroffensive in which the U.S. military incurred about 75,000 casualties. Owens didn't say much about the battle during his interview Wednesday, other than that it was "a bad, bad place."
"That's the only time we run," he said. "And I mean, we run fast."
He told more lighthearted stories, too, about cooking potatoes and eggs in his steel helmet and about his unit quickly stripping during a rare rain shower in Germany so they could wash themselves.
Owens was not injured overseas, something he credited to "the good Lord riding with me."
When he returned to the U.S., Owens was taken to St. Louis, where he signed his discharge papers and lost a duffle bag holding everything he owned. He then caught a bus back home.
Because he had no communication with his family for the nearly two years he was overseas, Owens said, they all thought he was dead.
"When I showed back up, I was a ghost," he said.
Living history
Owens sped through the rest of his story -- what happened after the military -- telling Deason briefly about working in Dumas, Calif., Jacksonville and Gravel Ridge and time spent with his son, two grandchildren and five great-grandchildren. He talked about the church he's belonged to for years, Levy Church of Christ, and a trip he recently made with a neighbor to the WWII Memorial in Washington, D.C.
Near the end of the interview, Deason asked Owens what he called "double-barreled" questions about how his experience in WWII affected his life and his outlook on war.
"There shouldn't be no wars," Owens answered to the latter question. "I thought when this one was over, we was going to have peace the rest of our lives. But it sure didn't work out that way."
Deason and Owens were introduced to each other by Edwin Lyons, a military history buff and employee of the Arkansas Department of Human Services who sought Owens out two years ago before a trip to WWII sites in France. The two have kept in touch and make regular trips to Owens' favorite restaurant, Gadwall's Grill in North Little Rock, where a picture is displayed of Owens in a WWII cap surrounded by the restaurant's wait staff.
When he heard of the Veterans History Project, Lyons thought of Owens as the perfect candidate, he said.
"I think it's awesome people will be able to go look at it," Lyons said. "He's such a mound of knowledge, and the experiences he had -- wow. Here's living history, right here."
Owens said he rarely shared his war stories, afraid people wouldn't believe him.
"I wouldn't have believed it if I would've been here and not over there," he said. "If I told them, it would just pass through. So, really I haven't talked about it."
When asked what message he would want to leave for those in future generations who may watch his interview, Owens paused for awhile, then gave a few pieces of advice.
"Just do what your parents tell you to do, and you won't get no problems," Owens said. "Always think ahead. And if somebody asks you to do something, you think about what it's going to do to you when you do that. And pray for peace. And maybe some day we'll have peace. I think mine is coming around pretty shortly."
Print Headline: '44 GI remembers navigating a truck through the dead
Sponsor Content