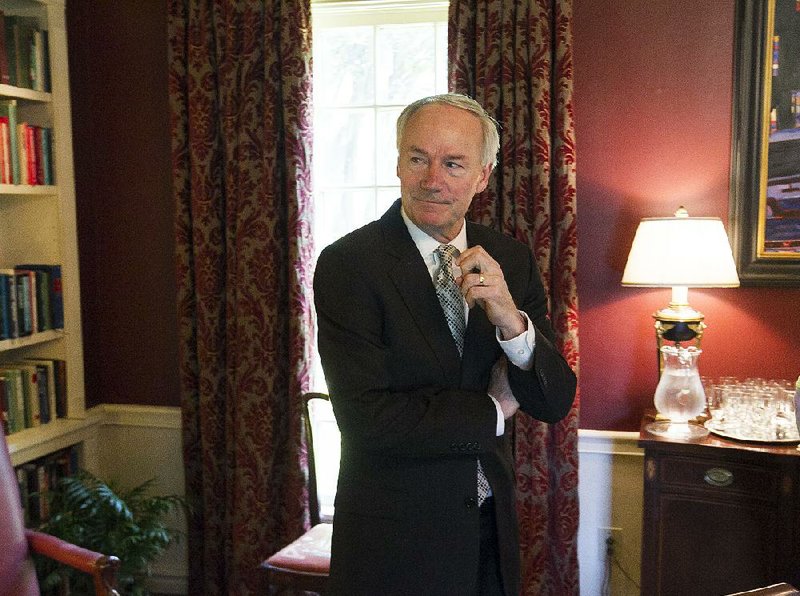 Gov. Asa Hutchinson said Wednesday that he expects court challenges but that the eight condemned men, their appeals exhausted, have gotten "finality." ( Benjamin Krain)
After nearly a decade since an Arkansas inmate was put to death, Gov. Asa Hutchinson on Wednesday announced the execution dates for eight.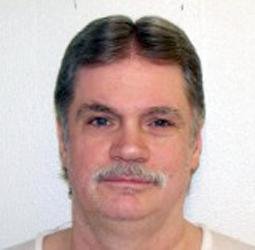 Photo by AP/Arkansas Department of Correction
This undated handout photo provided by the Arkansas Department of Correction shows Bruce Earl Ward. Ward, a former perfume salesman was convicted in the 1989 killing of 18-year-old Rebecca Doss.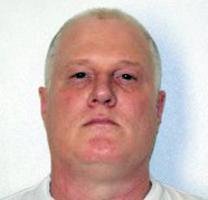 Photo by AP/Arkansas Department of Correction
This undated handout photo provided by the Arkansas Department of Correction shows Don William Davis. Davis was sentenced to death for the 1990 killing of Jane Daniels in northwest Arkansas.
Barring intervention from a court, the state will first mete out capital punishment, by lethal injection, to convicted murderers Bruce Ward and Don Davis. They have the earliest of the execution dates, Oct. 21.
Hutchinson said he expects the execution dates to be challenged in court, but he thinks the eight offenders have gotten "finality" in their cases and have exhausted all of their standard appeals.
Hutchinson spokesman J.R. Davis said the governor is "fulfilling" a duty of his office by setting the dates.
"It's not something he takes lightly at all," J.R. Davis said. "But these crimes were heinous, and they were sentenced to death because of these crimes. He will carry those out."
Jeff Rosenzweig, an attorney for the eight men, said he will seek a court injunction to delay the executions. He noted that a lawsuit filed in June seeking disclosure of the source of the drugs used in executions is still pending.
Act 1096, which was passed during this year's legislative session, prohibits the Arkansas Department of Correction from disclosing the source of the execution drugs, but Rosenzweig said his clients have a right to know who made the drugs.
"There are some very serious issues, starting with the fact that the state wants to hide what drugs they're using or where they got them from. They want to hide that," Rosenzweig said. Divulging that information "tells us if it's a legitimate supplier or some fly-by-night operation. If it's a fly-by-night operation, it's torture."
The Eighth Amendment to the U.S. Constitution prohibits cruel and unusual punishment.
Rosenzweig said he couldn't elaborate on the strategies he and fellow attorneys will use to seek an injunction.
A combination of legal challenges and a lack of availability of lethal-injection drugs has halted executions in Arkansas for nearly a decade.
The state's last execution was that of Eric Nance in November 2005. Nance was convicted of the 1993 murder of 18-year-old Julie Heath of Malvern. He was put to death using a three-drug cocktail of phenobarbital, potassium chloride and a paralytic agent.
As of Wednesday, a Department of Correction spokesman said, there were 26 other inmates on death row.
The eight executions will occur in pairs, J.R. Davis said, because "it's more efficient to do two on one date."
He and Judd Deere, a spokesman for Arkansas Attorney General Leslie Rutledge, said all eight have exhausted their appeals.
But Ward, 58, has challenged the Arkansas Supreme Court's ruling in February that upheld his death sentence. He is seeking a review by the U.S. Supreme Court.
Ward was convicted of capital murder in October 1990 for the 1989 slaying of a Little Rock convenience store clerk.
Ward's attorney, federal public defender Josh Lee, said Ward was denied due process because he was not given an independent mental-health examination during and after his trial. In early May, Lee asked the nation's highest court to review Ward's case.
Lee did not return calls seeking comment Wednesday.
According to court records, the U.S. Supreme Court's office of the clerk asked state court officials last week for all of Ward's court records.
Lee and state attorneys have filed arguments with the high court, which has scheduled the case for a conference Sept. 28.
Four high court justices would have to vote to accept a hearing on Ward's appeal, and five of the court's nine justices would have to vote for a stay in order to halt Ward's scheduled execution, according to the court's website.
Deere said that although attorneys for both sides have submitted arguments to the U.S. Supreme Court, the court has yet to decide whether to hear Ward's case.
"It's not an official appeal yet until the court decides to [do so]," Deere said. "There is no stay or injunction preventing his [execution] from moving forward at this time. Obviously that could change, but that would be speculation and we'll handle it as it comes."
The eight men whose execution dates are now set are challenging in Pulaski County Circuit Court the legitimacy of the state's death-penalty laws.
In 2013, then-Arkansas Attorney General Dustin McDaniel's office reached a settlement with the men, promising to disclose the source of the drugs that would be used in their executions.
Act 1096 barred the release of that information, so Rosenzweig and other attorneys sued.
Rosenzweig conceded that several similar challenges have failed in federal courts across the country but said none of those challenges involved a pre-existing agreement between the prisoners and the state to share that information.
Rosenzweig argues that his clients have a right to make sure the execution drugs come from a reputable source so that the risk of pain during the executions can be minimized.
"We have a situation that the other states didn't have ... it's very different from us wandering into the court and saying 'Tell me this!' We're dealing with a commitment, a contract, an agreement made by the state," Rosenzweig said. "This has ramifications far beyond executions."
Until recently, state officials had difficulties obtaining lethal-injection drugs.
In 2011, the state handed over its supply of the execution drug sodium thiopental to federal drug agents after the state's prison department got the drug from a wholesaler operating out of a driving school in London.
In June, the state obtained potassium chloride, vecuronium bromide and midazolam at a cost of $24,226.40.
Midazolam's effectiveness as a sedative in executions has been questioned after some botched executions, including that of Clayton Lockett, who struggled and convulsed for 43 minutes during his April 2014 execution in Oklahoma.
In June, the U.S. Supreme Court, rejected claims that Oklahoma's use of midazolam violated death-row inmates' Eighth Amendment rights, and ruled that midazolam could continue to be used in executions.
On Aug. 6, the Arkansas Department of Correction formalized its policies and procedures for carrying out executions. On Sept. 1, Rutledge asked that the governor schedule the executions.
Although there is no statutory requirement for Rutledge to request execution dates, traditionally, it has been attorneys general who request them from governors.
The eight men are scheduled to be put to death over the next four months.
Don Davis, 52, was convicted for the October 1990 slaying of Jane Daniel of Rogers. He is set to die the same day as Ward.
Terrick Nooner, 44, was convicted of the March 1993 murder of Scot Stobaugh of Little Rock. Nooner is to be executed on Nov. 3, along with 45-year-old Stacey Johnson, who was convicted in the April 1993 slaying of Carol Heath of De Queen.
Marcel Williams, 45, was convicted in the November 1994 murder of Stacy Errickson of Jacksonville. Williams shares a Dec. 14 execution date with Jack Jones Jr., 51, convicted in the June 1995 killing of Mary Phillips of Bradford.
On Jan. 14, the state is scheduled to execute Jason McGehee, 39, and Kenneth Williams. McGehee was convicted in the August 1996 murder of John Melbourne Jr. of Harrison. Kenneth Williams was convicted in the October 1999 slaying of Cecil Boren of Grady.
Print Headline: Dates to die set for 8 inmates
Sponsor Content