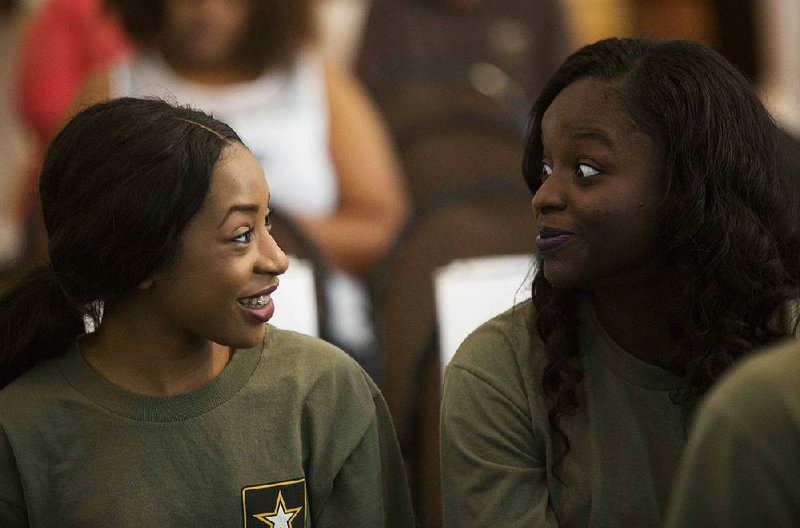 Deangela Horton, 17, (left) and Dominique Darrough, 17, both training for the Army, chat before Thursday's ceremony at the MacArthur Museum of Military History in Little Rock. ( Melissa Gerrits)
Fifteen recruits, dressed in jeans and U.S. Army or Marine Corps T-shirts, stood in the MacArthur Museum of Military History on Thursday, raised their right hands and repeated the oath of enlistment.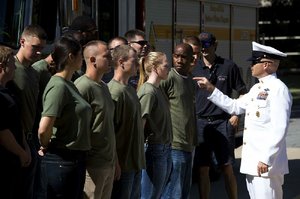 Photo by Melissa Gerrits
Senior Chief Petty Officer Rick Jackson of the Little Rock military entrance processing station organizes first responders and future soldiers for a photograph Thursday. The military recruits were sworn in during a ceremony commemorating the Sept. 11, 2001, terrorist attacks.
The recruits were sworn in during a commemoration of the 14th anniversary of the Sept. 11, 2001, terrorist attacks, hosted by the U.S. Military Entrance Processing Station in Little Rock.
Thursday's ceremony started with a moment of silence for those who died on 9/11. Army Maj. Mark Howell, commander of the processing station, thanked the Little Rock Police Department, Little Rock Fire Department and Metropolitan EMS of Little Rock. Representatives of each agency were given certificates of appreciation.
"Today and everyday I want to say thank you for your service and daily sacrifices," Howell said. "I want to recognize the first responders, but also recognize the individuals before us and thank each and every one of you for volunteering to serve and protect our great nation."
According to the processing station, approximately 3.1 million people have enlisted in the armed forces since 9/11, and about 32,800 have enlisted in Arkansas. The Little Rock station swears in about 4,000 people annually.
Howell, who took over as commander on June 24, said he wanted Thursday's recognition to become an annual event. Howell served in the Army's 1st Infantry Division in Afghanistan and the 82nd Airborne Division in Iraq.
"I've been deployed, and I've lost close friends," Howell said. "So it's very important to know what we're doing every day has a purpose. I want to acknowledge that purpose. My goal, while I'm here, is to build a relationship with the community, because they're giving us their sons and daughters to serve and protect our country."
Just after the recruits were sworn in, Heather McDaniel of Benton snapped a photo on her cellphone of her 18-year-old son, Nicholas, who had just entered the Army.
Colby Weymouth, 18, of Bradford posed with his mother and sister on one side and his grandparents on the other as they shot family photos during a short reception. Weymouth joined the Army and will leave for basic training at Fort Benning, Ga., on Sept. 28, he said.
"I feel great, really excited," Weymouth said. "This is something my family does. My grandfather is retired Air Force."
Colonel Marcus Hatley, who leads the military and veterans initiative through the Arkansas attorney general's office, talked about his older brother's service in the Vietnam War and how that inspired his entry, years later, into the ROTC program at the University of Arkansas at Fayetteville.
Hatley retired in May after 30 years in the Army.
"All you need is an opportunity to prove yourself, prove what you're worth, prove what you can do as a team," Hatley told the enlistees. "I didn't plan to stay in for 30 years, but I enjoyed having a uniform on. I loved serving my country. That's why I signed up. I wanted to be all I could be."
Metro on 09/11/2015
Print Headline: 15 recruits sworn in at 9/11 ceremony
Sponsor Content