CONWAY -- During a Thursday news conference, former Gov. Mike Huckabee touted his defense of Kim Davis, a county clerk in Kentucky who was found in contempt of court for refusing to issue marriage licenses to same-sex couples.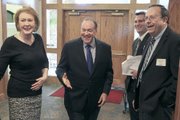 Davis walked out of jail arm in arm with the Republican presidential candidate Tuesday. Huckabee said she was greeted by a 5,000-person rally that his team organized outside the jail where she had been held.
"It made for a terrific opportunity to bring attention to just how frightening it is when the judicial branch thinks that it is all three branches," he said. "I'm very glad we went."
He spoke at Conway Country Club before attending a private fundraiser. The Huckabee campaign declined to say how much money he raised at the event.
Huckabee said Arkansas clerks should follow their convictions and state law, although he did not say outright that they should ignore the Supreme Court.
"Each clerk has to make that decision, but I think what we need to back up and ask, can the Supreme Court just make a law?" Huckabee said. "If they can, then I guess most of us must have misunderstood when we actually read the Constitution."
Gov. Asa Hutchinson and Attorney General Leslie Rutledge directed clerks to comply with the court's decision, although both noted they didn't like the ruling.
Huckabee described the decision as "unconstitutional overreach" by unelected officials.
"This was about the principle of a person being put in jail for following the only law that she had in front of her as well as following her conscience," Huckabee said. "I would hope that the judge realizes he really, really made a huge mistake."
Legal scholars have disagreed with Huckabee's assertion, saying the U.S. Constitution is the highest law of the land.
"Public officials are bound by their oath to follow the Constitution, and the Supreme Court interprets the Constitution," said John DiPippa, a professor of law and public policy at the University of Arkansas at Little Rock. "So when they have interpreted the document to mean something, public officials are required to follow it.
"That was challenged in the desegregation era and in an ugly incident in Arkansas. Gov. Faubus made the same argument that Gov. Huckabee is making now -- that local officials don't have to follow the Supreme Court's decisions."
Nevertheless, Janine Parry, a political science professor at the University of Arkansas at Fayetteville, said Huckabee is highlighting an issue that is important to many social conservatives.
"It does seem like a way for him to distinguish himself in a field where it's been hard for anyone but Donald Trump to do so," she said. "This is something that's in his wheelhouse. It's high profile. It's an issue that strums the chords of Christian evangelicals and tea party types."
She noted that he hasn't been doing well in polls among evangelical voters in 2015 despite steps to court them.
"Frankly, it's hard to break through all the noise," she said.
During the news conference, Huckabee addressed an awkward encounter at the rally. GOP presidential candidate and U.S. Sen. Ted Cruz of Texas showed up, but a Huckabee staff member blocked him from speaking or standing beside Davis on the stage.
"I invited him back to talk to Kim Davis, which I thought was gracious to do, and he did that, and then we were getting ready to go ... and we had scheduled a press [availability]," Huckabee said. "It was simply a matter of wanting to clear the path because we were scheduled to be there right then."
Huckabee also said he had nothing to do with "Eye of the Tiger," Survivor's 1982 hit song, being played at the rally. Frankie Sullivan, a Survivor member and the song's co-writer, has threatened to sue.
"I didn't pick it. I didn't play it," he said. "And let me be very clear, most certainly Kim Davis had absolutely nothing to do with any of that."
Metro on 09/11/2015