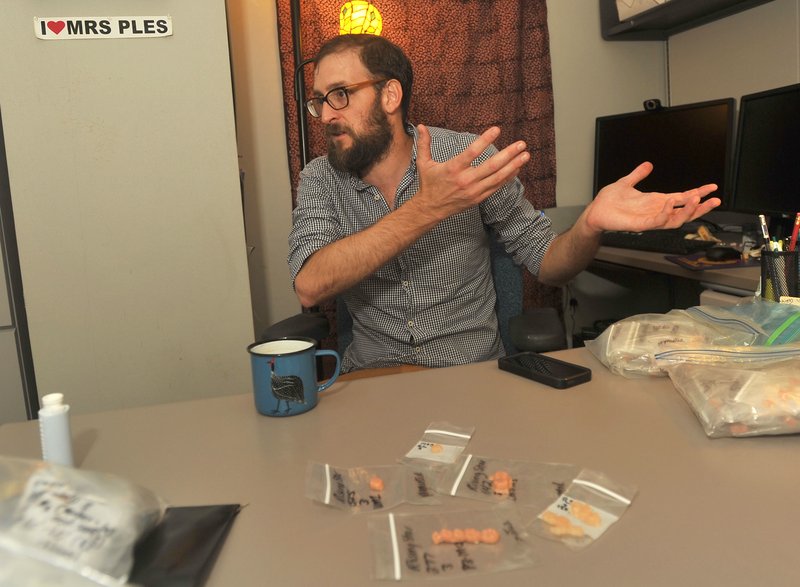 University of Arkansas biological anthropologist Lucas Delezene shows some of the teeth molds he is studying Thursday at his office in Old Main. Delezene is part of the international team of scientists who verified that fossils found in a South African cave belong to a new species of human ancestor. ( Michael Woods )
FAYETTEVILLE -- A University of Arkansas anthropologist was part of an international team of scientists who verified that fossils found in a South African cave belong to a new species of human ancestor, Homo naledi.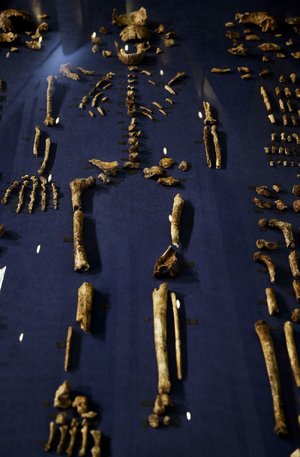 Photo by THEMBA HADEBE / AP
A composite skeleton of Homo naledi surrounded by some of the hundreds of other fossil elements is displayed Thursday in Magaliesburg, South Africa.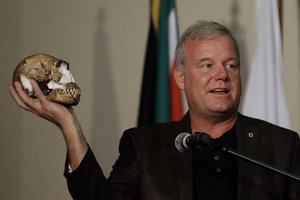 Photo by THEMBA HADEBE / AP
Lee Berger, a professor at Wits University, shows a reconstruction of the skull of Homo naledi Thursday in Magaliesburg, South Africa.
Lucas Delezene, UA assistant professor of anthropology, led the dental research on the project. He compared the teeth of known hominids to those of the newly discovered fossils to determine they represent a new scientific discovery.
"I spent the last two summers looking at every fossil tooth I could get my hands on, and the new South African fossils don't match anything," said Delezene, 37, who grew up in Chicot County and southern Missouri.
Hominids are members of the biological family Hominidae, which includes humans, chimpanzees, gorillas and orangutans.
While Delezene examined teeth, other researchers analyzed bones.
"We were all in agreement that the fossils are different than anything found previously," he said.
The work began after the fossils were found in 2013 in a cave called Rising Star in the Cradle of Humankind World Heritage Site, 30 miles northwest of Johannesburg. More than 60 scientists around the world were involved.
The official announcement came Thursday by the National Geographic Society and the University of Witwatersrand in Johannesburg, also known as Wits University. The National Geographic Society hailed it as one of the greatest fossil discoveries of the past half century and a clue to human origins.
"Consisting of more than 1,550 numbered fossil elements, the discovery is the single largest fossil hominin find yet made on the continent of Africa," according to a news release from National Geographic.
"The fossils, which have yet to be dated, lay in a chamber about 100 yards from the cave entrance, accessible only through a chute so narrow that a special team of very slender individuals was needed to retrieve them. So far, the team has recovered parts of at least 15 individuals of the same species, a small fraction of the fossils believed to remain in the chamber."
Homo naledi appeared very primitive in some respects and modern in others, according to National Geographic. The adults were about 5 feet tall and weighed about 100 pounds. Homo naledi had a brain the size of an orange and a slender body, with apelike shoulders and curved fingers for climbing.
Also, Homo naledi appears to have intentionally deposited bodies of the dead in the remote cave chamber, a behavior previously thought limited to humans, according to the National Geographic news release.
The burial room, found deep underground, contained fossils of infants, children, adults and the elderly. That room was separated from the rest of the cave.
The discovery was made by Lee Berger, research professor at Wits University and a National Geographic explorer-in-residence. Berger was an adjunct archaeology professor on the UA campus in Fayetteville in 1998-99. His parents are UA alumni from Hot Springs, said Amy Schlesing, a spokesman for the university.
"With almost every bone in the body represented multiple times, Homo naledi is already practically the best-known fossil member of our lineage," Berger told the National Geographic Society.
Delezene and the other researchers who validated the find have co-written one of two papers on the discovery in the journal eLife, according to a UA news release. The other paper focuses on the geology and location of the find.
Delezene and the analysis team are working on more detailed articles about the new species as their research continues.
The discovery will be covered in the October issue of National Geographic magazine and a Nova/National Geographic special, Dawn of Humanity, that will air on Public Broadcasting Service television stations nationally Sept. 16. The Arkansas Educational Television Network will air it at 8 p.m. that day.
For young researchers who were analyzing Homo naledi teeth at a workshop last year in South Africa, it was "a paleofantasy come true," said Delezene.
"In graduate school, you dream of someone giving you a pile of teeth and saying 'Figure it out,'" said Delezene.
Out of 200 Homo naledi teeth Delezene analyzed, only one had a possible cavity.
"That's not atypical for prehistoric humans," he said.
According to an article at NationalGeographic.com, "Some features were astonishingly humanlike -- the molar crowns were small, for instance, with five cusps like ours. But the premolar roots were weirdly primitive."
Delezene said the age of the fossils isn't yet known, but the teeth are comparable in appearance to fossils found in Kenya that are 1.5 million to 2 million years old.
"Traditionally, teeth have played an important role in identifying the species because there are lots of teeth in the fossil record," said Delezene. "They're hard. They're like little rocks in your mouth. So they preserve well in the fossil record, whereas your ribs don't preserve that well. So we rely heavily on teeth to identify species."
In the case of the Rising Star cave, though, researchers have complete skeletons, so they didn't have to rely too heavily on the dental anthropology, Delezene said.
As the project moves forward, Delezene and Peter Ungar, chairman of UA's anthropology department, will work on reconstructing the diet of Homo naledi through analysis of the teeth.
Delezene and collaborators have developed 3-D models from CT scans of the teeth that will allow them to determine precise differences between these teeth and previous findings, according to the UA release. They also will explore how the new species fits into the broader scheme of human evolution.
Other scientists will work on determining when Homo naledi lived.
The fossil material was recovered in two expeditions led by Berger in November 2013 and March 2014, dubbed the Rising Star Expeditions.
In the initial expedition, over a period of 21 days, more than 60 cavers and scientists worked together in what Marina Elliott, one of the excavating scientists, described as "some of the most difficult and dangerous conditions ever encountered in the search for human origins," according to the National Geographic release.
Elliott was one of six women selected as "underground astronauts" from a global pool of candidates after Berger issued a call on social media for experienced scientist/cavers who could fit through the 7-inch-wide cave opening.
Much remains to be discovered in the Rising Star cave.
"This chamber has not given up all of its secrets," Berger said. "There are potentially hundreds, if not thousands, of remains of H. naledi still down there."
"If we learned about a completely new form of hominin only because a couple of cavers were skinny enough to fit through a crack in a well-explored South African cave, we really don't have a clue what else might be out there," Jamie Shreeve, National Geographic's executive editor for science, wrote in the magazine.
A Section on 09/11/2015
Print Headline: UA dental expert in on verifying a new pre-human
Sponsor Content