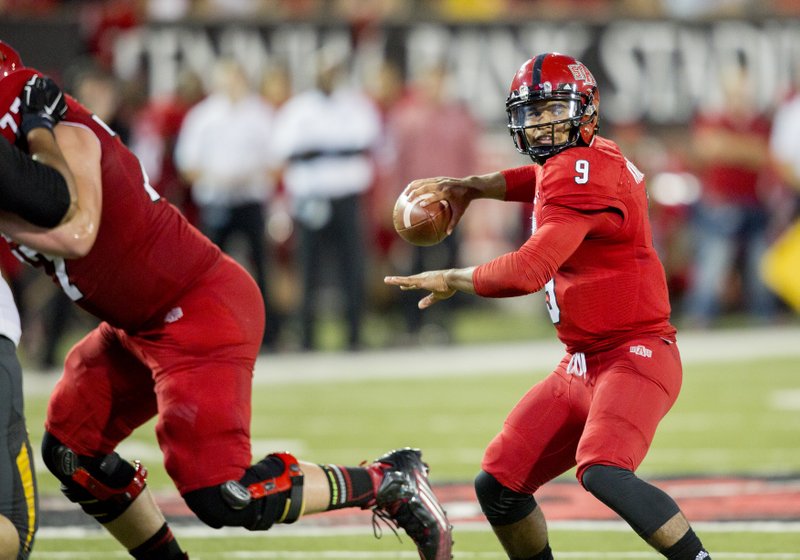 Arkansas State quarterback Fredi Knighten passes the ball into the end zone during an NCAA college football game, Saturday, Sept. 12, 2015, in Jonesboro. ( Gareth Patterson / The Associated Press )
JONESBORO — Maty Mauk's improvisation helped put Missouri in a first-half hole, then it dug the Tigers out Saturday night at Arkansas State.
Missouri's junior quarterback threw two touchdown passes in the third quarter, linebacker Kentrell Brothers had two fourth-quarter interceptions and the 21st-ranked Tigers rallied for a 27-20 victory to spoil the Red Wolves' party at the newly-renovated Centennial Bank Stadium.
A $25.9 million remodel of the west side of the stadium and a rare SEC opponent in Jonesboro made for one of the most anticipated games in Jonesboro in years Saturday night. ASU hung in until Mauk led two third-quarter scoring drives and quarterback Fredi Knighten left with an unspecified injury.
The Tigers held the Red Wolves to 217 total yards, the lowest in 15 games under Coach Blake Anderson, and 37 yards in the second half.
Mauk finished 16 of 36 for 148 yards and 3 touchdowns with 2 interceptions, and he also ran for 75 yards, 66 in the second half.
See Sunday's Arkansas Democrat-Gazette for full details.
Sponsor Content