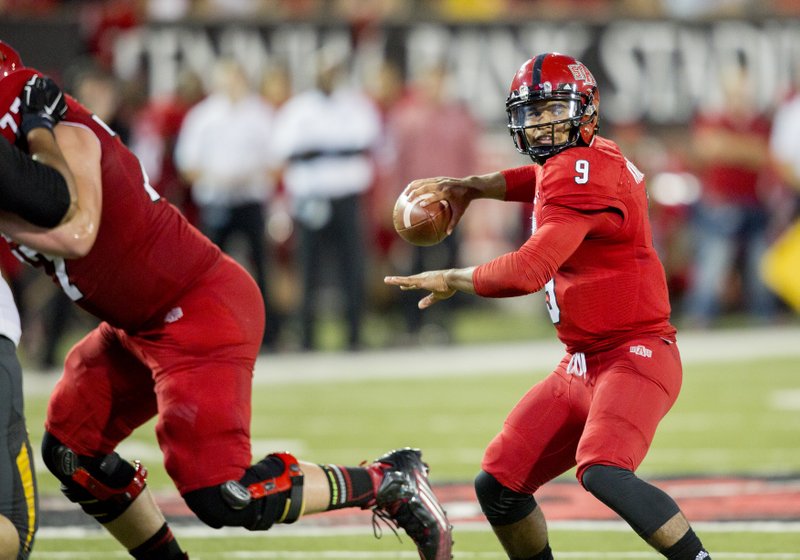 Arkansas State quarterback Fredi Knighten passes the ball into the end zone during an NCAA college football game, Saturday, Sept. 12, 2015, in Jonesboro. ( Gareth Patterson / The Associated Press )
JONESBORO — Arkansas State quarterback Fredi Knighten will miss Saturday's home game against Missouri State and maybe a road game against Toledo the following week with a pulled groin, ASU coach Blake Andrson said Monday.
The diagnosis on Knighten, who injured his groin in the third quarter of Saturday's 27-20 loss to Missouri, came after a Monday MRI. Anderson said that another MRI was scheduled for Monday afternoon, but he doesn't expect Knighten to play at 6 p.m. Saturday regardless of what it says.
Redshirt freshman James Tabary, who is 10 of 18 passing for 122 yards with 2 interceptions this year, will make his first career start Saturday.
"Just a really significant groin pull that can be rehabbed in a week or two," Anderson said. "That's what we expect. Don't expect him this week, would like to think he'd be ready for Toledo, but we don't know for sure. We'll get Tabary ready to roll."
Knighten's injury, suffered while he was avoiding pressure during ASU's first second-half series, was originally feared to be worse. Anderson said initial tests showed "bleeding" and there was a fear that Knighten had suffered a torn groin, which could have ended his season.
"[Knighten] felt better, faster than we thought he might," Anderson said.
Knighten's injury was one of three suffered by starters Saturday.
Anderson said safety Bo Sentimore broke a bone in his ankle that will require surgery and cause him to miss the rest of the season, and linebacker Tajhea Chambers likely tore an ACL, which will also end his season.
Linebacker Xavier Woodson will return after a two-game suspension to help fill Chambers' void, and junior Chris Humes will help make up for the loss of Sentimore.
Sponsor Content