Paving the way for Pope Francis' U.S. visit later this month, more than a dozen Catholic nuns along with videographers hosted two Arkansas meetings Sunday to ask residents and religious leaders what is wrong in their communities and what solutions are needed.
MORE TOP STORIES IN TODAY'S DEMOCRAT-GAZETTE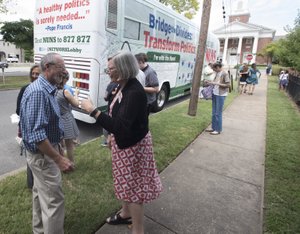 Photo by J.T. Wampler
Lioneld Jordan, Fayetteville mayor, (left) visits Sunday with Sister Simone Campbell. Campbell is with NETWORK, a National Catholic Social Justice Lobby, which stopped in Fayetteville at St. Paul's Episcopal Church on its fourth national "Nuns on the Bus" tour themed "Bridge the Divides: Transform Politics." The 13-day, seven-state tour kicked off in St. Louis on Sept. 10 and ends in Washington on Sept. 22, where NETWORK will host a rally to welcome Pope Francis.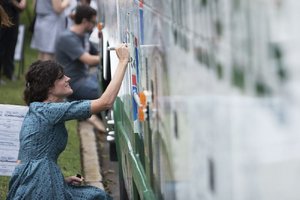 Photo by J.T. Wampler
Kerri Packwood of Fayetteville signs the bus Sunday as the Nuns on the Bus tour made a stop at St. Paul's Episcopal Church in Fayetteville.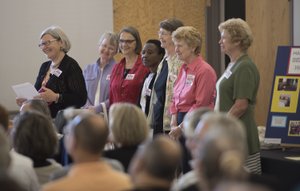 Photo by J.T. Wampler
Sister Simone Campbell (left) smiles Sunday while being introduced at St. Paul's Episcopal Church in Fayetteville.
The 13-day Nuns on the Bus tour -- sponsored by Network, a national Catholic social-justice lobby -- is in response to Pope Francis's recent message to transform politics and the economy by prioritizing the common good and caring for those in society's margins.
Standing Sunday evening at Little Rock's First United Methodist Church, in front of dozens of round tables filled with hundreds of community members and religious leaders, Catholic nun Sister Simone Campbell took a marker and wrote "Racial Division" on an easel of white paper.
Members of the audience continued to call out other issues: geographic division, child hunger, homelessness, low wages, political tensions, a broken criminal justice system, executions, education inequality.
"Now for the really tough question: How do we move forward?" Campbell asked, then instructed each table to discuss the issues for 10 minutes and talk about solutions.
Bishop Felton May of the Theressa Hoover Memorial United Methodist Church in Little Rock looked at the five other people at his table and drew an arch in the air with his finger.
"The traffic layout is built so that the core of our city will be 80 percent white in the near future and neighborhoods will be isolated. Property owners are building like crazy downtown," May said. "I don't know who is pulling the strings, but I have my suspicions."
Mary Ellen Vandegrift, a member of First United Methodist Church in Little Rock, nodded her head in agreement.
"The focus is on downtown development and its high-price housing that excludes," she said. "The development should be environmentally and psychologically friendly to all kinds of people, not just a certain group."
Bishop Gary Mueller of the United Methodist Church of Arkansas said that, in his three years in the Little Rock community, his eyes have been opened to a critical divide in race, education and poverty in the metropolitan community.
"The hopelessness that has been bred is heartbreaking," he said.
Open communication, hearing one another's stories, and respecting differences is paramount to the solution, the group said.
"At one time, politicians would work together because they believed in the common good," said Kathy Webb, executive director of the Arkansas Hunger Relief Alliance. "For many folks today, it's my way or no way. We, as leaders, have to say, 'yes, there is a common good.' We have to have respectful civil discourse or we will not be able to bridge the divide. We cannot move forward if we don't take action."
Earlier Sunday at St. Paul's Episcopal Church in Fayetteville, community members proposed solutions that included more mental health services, sick leave for those in low-income jobs and expanded child care offerings that are free for low-income mothers.
Campbell joked that in Fayetteville she had found a "Petri dish" of culture. Talking about serious issues with one another is important, she said, urging people to start discussions in grocery store lines and listen to what others have to say.
The mission of the nuns riding the bus is to gather the stories of what is dividing the nation and to foster unity, said Sister Bernadine Karge.
The attitude of "If I have mine, then I don't have to worry about anybody," isn't right, she said. The stories of those they meet put a face on those receiving public assistance.
Part of this year's agenda for the nuns is to encourage the establishment of a living wage linked to inflation. Campbell said she'd met a woman who works in a trendy shop but had to live in a homeless shelter because she can't afford rent.
"We can do better than that," she said.
Food stamps and housing programs were set up as a safety net, but so many working people need the aid that they have a new function, Campbell said.
"They're business subsidies," she said.
In St. Louis, the nuns met with black mothers who are talking with white mothers about the prejudice their sons face by being black, and talked to workers stuck in multiple part-time jobs to make ends meet. In Wichita, Kan., they were picketed. In Kansas City, Mo., Karge heard from a woman who said a child she was raising attempted suicide, hoping to make the woman's job easier.
"We need our hearts broken open," said Karge, a Chicago immigration lawyer for 30 years.
The meeting resonated with those in attendance.
Earline Dixon, a member of the choir at St. Paul's Episcopal Church in Fayetteville, said she sees hope in Pope Francis and believes he is interested in creating a better world because he is of the people.
"He really sees life as we see it. He's not stuck up," Dixon said.
Poverty is a huge issue in Northwest Arkansas, Molly Jensen of Fayetteville said.
"The haves and have-nots, there's quite a chasm between them," Jensen said.
Economic boundaries tend to follow racial makeup and drive stereotypes, but poverty is the root problem, she said.
Women in the Catholic church have never been viewed as powerful, Hershey Garner of Fayetteville said. Yet the nuns, the ones who have often been marginalized, have become the face of social justice for the church, he said.
"When Jesus was here, he wasn't big on churches, either," Garner said, pointing out that the women use a bus.
The symbolism of the sisters traveling through the countryside, not dressed in habits and ensconced in a convent but going to the people, echoes Christ's ministry, he said.
Information for this article was contributed by Amye Buckley of the Northwest Arkansas Democrat-Gazette.
Metro on 09/14/2015