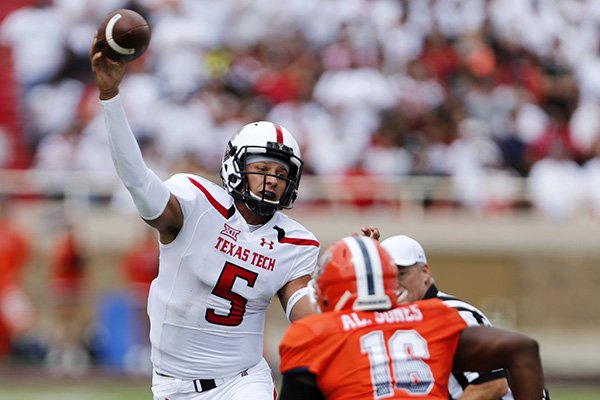 Texas Tech's quarterback Patrick Mahomes passes during an NCAA college football game against University of Texas at El Paso, Saturday, Sept. 12, 2015, in Lubbock, Texas. (Mark Rogers/Lubbock Avalanche-Journal via AP)
FAYETTEVILLE -- Arkansas will try to stop Patrick Mahomes' streak of winning Big 12 offensive player of the week awards.
Mahomes, a sophomore quarterback who leads Texas Tech (2-0) into Saturday night's game at Arkansas (1-1), has won the Big 12 award in his last three games, going back to the Red Raiders' 48-46 loss to No. 5 Baylor in last season's finale when he completed 30 of 56 passes for 598 yards and 6 touchdowns with 1 interception.
"He's a player now," Baylor Coach Art Briles said Monday on the Big 12 coaches' teleconference. "I mean, the guy's really good.
"He's dynamic and a very good leader. He's very active with his arm and his feet. He's a guy that's doing a great job for them right now, no question."
Briles said he's not surprised Mahomes, who will celebrate his 20th birthday Thursday, is playing so well at his age.
"Players play," Briles said. "You don't have to be 22 to be an exceptional player.
"If you're good, get out there and play. So what he's doing isn't surprising at all."
Mahomes -- whose father Pat Mahomes was a major league pitcher for 12 seasons -- opened this season by completing 33 of 53 passes for 425 yards and 4 touchdowns with 1 interception in Texas Tech's 59-45 victory over Sam Houston State to earn his second Big 12 offensive player of the week award.
This week Mahomes is sharing the award with Baylor wide receiver Corey Coleman after completing 18 of 33 passes for 361 yards and 4 touchdowns and rushing for 2 touchdowns in the Red Raiders' 69-20 victory over Texas-El Paso.
Mahomes, 6-3 and 219 pounds, starred at Whitehouse (Texas) High School and took over as the Red Raiders' quarterback last season when Davis Webb was sidelined by an ankle injury.
In six career starts, Mahomes has passed for 2,214 yards and 22 touchdowns with 3 interceptions.
"The most impressive thing to me, outside of all his physical attributes, is the way he's protected the ball thus far and even as a true freshman last year," Texas Tech Coach Kliff Kingsbury said Monday. "He's come in against some quality opponents and really taken care the football.
"That's not something that a young quarterback usually does, especially one that takes as many chances as he does."
Mahomes ranks second nationally in total offense (428.5 yards) and passing yards (393.0) per game behind Bowling Green's Matt Johnson (466.0 and 457.5). Mahomes and Johnson are second nationally with eight touchdown passes behind Baylor's Seth Russell, who has nine.
"Not bad," Kingsbury said after the UTEP game when asked about Mahomes' performance. "A couple throws he missed when he was kind of free-styling when it was there to stand in there and be strong and be a quarterback.
"When it's there, stand in there and make the throw. When you've got to get out and do that stuff, then get out and do it. That just comes with more and more reps."
Texas Tech has had 11 scoring drives have been less than two minutes, including five under one minute.
"It's something Coach Kingsbury preaches, just playing fast," Mahomes said after the UTEP game. "When you have a lot of playmakers on the field, they make plays.
"Just putting the ball in their hands so they can make plays, we can win the game."
Kingsbury didn't announce a starting quarterback before the season opener, but Mahomes said after the Sam Houston State game he knew he was going to start.
Webb, a junior, has played off the bench in both games.
"I couldn't even explain to you how well he's handled it," Mahomes said of Webb's reaction after the Sam Houston State game. "He's been positive the whole way, and I think that goes with the friendship we have. We both like each other and we both are rooting for each other in the end."
Mahomes didn't play in Arkansas' 49-28 victory at Texas Tech last season, but the Razorbacks' coaches are impressed by what they've seen of him on film.
"He's got an accurate ball," Arkansas Coach Bret Bielema said. "He knows where he wants to go with the football.
"He's on the same page with his head coach. You could see what they do, and he understands why they're doing it. Whether it's a high-low, an in-out, play-action, whatever it is, he's pretty locked into it."
Bielema said Mahomes also benefits from a strong supporting cast, including receivers Jakeem Grant (13 catches for 212 yards) and Devin Lauderdale (10 catches for 197 yards and 3 touchdowns) and running back DeAndre Washington (25 carries for 212 yards).
"Good quarterbacks are defined by who they throw the ball to, and he's got some guys who can definitely catch the ball all around him," Bielema said. "They've got a good running back who is productive."
Mahomes is Texas Tech's second-leading rusher with 71 yards on 11 carries.
"I think he brings a dynamic element to their offense," Arkansas defensive coordinator Robb Smith said.
Mahomes has completed passes to 11 receivers this season.
"It's good to get everybody involved," Kingsbury said Monday. "Pat does a good job of going through his reads, going through his progressions, not honing in on one guy."
Sports on 09/15/2015
Print Headline: Tech QB puts up video-game stats
Sponsor Content