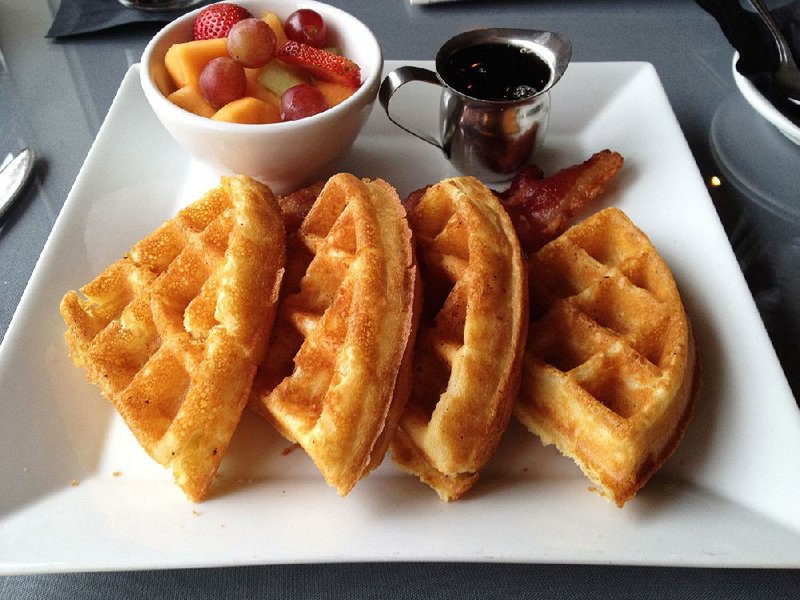 Waffles with fruit and bacon are now on the brunch menu at The Afterthought Bistro & Bar. ( Eric E. Harrison)
Mount Olive, N.C.-based Hwy 55 Burgers, Shakes & Fries opened its first Arkansas franchise outlet Monday at 212 E. Beebe Capps Expressway, Searcy. The menu at the retro-themed diner (hwy55.com) offers fresh, never-frozen burgers, house-made frozen custard and other "classic favorites," like premium sliced cheesesteaks, from an open kitchen. Franchisees Louis and Shannon Froud say this will be the first of 30 Arkansas outlets. Hours are 10:30 a.m.-10 p.m. Sunday-Thursday, 10:30 a.m.-11 p.m. Friday-Saturday. The phone number is (501) 305-3738.
SHARE THIS STORY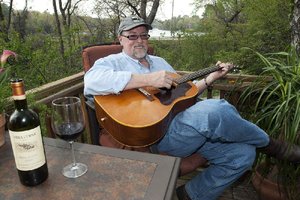 Photo by Democrat-Gazette file photo
Chef Mark Abernathy spends a rare idle moment on the deck of his North Little Rock home.
Joey Santoro, formerly sous chef at the now defunct Natchez, is the new executive chef at The Afterthought Bistro & Bar, 2721 Kavanaugh Blvd., Little Rock. Santoro has already made some changes in the brunch menu (dropping dishes that weren't selling and adding waffles); dinner menu changes are in the works, we're told. The restaurant phone number is (501) 663-1196.
And speaking of Natchez, Oct. 1 is the new target date for the opening of Arbela Middle Eastern Grill on the ground-floor space in the Tower Building, 323 Center St. (actually on West Fourth between Louisiana and Center streets), Little Rock, where Natchez was the most recent previous tenant. That's according to co-owner Buck Sayyah. Co-owner Mohammed Qassas, Sayyah's uncle, has described it as a Middle Eastern fast-service grill -- choice of rice, choice of protein (gyros, grilled chicken or falafel), choice of dip (tzatziki or hummus), choice of salad or tabbouleh and pita bread for $6.99, all in about a minute. He'll also serve gyros and falafel sandwiches. Hours will be 10 a.m.-5 p.m. Monday-Friday, but that may change as business ebbs and flows. No listed phone number yet; we'll keep you posted.
The former combination KFC/Taco Bell, 4424 W. Markham St., Little Rock, has reopened after a month-long renovation -- as a "pure" Taco Bell, hybrid no longer. It'll open at 7 a.m. for breakfast and the new management vows they'll keep the dining room open until 11 p.m. as the sign on the door says (in its previous incarnation, the place would sometimes be locked up tighter than the proverbial drum at about 9:45); the drive-in stays open until 1 a.m. or later. The phone number is (501) 664-5161.
And while we're on the subject of fast-food breakfast, McDonald's, which had been testing all-day breakfast in San Diego and various locations around the country, has announced it's rolling out all-day breakfast everywhere, starting Oct. 6. The chain had generally stopped serving McMuffins, hash browns and hot cakes at 10:30 a.m.
And speaking of breakfast, among the 135 chefs from 135 cities across the country battling it out in Thomas' Breads' Hometown Breakfast Battle: Chef Mark Abernathy of Red Door and Loca Luna restaurants in Little Rock, who has put together a recipe called "Toads in a Hole" involving eggs, a sausage and bacon gravy and Thomas' English muffins, and Chef Rob Nelson from Tusk & Trotter in Bentonville, with his recipe for a High-South Catfish Pastrami Bagel using Thomas' bagels. "It's a takeoff on an old Southern egg dish called 'toad in the hole,' in which you put a hole in toast and put stuff in it," Abernathy explains. Preliminary voting is currently underway online at ThomasBreakfastBattle.com (where you can also find profiles on each chef and their recipes); vote as often as you like through Sept. 27, after which the contest will winnow 'em down to 16 semifinalists; each week thereafter, the number of contestants will be cut in half until a winner emerges Oct. 25. Each time you vote, you'll be entered into a contest to win Thomas' products; a grand prize winner, selected at random, will receive $10,000, which will buy a lot of English muffins. The winning chef will receive $25,000 -- and, of course, breakfast bragging rights.
Meanwhile, Abernathy is trying to boost business at Red Door, 3701 Old Cantrell Road, with a couple of marketing ploys: Wednesday is "Steak Night" (25 percent off steaks, but it's actually on everything from the grill) and, just announced, Tuesday "Brinner" -- making Red Door's breakfast/brunch menu (including Belgian waffles, chicken and waffles, cat-head biscuits and gravy, French toast croissants, steak and eggs and Red Door classic lobster/crab cake eggs Benedicts, with, shhh!, Wolferman's Thick English Muffins, not Thomas') available for dinner. Restaurant hours remain 8 a.m.-2 p.m. Tuesday-Friday and 9 a.m.-2 p.m. Saturday for brunch, 5-9 p.m. Sunday-Thursday, 5-10 p.m. Friday-Saturday for dinner. The phone number: (501) 666-8482; the website, reddoorrestaurant.net.
And Abernathy, who has been citing health problems for a slow roll-out on a new menu for Loca Luna, 3519 Old Cantrell Road, says he is now back on his feet, so to speak, and has set a new new-menu target of Oct. 15. Loca Luna's phone number is (501) 663-4666; the website is localuna.com.
...
Roots Juices opened its first Little Rock outlet to the public Saturday at 5501 Kavanaugh Blvd. (next door to Le Pops) in the Heights. The menu features 24 different types of bottled juices, including Green Goddess (kale, apple, spinach, romaine, celery and cucumber) and Just for Kids (made of pineapple, orange, apple and carrot). The composite fruits and vegetables are organic and, when available, local (Little Rock Tomato is among the local suppliers). They'll also sell fortified waters, energy shots and "healthy" snacks. Hours are 7 a.m.-6 p.m. Monday-Friday, 10 a.m.-6 p.m. Saturday and Sunday. The phone number, good for all three locations in Dallas and Atlanta, is (888) 666-0290; the website, rootspressedjuices.com.
Meanwhile, the signs have gone up in the Midtowne Shopping Center, 201 N. University Ave., Little Rock, for Juice Bar Midtowne (Suite 210A, between the Children's Place and Soma Intimates). The Facebook page (facebook.com/pages/Juice-Bar-Midtowne/103403903340765?fref=ts) still lists the opening day target as Sept. 30. Hours will be 7 a.m.-6 p.m. Monday-Friday, 8:30 a.m.-4:30 p.m. Saturday; still no listed phone number. Check out the menu at ilovejuicebar.com.
Heinz Kurt, via the restaurant's new Facebook page (facebook.com/luluslatin), says he's on target for today's opening of Lulu's Latin Rotisserie & Grill, 315 N. Bowman Road (in the storefront formerly occupied by Anatolia and most recently Bill's Country Kitchen), Little Rock. Kurt, a native of Bolivia and a former manager at ZaZa, will offer up Peruvian-style rotisserie chicken, Argentinian-style steaks, salads, sandwiches and "lots of other delicious South American-inspired food," plus beer and wine. He'll just be open for dinner today; regular hours are 11 a.m.-9 p.m. Monday-Saturday, 11 a.m.-3 p.m. Sunday. The phone number is (501) 228-5564.
Still on the not-yet-show list, however, as of Tuesday's deadline: Jerky's Spicy Chicken and More, 521 Center St., Little Rock. The restaurant did do a small soft opening, according to its Facebook page, on Friday, serving a limited menu of jerk chicken and ribs. This Facebook post appeared Sept. 8, the day of the planned reopening: "Valued Friends and Customers! Jerky's is very aggressively trying to get open at our new location at 521 Center St., in downtown Little Rock. We are experiencing the unexpected with our build out, causing a delay. The good news is that when we open you will be pleased and your palate will be graciously and gratefully satisfied." As of Wednesday morning, we were still getting only a voice mail message at the restaurant's phone number, (501) 246-3096; there's still no definite information available at the Facebook page or the website, jerkys.net.
One of our sharp-eyed Spa City observers has spotted a new sign, "'Mardi Gras' on top and 'Seafood and Steaks' below those two words ," at 200 Higdon Ferry Road, across Central Avenue from Oaklawn in Hot Springs, which until the top of this year was Roland's Bar-B-Que Co.
...
Coming up next week: Buffet on Broadway, 6-8 p.m. Sept. 24 at Potluck Food Rescue (for which it is a benefit), 621 W. Broadway, North Little Rock. The evening will feature smooth jazz and casual cuisine by four local chefs -- Caribbean jerk pork with pickled onions and Scotch bonnet sauce from Brian Kearns, now of Simply the Best Catering; bacon gruyere sausage with onion bacon jam, via Brandon Brown of Hillcrest Artisan Meats; Jeff Owen of Ciao Baci's glazed meatloaf "Juicie Lucies," with Yukon Gold whipped potatoes; and blackened chicken salad with crispy shallots and Creole tomato glaze from Brian Deloney of Maddie's Place. Tickets are $50. Call (501) 371-0303 or visit potluckfoodrescue.org.
The Pulaski Tech Culinary Arts and Hospitality Management Institute will hold a Job Fair and Food Truck Meet, 10 a.m.-3 p.m. Wednesday at the institute, 13000 Interstate 30, Little Rock. At least 16 restaurants and food trucks, groups, organizations and hospitality industry-related establishments have been invited to recruit employees; some (including the Southern Gourmasian, Fork in the Road, The Pie Hole and Katmandu Mo Mo food trucks) will also be selling food. The institute will also offer a "Feeding the Souls" business-in-training opportunity for folks interested in their own food-truck startup, says institute administrative specialist Kendel Haycook. And if you're not looking for a restaurant-industry job, it's open to the public. Call (501) 812-2860 or email khaycook@pulaskitech.edu.
Has a restaurant opened -- or closed -- near you in the last week or so? Does your favorite eatery have a new menu? Is there a new chef in charge? Drop us a line. Call (501) 399-3667 or (501) 378-3513, or send a note to Restaurants, Weekend Section, Arkansas Democrat-Gazette, P.O. Box 2221, Little Rock, Ark. 72203. Send email to:
eharrison@arkansasonline.com
Weekend on 09/17/2015
Print Headline: TRANSITIONS
Sponsor Content