CONWAY -- Two more youths were charged Thursday in the July 21 shooting deaths of a younger friend's guardians, bringing to four the number of teenagers accused in the slayings aimed at stealing money and credit cards, authorities said.
SHARE THIS STORY
MORE TOP STORIES IN TODAY'S DEMOCRAT-GAZETTE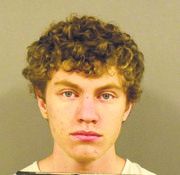 Charged with two counts each of first-degree murder and felony theft by receiving in the deaths of Robert and Patricia Cogdell, both 66, were Connor Atchley of Greenbrier and his current or former girlfriend, Anastasia Rose Roberts of Conway. Both are 17.
A 14-year-old boy the Cogdells had raised as a grandson, Justin Staton, and one of his friends, Hunter Drexler, 18, of Clinton, were charged in August with two counts each of capital murder, aggravated robbery, theft of property by threat, and abuse of a corpse. Both have pleaded innocent.
All four teenagers have been in jail since shortly after the killings at the Cogdells' home on Conway's west side, where Staton also lived. The bodies were later hidden several yards from the couple's house.
Justin Staton's mother, Michelle Staton, 36, of Conway, also was charged Thursday with hindering apprehension or prosecution, a felony. She was taken into custody on outstanding drug and other charges July 22, the same day her son was arrested at the home she shares with her father, Randy Staton. She remains in jail.
Atchley's attorney, Frank Shaw, said his client intends to plead innocent. The attorney believed to be representing Roberts did not immediately return a phone message left at his office after normal business hours.
First-degree murder is punishable by 10 to 40 years or life in prison. Capital murder is punishable by up to life in prison without parole or death. Staton and Drexler, however, cannot be sentenced to death because of their ages. Drexler was 17 when the crime occurred.
When police went to the Statons' home looking for Justin Staton on July 22, they interviewed Justin's mother, grandfather and others.
According to an affidavit accompanying Michelle Staton's charge, Randy Staton told police that he learned of the killings and Justin Staton's involvement when he was called home earlier that day.
"Randy said Justin told him they were at the [Cogdells'] residence and he began arguing with his grandparents over guns and this is when Hunter Drexler shot and killed his grandfather and grandmother. Justin Staton told Randy that he helped dispose of his grandparents' bodies in the woods," the affidavit signed by police Sgt. Mike Welsh says.
Randy Staton reportedly said he didn't call police immediately because he wanted to find an attorney first.
Michelle Staton told police that her son didn't express any knowledge of the killings until July 22, even though he and his friends had arrived at the Statons' house the night they occurred, the affidavit says.
Justin Staton told his mother that Drexler had brought several guns to the Cogdells' house "and they were looking at them on Justin's bed when Robert and Pat arrived," it says.
"Justin told her that Robert and Pat were in the hallway complaining when Hunter 'unloaded some kind of clip,' meaning that he shot several bullets from the gun," the affidavit says. "She advised that Justin told her that he shut his eyes and shot one time, not knowing if his bullet hit anyone. ... Justin advised her that they hid the bodies."
Abe Heflin, Michelle Staton's boyfriend, had taken the other three teenagers to a Conway hotel the night of July 21, the affidavit says. The three teenagers were arrested July 23 when police stopped their vehicle in Graham, Texas. The youths were later returned to Arkansas.
Michelle Staton told police that some of the teens had arrived at her house in a white truck that looked like one the Cogdells owned, even though Drexler said it was his.
"Michelle also advised that she picked up Justin's clothing, except for his shoes. She advised that his shoes had blood on them," the affidavit says.
After Michelle Staton was taken to jail, she called her father and "told him to make sure he got rid of Justin's clothes that she had bagged before the police could get there. Randy Staton advised that he had already turned those over to the police," the affidavit says.
Police also interviewed Justin Staton's sister, Alexis Mitchell, who told them, according to the affidavit, that her brother woke her up early July 22 to say "that he had done something bad." He also reportedly told her how Drexler began "'firing shots first'" and how he fired a gun "'one time.'"
"At this point, the other two subjects ... came to the shooting location," police said Mitchell told them. "After this, they took Hunter's truck and the [Cogdells'] truck, and purchased a phone, phone cards, and water."
Mitchell also told police that "Grandpa Randy" had placed a backpack that Justin Staton had containing two pistols back in the Cogdells' truck and then parked the truck behind the Statons' house.
A separate police affidavit says Atchley had told investigators that Justin Staton had a plan to shoot and kill the Cogdells, "split a large sum of money and credit cards between the three of them and then they would all run away." Atchley reportedly said the plan was conceived while he, Drexler and Justin Staton were in jail together on juvenile offenses, the affidavit says.
"[Atchley] confirmed that Justin gave him $1,000 that he thought Justin had taken from Robert Cogdell's wallet, and gave Hunter $500," the affidavit adds.
"[Atchley] told Anastasia about the plan after he was released from jail. They both admit to knowing that Robert and Pat were to be killed" and were to receive one of the Cogdells' vehicles, a BMW. as well as money and credit cards.
Roberts also "admitted that she cleaned up blood in the house that she thought belonged to [Atchley]. [Atchley] and Anastasia admitted, and Walmart video shows, that Connor attempted to use one of Robert Cogdell's credit [cards], but it was declined," the affidavit adds.
Shaw said he thought Atchley spelled his first name Connor. Authorities in Graham, Texas, where the older three teens were arrested, had spelled it Conner. Documents filed in Faulkner County Circuit Court spell it both ways.
The Cogdells had been named Justin Staton's legal guardians in 2010 after a judge in Conway County concluded it would endanger the child to be returned to live with his mother. At that time, court records show, he still thought the Cogdells were his paternal grandparents even though a genetic test taken in 2008 had indicated otherwise.
Court records indicate his biological father is "unknown." The Cogdells' son, Shane Cogdell, lived in the same house as Justin Staton and the elder Cogdells. Earlier this year, Randy Staton filed a motion seeking to be Justin's "substitute guardian." That motion had not been resolved when the killings occurred.
State Desk on 09/18/2015