The Maze Runner and its sequel, Maze Runner: The Scorch Trials, offer viewers lots of life-threatening changes, giant spiders, dark conspiracies, social allegory, bloody battles, inappropriately good-looking young people and relentless tedium.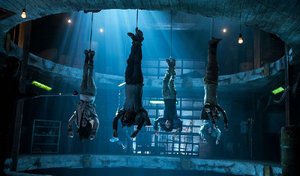 Teresa (Kaya Scodelario), Aris (Jacob Lofland), Jorge (Giancarlo Esposito), Minho (Ki Hong Lee), Newt (Thomas Brodie-Sangster) and Thomas (Dylan O'Brien) hang out in the post-apocalyptic, young adult thriller Maze Runner: The Scorch Trials.
Despite the frantic tone set by director Wes Ball, who gave us the first installment, The Scorch Trials feels more monotonous than gripping. The cut-rate production certainly makes novelist James Dashner's dystopian vision seem like an After School Special with cheap sets and monsters that look like they'd be more at home on a PlayStation. What's most distressing about The Scorch Trials is that Thomas (Dylan O'Brien) and his fellow escapees from the Glade encounter a series of dangers that have been explored with far more panache and skill in other films and TV shows.
Maze Runner: The Scorch Trials
74 Cast: Dylan O'Brien, Kaya Scodelario, Thomas Brodie-Sangster, Giancarlo Esposito, Ki Hong Lee, Alexander Flores, Jacob Lofland, Rosa Salazar, Patricia Clarkson, Aidan Gillen, Lili Taylor, Barry Pepper
Director: Wes Ball
Rating: PG-13, for extended sequences of violence and action, some thematic elements, substance use and language
Running time: 131 minutes
Having successfully fled a lush, green prison camp surrounded by towering, moving walls and the aforementioned arachnids, and a tight-lipped, friendly seeming adult named Janson (Aidan Gillen). He claims to be the one who rescued them from a series of lethal tests that World in Catastrophe: Killzone Experiment Department (WiCKED) has run on them.
The Scorch Trials wouldn't run for more than two hours if that were true.
Thomas and his new pal Aris (Arkansas native Jacob Lofland) discover that their new digs are just as temporary and just as lethal as the ones they left. Already an old hand at escapes, Thomas and Aris lead yet another group away from WiCKED's clutches into a parched landscape filled with walkers who failed the auditions for The Walking Dead.
Because of the abundance of living dead staggering through the frame, it's almost as if Ball were begging for comparisons to the AMC cable series. Sadly, he and screenwriter T.S. Nowlin seem to have missed why the small screen series works. It's always easier to believe science fiction when the people involved behave like ones you might encounter in the real world.
Few of the people who aren't infected with the zombie virus in The Scorch Trials are that well-developed. When major characters fail to get past new obstacles, it's difficult to tell them apart, much less get worked up over their fates.
Breaking Bad and Do the Right Thing alumnus Giancarlo Esposito is reliably solid as Thomas' reluctant ally, and Lili Taylor and Patricia Clarkson offer welcome relief as two feuding doctors whose rivalry offers about the only tension the lumbering narrative has to offer.
Nobody under 30 has much of a personality in this film. It's as if either Nowlin or Dashner got distracted while creating the younger characters and never really finished them. The relentlessly somber tone certainly doesn't give the young actors much room to work. Because they all run together, one can make it to the end of the film and still not know which of the teens survived.
Visually, The Scorch Trials is actually a step down from its predecessor because viewers are treated to a relentless litany of drabness. Cold, dull buildings give way to barren wastelands and wrecked towers left over from this summer's San Andreas.
It's one thing to tell a grim story, but starting, ending and trudging through hell only works if you've as vivid a storyteller as Dante was.
MovieStyle on 09/18/2015