When Gov. Asa Hutchinson took office in January, he made clear one of his priorities: Arkansas needs to align its education and training with industry needs.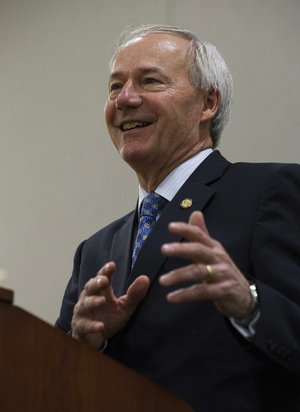 Photo by Melissa Gerrits
Governor Asa Hutchinson speaks to the 2015 ALETA Basic Recruit Training Graduating class in Camden, AR at Southern Arkansas University Tech July 31, 2015.
He relayed the message to the state's higher-education leaders earlier this month.
"Whenever you look at the breakdown -- 56 percent hold a high school diploma -- that is 850,000 Arkansans hold a high school diploma or less," Hutchinson told the leaders. "Fifteen percent hold a technical certificate or less than two years of college; 7 percent hold an associate's degree; 13 percent hold a bachelor's degree; and 7 percent hold a master's degree or higher.
"If you take those statistics and apply it to the workforce needs that have been documented for our future, based upon those projected workforce needs, 236,000 adult Arkansans will lack the proper education credentials to be employed."
And those leaders are taking it to heart.
Colleges and universities statewide are teaming up with school districts, businesses and industries to fulfill Hutchinson's goal to get more Arkansans into living-wage jobs and, ultimately, strengthen the state's economy. The teams have turned over 32 grant applications to the state Department of Higher Education in hopes of beginning the planning phases of their own regional workforce-development projects.
The applications are the first phase of the Regional Workforce Grant Program process, which is a part of the Workforce Initiative Act sponsored by Sen. Jane English, R-North Little Rock, and backed by Hutchinson. The governor's workforce council is sifting the applications and will decide by Oct. 1 which projects to fund. Each project can receive a maximum $100,000 for the planning stage.
The second phase would give up to $1 million during a two-year period for implementing the projects, and the third phase includes up to another $1 million to continue successful programs from the second-phase recipients.
So far, the Legislature has set aside $2 million for the planning portion of the program. Lawmakers will have to look at how to fund the other two phases and whether to continue the grants after this cycle ends, English said.
"For me, workforce is a priority," she said. "I don't think there's anything more important we can be concentrating on than how do we make sure our high school kids graduate and get a job ... or decide to go to college later. It's important for our younger people to understand that there are options out there."
Most of the applications allow for all the options, including work for a high school graduate, by creating multiple entryways and exit points.
Philander Smith College in Little Rock submitted an application for the proposed Workforce Innovation and Strategic Economic Public Private Partnerships. The historically black college has partnered with Shorter College in North Little Rock and nearby schools, including two of the Little Rock School District's academically distressed campuses, Henderson Middle and J.A. Fair High.
The college tried to push a bill to fund the workforce center through the Legislature in the last session, but the bill didn't make it out of committee, college President Roderick Smothers said. The new grant program was a blessing for the college, he added.
"As we thought about who this would affect the most, we did look at those schools that were in distress," Smothers said. "But distress means that something's wrong. We don't know what it is, but something is wrong. So we specifically targeted those schools, and the good thing was that the majority of the schools in the Little Rock School District are majority-minority schools."
Philander Smith's proposal focuses on health care, technology, finance and government, and it will require all English-speaking students to be conversational in Spanish. The language requirement comes as Arkansas' Hispanic population rises, Smothers said, adding that the workforce should fill those needs, too. There is strength in the ability to communicate across cultures, he said.
The plan also will place a special emphasis on Hispanic and black students, according to the application.
"What it is more of, however, is accepting the reality that those who are more underemployed in Arkansas are minorities," Smothers said. "And so the program by default, if it is truly going to address what the data tells us, is going to focus on minorities. And the unemployment rate, unfortunately for African-Americans, is higher than any other group in the state of Arkansas. Those are the realities of the data before us."
Philander Smith's plan also calls for "work-based learning" that will combine classroom education with paid, hands-on work for high school and college students.
Other plans focus on nearby business and industry.
For Southern Arkansas University Tech in Camden, officials are hoping to home in on aerospace defense manufacturing. The university is in the heart of the private Highland Industrial Park, which includes Lockheed Martin and Spectra Technologies.
"We asked for funds to create a pathway from high schools through the SAU-Tech Career Academy to college and to work with multiple entry points and exit points," said Kimberly Coker, the university's director of communication, public relations and grants. "It would just be more of defining that path and really putting it in a graphic depiction that people can look at and clarifying industries' roles in training."
The Career Academy buses high school students to the university campus for technical classes, such as welding or radio, television and film, she said.
Still, she said, the gap for those businesses are for the entry-level jobs.
"Human resource directors have expressed concerns to the college about the need to have entry-level workers (production technicians) who possess employability skills, have knowledge of safety procedures, basic electricity, computer and other essential skills," Coker wrote in the grant application.
"The industries have also acknowledged a need for more advanced, technically-trained workers (welding, maintenance, automated and robotic engineering technicians, and supply chain technicians) for positions that frequently are difficult to fill."
SAU-Tech has partnered with businesses within the industrial park for years, she said. But training and technology change, so the college has to tweak the programs constantly, she said.
Students pursuing those fields cannot do internships because of federal contract restrictions, so the college has to provide up-to-date simulators to allow students real-time experience, she said. The simulators need to be updated every three to five years, she added.
The proposals, though, are just the start, English said.
"I'm really hoping that the business community will be a real partner with us," she said. "They have needs. We have needs. This is our state. These are our people. We need to make sure everybody starts moving up the ladder."
SundayMonday on 09/20/2015