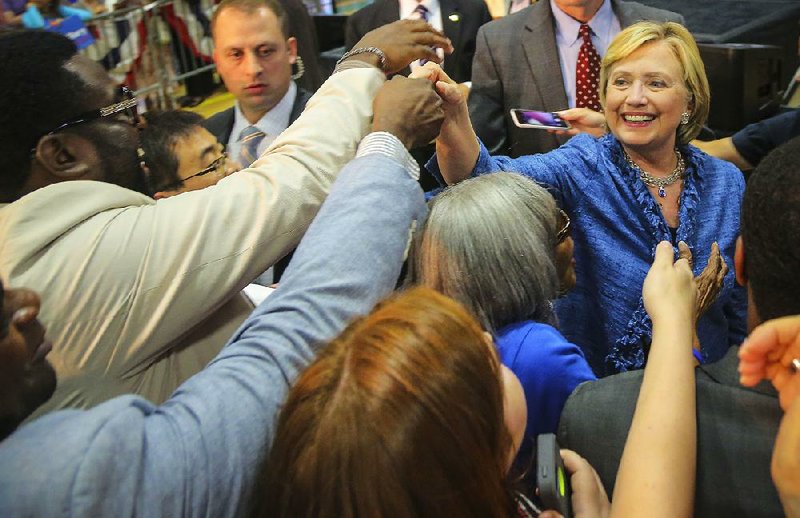 Democratic presidential candidate Hillary Rodham Clinton reaches out to supporters Monday, Sept. 21, 2015, after speaking on the campus of Philander Smith College in Little Rock. ( Stephen B. Thornton)
Former first lady and Secretary of State Hillary Rodham Clinton played to her home court advantage Monday by bragging to a packed house in Little Rock on Arkansas' approach to improving access to health care.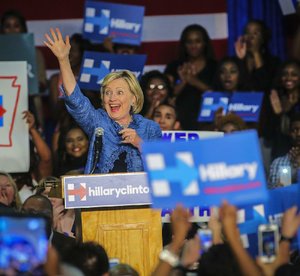 Photo by Stephen B. Thornton
Hillary Clinton, a former U.S. secretary of state and current Democratic presidential candidate, is greeted with cheers as she takes the podium in the Sherman E. Tate Recreation Center on the campus of Philander Smith College.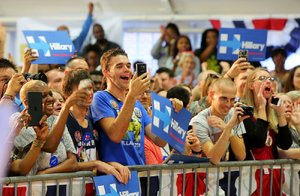 Photo by Stephen B. Thornton
Supporters cheer as former Arkansas fi rst lady Hillary Clinton speaks in the Sherman E. Tate Recreation Center on the campus of Philander Smith College in Little Rock.
Talking to a raucous crowd of more than a thousand in a gymnasium at Philander Smith College, the Democratic presidential candidate applauded efforts by Arkansas lawmakers to develop the state's private option.
She said the state's bipartisan approach to nearly halving the number of Arkansans without health insurance is an example of good policy compared with Louisiana, which refused to take any federal aid to improve health care access.
The private option was allowed under the Patient Protection and Affordable Care Act, also known as Obamacare. The program, which has divided state lawmakers, is responsible for signing up more than 200,000 Arkansans for private health insurance.
While abolishing Obamacare has become a rallying cry for conservatives in Arkansas and across the country, Clinton said she would stand by the law.
When she was first lady in the early 1990s, Clinton helped lead the effort of her husband, President Bill Clinton, to overhaul health care, only to be met with defeat by Republicans in Congress.
Hillary Clinton said it would have been easy to be bitter, but, instead, she decided to help create the Child Health Insurance Program, a state and federal partnership that pays for health insurance for poor children.
The former senator from New York said that she would brag on Arkansas, her former political rival President Barack Obama and the success of the Affordable Care Act.
She said less than 10 percent of Americans are now without health insurance coverage and added that the uninsured rate in the black community has been cut in half.
"You know what? It's working," she said. "Yet all the Republican candidates for president are trying to repeal it. Republicans in Congress have tried to repeal it 54 times. Fifty-four times. Well, I'm not going to let them rip away the progress."
Clinton wasted no time in speaking to the younger faces in the crowd, saying that if elected as the nation's first woman president, she would fight to improve access to higher education.
She has proposed more federal financial support for college students, saying that students at a four-year public university shouldn't have to take on debt to pay for school.
"You should not be prevented from, held back from, have to drop out from, not graduate from college because of the cost of higher education," Clinton said. "In fact, I don't think anybody should have to borrow money to pay tuition ... If you already have student debt, we should refinance that debt."
Among several topics discussed at the historically black college, Clinton said that the younger generation will have to lead in addressing social justice issues often heralded by the Black Lives Matter campaign, a movement aimed at preventing unfair treatment of blacks by the criminal justice system.
"I think we have to admit, we've got some work to do when it comes to racial justice," Clinton said. "We should all say loudly and clearly: 'Black Lives Matter'... This is the work of this generation -- to unleash your energy and your commitment -- and I want to be one of the people who convince you, calls you to do just that."
Ronnie Williams was one of scores who showed up early to stand in line in the heat to see the Democratic party's presumptive front-runner.
As a lifelong educator, Williams, 61, said he wanted to hear Clinton's ideas on improving education from K-12 to universities and colleges.
"Education drives the machine that keeps our institutions going," Williams said. "Whether it's income ... access to health care ... If you look at all the problems we face, you can tie them to education or lack thereof."
Asked whether he believed Clinton would do well in Arkansas if she wins her party's nomination, Williams said that recent successes by Republicans in a state that has trended conservative make it difficult, but possible.
"It will take a lot of work," Williams said.
Williams said he is a strong supporter of Clinton. Genevieve Fair, who was perched in the same spot of shade outside the event venue Monday, said she's skeptical.
Fair, also 61, said that she is leaning towards the highest polling opponent of Clinton's, Vermont Sen. Bernie Sanders, an Independent.
"I'm more loyal to him than her. He's talking about things that will benefit the people and not corporations," Fair said. "However, I'm told he doesn't have a chance ... But crazier things have happened. I didn't expect Obama would win in 2008, but he did."
Clinton spent some of Monday's speech discussing the things she was able to accomplish in Arkansas as first lady, including the creation of the Arkansas Advocates for Children and Families, a non-profit group that advocates for better public policy for child welfare.
"Memories flood, flood, flood through my head. I owe so much to the people of this state and I'm so grateful for the years I lived here," she said. "I can tell you this: When I'm president, Arkansas will be on my mind every single day."
Metro on 09/22/2015
Print Headline: Clinton touts state to LR crowd
Sponsor Content