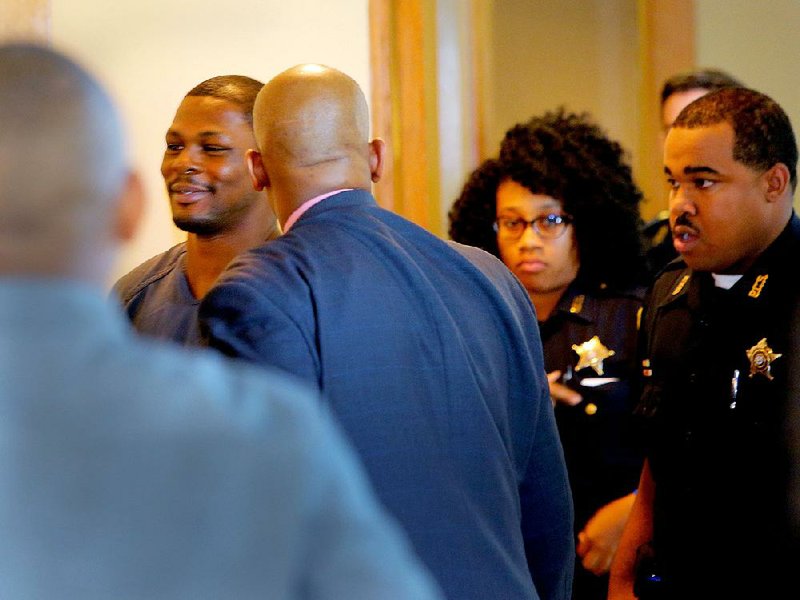 Boxer Jermain Taylor smiles as he is led into a courtroom for a hearing Monday in Pulaski County Circuit Court. ( Stephen B. Thornton)
After almost four months behind bars, Jermain Taylor bonded out of jail on Monday to fly to Florida to pick up the pieces of his boxing career under the tutelage of Pat Burns, the trainer who guided him to a 25-0 record and an undisputed middleweight championship 10 years ago.
Pulaski County Circuit Judge Leon Johnson set bail for Taylor at $100,000, less than half the $250,000 requested by prosecutors, and agreed to his lawyers' request to allow Taylor to move to Ocala, Fla., to train with Burns, just as the judge had done last year after the fighter's first arrest in August 2014.
Taylor, making his 10th appearance in Circuit Court on Monday, did not testify at Monday's bond hearing. As has been the practice, he was taken to court under guard by four deputies, his hands cuffed and feet shackled, with those restraints attached together by a leather strap. He did not address the court.
Defense attorney Hubert Alexander said Taylor has been held in isolation since the judge had him jailed in May. Jailers kept Taylor away from other inmates out of safety concerns that fellow prisoners would be tempted to challenge the boxer, Alexander said.
Burns said Taylor's 114 days in jail have cleared the former champion's mind, forced him to reflect on how he's lived his life and cleansed him of any drugs and alcohol.
"Lockup was good for him," Burns told the judge. "The best thing that happened to him was getting locked up. He's come to a reckoning."
Burns said Taylor, who turned 37 last month, has the "physical and mental attributes" to return to professional boxing if he makes a "100 percent effort."
"He's going to work extra hard. That's the only way he's going to get it back," Burns said. "He's basically a very good kid who got caught up in drugs and alcohol and made some very stupid mistakes."
Taylor was training a year ago for what was briefly his comeback, a successful October 2014 match against Sam Soliman that ended with Taylor recapturing a middleweight title he had lost seven years earlier. Taylor lost the title again four months later after a January training injury prevented him from defending it.
But this time he goes to Florida with no fight to prepare for.
His next match will be in the courtroom in December when he stands trial over allegations he terrorized a Little Rock family of five by shooting a gun at them after the city's annual Dr. Martin Luther King Jr. parade. Authorities say he was angry because one of the children who was allowed to hold one of his championship belts mishandled it.
He's charged with misdemeanor marijuana possession, terroristic threatening and five counts of aggravated assault, charges that together carry up to 46 years in prison since they are alleged to have been committed in front of children. He faces first-degree battery, second-degree battery and terroristic-threatening counts in his two other criminal cases.
The judge set conditions on Taylor's release. The former champion must undergo weekly drug testing, and he and his bail bondsman, Ken Gangluff, have to give the court advance notice before returning to Arkansas.
Burns or his brother, who helps him with his training program, must share Taylor's living space while he's in Florida, the judge said.
The judge also ordered Burns, under threat of being jailed, to immediately report to the court if Taylor fires him.
"If you fail to do anything you're supposed to do, I'll hold you in contempt," the judge said.
That command reflected concerns expressed by chief deputy prosecutor John Johnson, who questioned Taylor's intentions. The prosecutor suggested Taylor could go to Florida then cut ties with the trainer and go off on his own. Taylor fired Burns in 2006 to change trainers but they resumed their relationship in 2011.
The judge ordered Burns to either share an apartment with Taylor or have Burns' brother do it, saying he did not want Taylor to be alone.
"He cannot be in a room by himself," the judge said.
The judge has expressed concern about who Taylor has associated with since he first ran afoul of the law last year, and defense attorney Allison Allred closely questioned Burns about both his training methods and practices.
Burns, a retired Miami police officer and former Marine, promised discipline, telling the judge he won't allow drugs, alcohol or firearms and will not have any other clients so he can focus on getting Taylor into shape. The daily routine begins with a 6:30 a.m. wake-up and ends with a 9 p.m. bedtime, Burns said.
The daily workouts will leave Taylor too tired to do much of anything in what little free time will be available to him, and he won't be allowed to have a car, Burns said. Taylor will only associate with training team members, said Burns, comparing the training program to "Marine boot camp."
Burns said he first trained Taylor when he was preparing for the 2000 Olympics, where Taylor won a bronze medal.
Footing the bill for all of this will be Haymon Boxing Management, whose owner, Al Haymon, has been a longtime adviser to Taylor. The company is "rich beyond belief," Burns told the judge, and Haymon's interest in Taylor is more than just financial. Burns said he's never seen management invest in a fighter like Haymon has done with Taylor.
Burns said his relationship with Taylor is also borne out of personal affection aside from their business dealings.
The management company's vice president, Lamont Jones of Chicago, attended Monday's 55-minute hearing to show support for the boxer, but did not testify.
Also testifying on Taylor's behalf was insurance company owner Andrew Meadors, a longtime friend and former business manager to Taylor as well as former president of the Arkansas Sports Hall of Fame and the Major Sports Association of Little Rock.
Endorsing Taylor's plans to return to training, Meadors said he's known the boxer since his Olympic days.
"I absolutely believe in my heart and mind Jermain has absolutely learned his lesson," Meadors testified. "I believed in him then ... and I still believe in him today."
The Taylor who came to court on Monday after almost four months without drugs and alcohol is the man he remembers, Meadors said.
"I believe my friend was in a very very dark and bad place," he testified. "I believe ... he is back to his old self."
Taylor has suffered a lot of "terrible things" that would bring instability to anyone's life, Meadors told the judge.
Meadors did not elaborate, but many of Taylor's difficulties have been public, including his July divorce from his wife of 12 years, the mother of four of his children, and the related sale of their home in August. The cousin he is accused of shooting has also sued him.
More recently, his mother died of cancer and he could not attend her funeral Saturday, although the judge did grant him a jail furlough for a private visitation.
Associates also say he's broken up with Skylar Harris, a woman he had introduced in the spring as his fiancee, and that he is still mourning the 2011 seizure death of a younger brother, 19-year-old Karlos Parham.
Taylor was first arrested in August 2014 over accusations he had shot his cousin and threatened the man's son at Taylor's now-former home. After posting $25,000 bail in that case, he was arrested again in January after he was accused of firing shots at a family at the Martin Luther King Jr. parade.
He was released on $50,000 bond, but arrested again at the judge's order the following day and ordered held without bail. He's been in custody ever since.
The judge, at prosecutors' request, ordered Taylor to undergo his first mental evaluation that included brain scans in January, and he was allowed to check into a hospital. Following a psychiatrist's testimony that his problems appeared to result from abusing alcohol and marijuana, the judge allowed Taylor to enter a locked-down substance-abuse rehabilitation program in March.
But Taylor was arrested for the third time in May after he was accused of punching a fellow patient so hard the man suffered facial fractures.
The judge ordered Taylor returned to jail, and his lawyers, in response to the latest arrest, asked for another mental evaluation. They said they were hesitant to do so sooner out of concern for jeopardizing his boxing career but the newest accusation caused them to question his mental health.
Doctors each of those times have cleared him of mental illness, although the judge has sealed their findings. His lawyers asked for Monday's bond hearing after the most recent report found Taylor is not insane.
Some of the concerns about his mental health stem from a brain-damaging knockout blow he received in a 2009 fight that took him two years to recover.
Metro on 09/22/2015
Print Headline: Out of jail, boxer Florida-bound
Sponsor Content