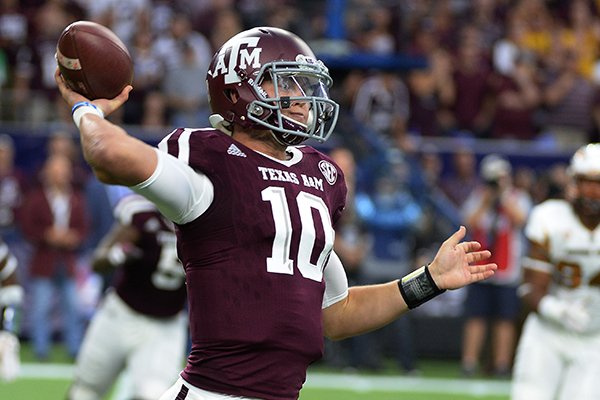 Texas A&M quarterback Kyle Allen (10) passes against Arizona State during the first half of an NCAA college football game Saturday, Sept. 5, 2015, in Houston. (AP Photo/George Bridges)
FAYETTEVILLE -- Texas A&M Coach Kevin Sumlin might intervene this summer if Arkansas' Bret Bielema and Texas Tech's Kliff Kingsbury are still trading insults, but right now he doesn't want to get in the middle of their spat.
"My opinion doesn't matter," Sumlin said Tuesday at his weekly news conference. "What's going on between those two guys is going on between those two guys."
Sumlin, whose No. 14 Aggies (3-0) play Bielema's Razorbacks (1-2) Saturday night at AT&T Stadium in Arlington, Texas, found himself drawn into the Bielema-Kingsbury feud because of Kingsbury's remarks after Texas Tech won 35-24 at Arkansas on Saturday night.
Kingsbury was upset by comments Bielema made at the Texas high school coaches convention last summer about Arkansas using its power game to "kick your ass" against spread teams.
"He just got his ass kicked twice in a row, and probably next week by A&M, as well," Kingsbury said of the Razorbacks' 1-2 start that included a loss to Toledo.
Bielema responded Monday by taking shots at Kingsbury's record (15-13) and relative lack of experience as a head coach, adding that he wasn't talking specifically about Texas Tech and advising Kingsbury to chill out.
"I'll just be at the Texas high school football coaches association deal this year," Sumlin said. "Maybe I'll referee. How about that? Because I've known both those guys for a real long time."
Sumlin is much closer to Kingsbury, his assistant for five seasons at Houston and Texas A&M. He said it was natural for them to talk this week, especially with the Aggies playing the Razorbacks a week after Texas Tech.
Kingsbury took shots at the Razorbacks -- a team the Red Raiders no longer play in the regular season -- Sumlin was full of praise for SEC West rival Arkansas.
Sumlin said he feels the same about Arkansas as he did last season, when the Aggies had to rally to beat the Razorbacks 35-28 in overtime.
"Nothing's changed how we view Arkansas," Sumlin said. "As the first game in the SEC and playing where we play, it's going to be a big-time atmosphere and it's a game that both of us need to win."
The Aggies speaking Monday with the media followed Sumlin's lead in building up the Razorbacks.
"You treat them like they're undefeated," Texas A&M senior center Mike Matthews said. "We're looking at them like they're the No. 1 team in the nation.
"You can't take them lightly. I don't care if they lost last week. They're a really good team. You can't just go over there and expect to win. You've got to work hard."
Texas A&M sophomore quarterback Kyle Allen said the Razorbacks will be fired up to play the Aggies.
"They're going to have all the confidence in the world because what else do they have to lose?" Allen said. "Don't get me wrong, they're a great team.
"They played a good team in Texas Tech, and a pretty good team in Toledo, too. We know what Arkansas is capable of, and we know the type of team they are, so we're going to be ready for them."
Texas A&M wasn't ranked to open the season, but the Aggies jumped into the national polls after they beat then-No. 15 Arizona State 38-17 in Houston. They've moved up with home victories over Ball State 56-23 and Nevada 44-27.
"We weren't in that conversation," Sumlin said when asked about the SEC title race. "Nobody was talking about us.
"All we're doing is playing every week. I don't set up a board and rank the SEC West every week. I worry about who we're playing."
New Texas A&M defensive coordinator John Chavis, an SEC veteran with previous stops at Tennessee and LSU, has the Aggies playing aggressively. They lead the nation with 15 sacks, including 5 1/2 by sophomore end Myles Garrett.
Garrett had 3 1/2 sacks against Nevada despite missing three practices after having some teeth pulled six days before.
"Putting a helmet on is a real chore when you've had your wisdom teeth taken out," Sumlin said after the game. "I was glad he could get it on, because he made a difference for us."
Allen, who became the starting quarterback late last season, has completed 43 of 70 passes for 594 yards and 9 touchdowns with 2 interceptions.
"I'm pretty happy with where I'm at right now," Allen said. "I'm confident in the people around me, and I'm confident that this offense can do a lot of great things in the SEC.
"There's a different energy than there usually is. We're excited."
Arkansas and Texas A&M are among four SEC teams that haven't played a conference game.
"This is what really matters," Matthews said. "We know Arkansas is going to come out and give us their 'A' game."
Matthews smiled when reminded of Kingsbury's comment about what the Aggies will do to the Razorbacks.
"I love Kliff," he said. "He was a great coach for us when he was here, and I have the utmost respect for that guy. It makes this game that much more exciting, I guess."
Sports on 09/23/2015
Print Headline: Minding their business: No. 14 Aggies aren't interested in a lot of talk
Sponsor Content