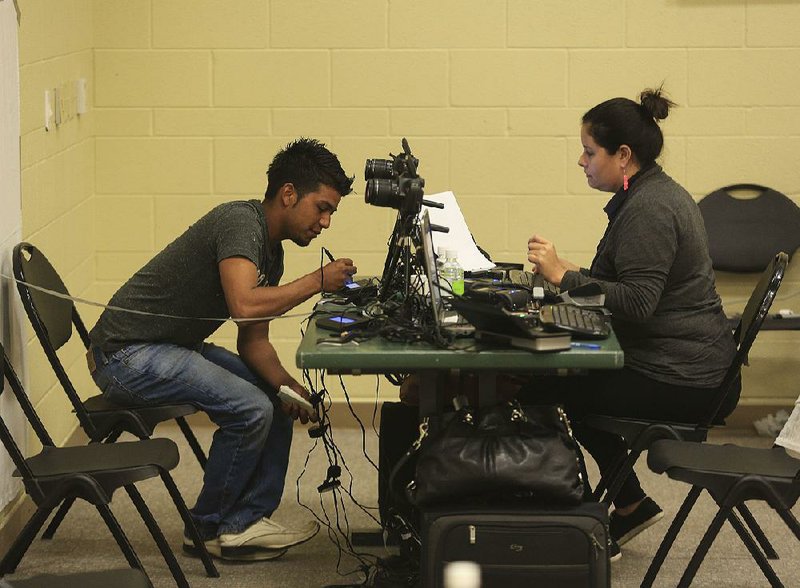 Elmer Beltran signs a signature pad as he gets a passport Friday from Guatemalan Consulate staff member Maria Esparza at a mobile site in Little Rock. ( Staton Breidenthal)
Eric Stuardo couldn't get a fishing license this summer because his Guatemalan identification card was in Spanish, he said.
Other people without U.S. documentation have difficulty opening bank accounts, proving who they are during traffic stops and registering vehicles.
That's why a citizens committee started by Little Rock City Director at-large Joan Adcock worked to get the Houston-based Guatemalan Consulate to set up a mobile consulate in Little Rock this weekend.
The mobile unit began helping Guatemalan-born people apply for identification cards and passports from their home country at 8 a.m. Friday. By noon, more than 100 people had applied.
Little Rock is home to a Mexican consulate, but only those born in Mexico can get services there. The Guatemalan Consulate in Houston is the nearest one to Little Rock.
The mobile Guatemalan Consulate expects to serve about 1,100 people while it's in the city. It will be set up at the Southwest Community Center at 6401 Baseline Road from 8 a.m. to 4 p.m. today and 8 a.m. to 2 p.m. Sunday.
"It's very easy. Bring your birth certificate from Guatemala and that's it. We make an interview for everyone and see what they want and how we can help," said Vice Consul Leonardo Ramos.
If someone doesn't have a birth certificate, consulate staff members can help them obtain one. An identification card costs $25, and a passport $65. Staff members will take photos for the documents, then mail the photos to the applicants in about two weeks.
The documents are in English on one side and in Spanish on the other.
Stuardo said having the mobile consulate visit Little Rock saved him a lot of time and money, because he otherwise would have had to take off work to go to the Guatemalan Consulate in Houston. He was recently robbed, and the person took his wallet with his Guatemalan identification in it, he said.
The 25-year-old has lived in Little Rock for about a year after moving from Louisiana for work. He came to the U.S. at age 20 "on an adventure," he said, recalling several hours he spent riding on top of a train and six days spent walking through a desert to reach Arizona.
With his newly issued identification documents, he plans to open a bank account and register his car.
When Adcock started the Working Together in the Community committee to focus on reaching out to Hispanic people in Little Rock, she said she had a festival in mind. But those who started attending the committee meetings soon told her they needed help understanding local laws, accessing services and getting documents.
The committee hosted a driver's education course earlier this summer.
"Lots of people have lots of different ideas about why we shouldn't do this," she said of the efforts to reach illegal aliens in the city. "But these people are our neighbors. They have a need. As far as immigration and all that goes, those are things that Washington [D.C.] is working on. As far as helping our community and our neighbors, that's what I see my job as."
Several Hispanic residents are active with the committee and helped with the mobile consulate visit. Committee members distributed about 1,000 fliers advertising the visit.
Officer Jacob Tobler of the Little Rock Police Department, who is fluent in Spanish after spending two years in Spain as part of his Mormon mission, has been active with the committee.
"In order to get services here -- whether with the state, a bank or employment -- they need to have an ID," he said. "You can't even start to work on getting legal U.S. paperwork until you have the appropriate paperwork from your country of origin."
Tobler said it's important for people to have proper identification in case they want to report crimes. When Hispanic people are victims of crimes, they often don't report them to police, he said. Sometimes when they do report crimes, victims who speak little English can struggle to give enough information to an officer who speaks little Spanish. It's also difficult to identify suspects who don't have proper identification.
Guatemalans are welcome to take their children with them to the mobile consulate, officials said. A play room was set up for children, and there were snacks served Friday.
It takes about 30 minutes to finish the application for documents.
On Friday, people from all over Arkansas and from Oklahoma and Tennessee visited the mobile consulate.
"When we started this committee it became apparent that what we needed was to help them with documents. They told us they'd have to travel to other states or the country where they were born. That's why we started looking into bringing these people here," Adcock said.
Metro on 09/26/2015
Print Headline: State's Guatemalans get help
Sponsor Content