The Gala for Life on Friday at the Statehouse Convention Center will be the brightest night of stars in the constellation social calendar. The bad news is tickets are $500, but the good news is they've sold out anyway. That's 850 ticketholders hoping to raise more than a million dollars, after sponsorships and other giving. The governor will be there, as will the highest order of businessmen, politicians and philanthropists, but if you see the man pictured above, mark him. You may hear him before you see him. He'll be animated, even a little manic, and you might mistake him for someone's bon vivant plus-one.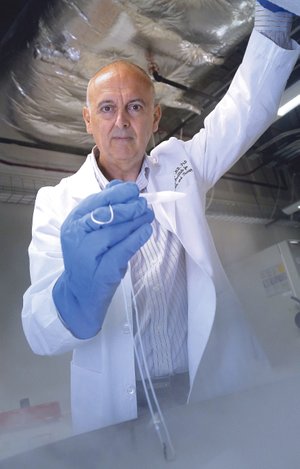 Photo by John Sykes Jr.
Gareth John Morgan "Well, I'm pretty smart. I like science, and I'm good at biology. I've got all of the required bits to be a good doctor."
Don't.
Gareth John Morgan
Date and place of birth: Sept. 23, 1956, in Barry, County Morgan, Wales
As a kid, I imagined I'd be a scientist, doing medicine. I could never articulate that as a child to a group of adults. "Why do you want to do this and what is it?" It would just come out wrong, but it was clear that's what I wanted to do.
The London amenity I miss most: is Arsenal football. Watching them play on the weekends, the Champions League. I had season tickets for the last 10 years.
The thing that motivated me in medical school: It was all pretty easy. I was one of those irritating kids. I could afford to mess around a bit at the same time as, like, doing well.
The American movie I enjoyed most when I was young: Apocalypse Now. Martin Sheen was superb. Robert Duvall, he was amazing in that.
Something American doctors could learn from the British: I wouldn't dream of telling American doctors things they could learn, [but] I think the [schooling] should be longer in America. I think it would be better if people trained longer in their post-graduate work.
My bike is a Specialized Ruby, carbon-frame road racer.
I collect scientific publications. I'm actually quite driven to work hard in that [area].
My pet peeve with society: No, I'm going to go through life having a good time, not worrying about people around me. I think that's important.
In 100 years I'm going to look like a kind of torturer for having put people through such antiquated treatments. People will still have cancer, but it will be treated in a more humane way and people will survive longer, and I will be very pleased. Even if it means I looked a little foolish, at least I'll have been helping to push forward to that end.
A word to sum me up: Irritating.
Dr. Gareth Morgan is director of the Myeloma Institute for Research and Therapy, part of the Winthrop P. Rockefeller Cancer Institute at the University of Arkansas for Medical Sciences, and his stature in the field is significant. His arrival at the institute last year was met with a news conference. The Arkansas Research Alliance offered up a three-year, $500,000 incentive to get him here because, as alliance director Jerry Adams has said, his is the kind of work that creates work for others, including other clinicians, hospital staff, patent entrepreneurs, drug makers and area hotels and restaurants.
Myeloma treatment at the cancer institute is an intercontinental draw. At last year's Gala for Life, in the presence of the honorees, former Gov. Mike and Ginger Beebe, hospital executives were pulling big donors aside to shake the Welshman's hand.
Institute founder Dr. Bart Barlogie "gave us a wonderful background in myeloma," UAMS Chancellor Dan Rahn says, "and now we're positioned to be the next level. It has been a worldwide center, but now, [Morgan will] offer patients therapeutic options and thinking that's not available other places."
Beating back cancer, and many other ailments, too, is increasingly personal. That is, instead of scorching the body with alkylating agents, treatments are developed after studying a patient's genome, his very DNA, and the drug treatment is targeted to his own specific cancer. Multiple myeloma is a novel one because it starts in plasma cells -- immune cells -- found in the bone marrow, so it's a blood cancer closely entwined with our antibodies, our regenerative agents.
Morgan's "an authority on the genetic basis of this very complex malignancy," says Dr. Graham Jackson. He has laboratory research programs running in London and Little Rock and started the largest clinical trials of newly diagnosed multiple myeloma medicines in Europe, collectively called Myeloma XI, which Jackson took over for Morgan as the trial's chief investigator. The results are expected next year.
"Gareth Morgan is a true world leader in the field of myeloma research."
BABY STEPS
And, once upon a time, "a very, very active baby," says Shirley Morgan.
Morgan was born the older of two boys to Shirley and John Morgan in County Morgan, Wales.
He loved his chemistry set and the beach and his bodyboards. Wales is a pastoral and post-industrial (mining and steel) country whose lone terrestrial neighbor is England. "For me, there's a lot of parallels between Arkansas and south Wales," Gareth Morgan says. "A pretty place, nice, [and] people like to talk a lot."
"Friday night, you go out and have a curry, some beers, possibly a fight, and people don't really care what order these things come in."
His mother remembers a morning she awoke to bloody clothes soaking in the bathtub. "And on his 18th birthday he went to a disco and somebody sat on him and he ended up in the hospital with a pneumothorax." That time, he'd only been mistaken for the casus belli, leaving his mother to conclude, "he's not a fight starter, he's just a bit slow."
Except where his eyes came to rest. Morgan says he recognizes today that his mind is special, that "it's, um, yeah, bizarre but true. I can recognize faces, facts, really, really well." It's not interest alone that has carried him here, to the top of a carefully cultivated, very rarefied class of professional.
He was twice nearly derailed. In his youth, the British education system was "tripartite," so while all children went to school, grammar school -- think high school advanced-placement -- required a selection. Morgan's family moved shortly before this, and his new school administration decided he was better suited for a "technical" education.
"A bit iniquitous," Morgan describes the bureaucracy, and after his father complained -- and his 11 Plus standardized examination scores came back -- his course was righted. Later, before a board deciding medical school admissions, he was asked, why medicine? "I said, 'Well, I'm pretty smart. I like science, and I'm good at biology. I've got all of the required bits to be a good doctor,"' and discovered to his horror this answer lacked a compelling, pseudo-spiritual justification. As a result, he got into his fifth choice.
Looking back, these gate-kept moments were insidious. "It doesn't count for anything, ever," he says of his 11 Plus exam scores and his medical school admissions interview, and yet, they set the course.
In any case, he moved on.
During and after medical school in Wales, he worked in South Africa -- Zululand and Capetown -- in gastroenterology. After a few years there, he moved home and began studying hematology. The lab work "was just good fun for me."
From there, it wasn't far to cancers of the blood and, finally, myeloma.
THE FUTURE
"I had a guy's head fall off, effectively."
Back in the 1990s, well before his turn toward genetics and molecular treatment, the doctor had a patient, "a beautiful guy," whose skeleton was crumbling from the cancer. It wasn't unheard of then for a late-stage patient's rib cage to come to rest on his hips for want of a rigid spinal column.
"Nobody being trained now recognizes what happened to myeloma patients, how they got shorter and shorter and shorter."
So this man from Leeds, the bones and ligaments around the base of his skull weakened and snapped, and by the end of his life, his back was hunched over, his neck stretched way back and his skull was slung over his shoulders like a hobo's rucksack.
"That clearly had an impact on me," Morgan says, but "in my lifetime I've seen all of those symptoms disappear."
If not the cancer.
In The Emperor of All Maladies, Siddhartha Mukherjee's "biography" of cancer, the author explains that the postwar years brought penicillin, streptomycin and the polio vaccine, and a wealth of information on how not to contract disease. And "in new and sanitized suburban towns, a young generation thus dreamed of cures," so much so that illness fell behind finances and child-rearing in Middle America's list of worries.
But a cure for cancer hasn't turned up, and Morgan, for all his quixotic workplace glee, doesn't expect one. Not like that. A big part of his work is molecular testing meant to subdivide myeloma into its genotypes.
The Myeloma XI trial he got started in Europe at the Royal Marsden Hospital is a formal comparison randomizing between no continual treatment and "maintenance" with daily lenalidomide ("son of thalidomide," he calls it) tablets following chemotherapy and stem cell transplantation. When the analysis is published next year, maintenance will become the standard.
Newly approved drug therapies make up the frontier now. Morgan's domestic partner, Faith Davies, is herself a high-profile addition to the cancer institute, and her primary duty is developing phase I drugs, and convincing drug companies to conduct their trials here (Genentech's on board). Earlier this year New Jersey-based Celgene gave the institute and the university a $10 million gift, marking a partnership between the Myeloma Institute and the pharmaceutical company focusing on genetics and drug therapies.
And "we're about to enter into an exciting new phase where we use antibody treatments that recognize the myeloma cells," Morgan says, referring to a phase III clinical drug trial of Daratumumab, which boosts the immune system of patients.
"The plan is to use that as a basis to harness the power of the immune system."
For Morgan, "this is the start of the end" of chemotherapy and DNA-damaging agents. Rendering patients' individual myeloma at the molecular level, bolstering the immune system and targeting the disease with more rational, novel drug combinations is the next course. It's a little early, perhaps, but like self-driving cars, it's here now.
"There are limits to what we know, and more science that needs to be done to unravel this, [but] that's the work that Gareth's doing," Rahn says.
EPICENTER LITTLE ROCK
"He was the right fit," says Dr. Peter Emanuel, chief of the cancer institute, speaking of filling Myeloma Institute founder Dr. Bart Barlogie's position with Morgan. At the time, the hospital system brought in candidates from Yale University, the Mayo Clinic and Dana Farber Cancer Institute (Harvard), but Barlogie had invested so much of the Myeloma Institute in genomics, and that field had "just gone up astronomically" in the last five or eight years, that Morgan was everyone's first-round pick, Emanuel says.
"He was at the top of all that cutting-edge technology."
And yet, his is a very common touch. His humor is easy and ready. His office is unadorned with diplomas, certificates or awards, and when a patient's in, their shared space is uninterrupted by a computer screen.
He has this "really high-level understanding" of myeloma science and research he makes available to his patients in plainspeak, says Dr. Charlotte Pawlyn, who studies under Morgan here and at the Royal Marsden Hospital. He's "a really great scientist who can translate that to real patient benefit."
Morgan and Davies work pretty late -- maybe 7 p.m. After, they slip over to the Little Rock Racquet Club and swim laps in the pool, or take the road bicycles down Overlook and out onto the River Trail. He used to have to walk the bike back up Overlook, but not anymore. Within roughly 12 hours of leaving campus, he's back again.
"I kind of like to get things done. I like to succeed. And I like to finish jobs. It makes me irritating to people because I just kind of want to get through things, do something, make it a success, just keep, keep going.
"That's not always kind of acceptable to people around you. It makes you nag people. It makes you kind of demand excellence, demand responses. I kind of want to make progress faster than the people around me. At one level, I think that's what makes people successful. It's not being the super brightest. It's about wanting to deliver. It's sort of cheesy, but I want to succeed for patients with myeloma in order that we get more people cured."
High Profile on 09/27/2015