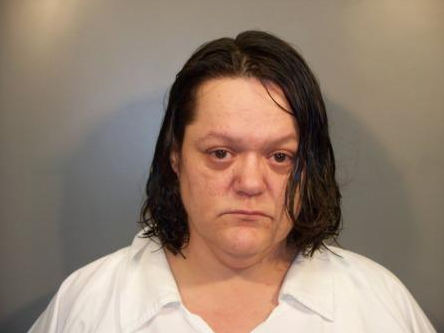 Melissa McCann-Arms ( Arkansas Department of Correction )
An appeal pending before the Arkansas Supreme Court of a 20-year prison sentence for a woman who exposed her unborn child to methamphetamine has drawn concern from health care experts as well as advocates for women and families.
They fear a new precedent would put more new mothers in the sights of prosecutors.
On Thursday, attorneys for Melissa McCann-Arms, a De Queen woman imprisoned after drugs were found in the blood of her newborn in November 2012, argued that upholding the woman's Polk County conviction could lead to "absurd consequences" that could affect adversely the health of women and unborn children.
One of McCann-Arms' attorneys, Farah Diaz-Tello, an attorney with the New York-based National Advocates for Pregnant Women, said those "absurd consequences" could lead to an increase in new mothers being sent to prison, or worse -- women with drug problems could avoid proper medical care or skip giving birth in a hospital.
"We called them 'absurd consequences' but it doesn't give a full picture of the cruelty or inhumanity of it," Diaz-Tello said. "Nobody wakes up and decides they want to be struggling with addiction and pregnant."
Andy Riner, the Polk County prosecutor who filed the case against McCann-Arms and supported a push in the past legislative session to change criminal statutes expressly to include similar circumstances, said the real inhumanity is allowing women to use illicit substances while pregnant.
"You don't know what it's like to get a call at 10 p.m. at night and talk to a nurse who says this child is twitching ... that he screams with a scream you've never heard before."
The Case
McCann-Arms, now 39, arrived at the hospital in November 2012 to give birth but, according to medical personnel, McCann-Arms was erratic and under the influence.
Both she and the child tested positive for methamphetamine, and several hospital staff members told investigators that though the child didn't show severe signs of drug withdrawal, the baby had odd coloration, a "droopy" face and was not as responsive as healthy newborns should be.
Eventually McCann-Arms, who was on probation for a theft conviction, was charged with a crime known as Introduction of a Controlled Substance into the Body of Another Person. The charge traditionally has been used to prosecute suspects in date-rape cases in which a drug was used.
At trial, McCann-Arms' attorney, Randy Rainwater, argued that the statute did not apply to the unborn and charges against his client should be dismissed.
After conviction, Rainwater appealed. In January of this year, the Arkansas Court of Appeals ruled that "even assuming" the law doesn't apply to the unborn, McCann-Arms still transferred traces of methamphetamine to her son in the time between his birth and the cutting of the umbilical cord.
Since the conviction, Riner has obtained similar convictions of two other women who were using drugs before the birth of their children. Both women, Jessica Fox and Amy Robertson, are serving 20-year prison sentences.
Riner said the women convicted and sent to prison had opportunities to get drug treatment but never did, and that given his area's drug problem, he felt action was necessary.
"What I was always told was that a drug problem is never a big deal to the community, you don't get complaints about drug problems ... but people are coming up and complaining about them, saying something needs to be done," he said. "At some point in time you have to put the interest of the child out there, and this person was given a chance to reform and refused to. That's why nothing has persuaded me what we're doing is incorrect."
In Arkansas and Beyond
In a brief filed by dozens of health groups, nonprofits, advocacy centers and pediatricians opposing McCann-Arms' conviction, attorneys argued Riner's actions were unprecedented in Arkansas but consistent with a trend of prosecuting women for the outcomes of their pregnancies.
Diaz-Tello said she is not aware of past prosecutions in Arkansas. She said her group has been tracking such prosecutions for years and there appears to be a movement, especially in Southern states.
In 2014, Tennessee became the first, and currently the only, state that expressly prosecutes women for using controlled substances while pregnant.
The law, she argues, has been a disaster.
"They had 50-some women crossing state lines into North Carolina so they could give birth and not fear arrest. We get calls from women who've terminated pregnancies they wouldn't have otherwise because they were afraid they would be arrested," Diaz-Tello said. "The state is doing this large uncontrolled experiment to see whether or not arrests and prosecutions are an effective tool. So far, it's a failed experiment."
The January ruling from the Arkansas Court of Appeals suggested that lawmakers should clarify the statute used against McCann-Arms to include the unborn as a "person," as the state's homicide statutes do.
During the legislative session, Riner's representative, Rep. Nate Bell of Mena, tried to accomplish that.
Bell said his bill would have given judges the ability to sentence women to drug treatment in lieu of prison.
He also said the legislation would not have changed the way suspected drug abuse is reported to social services and would have required law enforcement officials to obtain evidence outside of medical records.
Though it passed out of the House of Representatives, the bill died in committee in the Senate.
"The goal is not to send women to prison, the goal is to alter behavior," Bell said. "[Riner's] intent from the beginning hasn't been to send Ms. McCann to prison. He's the one who pushed for us to have diversionary options in the bill. What we want is ... these people to get help. But you have to have a stick over here if they flat-out refuse it."
One of the bill's opponents was Paul Kelly, head of Arkansas Children and Families, who said the 2005 act known as "Garrett's Law" already alerts social service workers to mothers with drug problems and that Bell's law went too far. It would scare women from seeking necessary medical care, he said.
"The idea of entering a life with a newly convicted criminal for a mother doesn't sound like the way we want to introduce that young person to the world," Kelly said. "I do not underestimate the vigor in which prosecutors do their job at finding all kind of ways to fill our prisons up with people whose problems go unaddressed and end up having to be locked up."
Charlotte Hobbs, director of the Arkansas Center for Birth Defects Research and Prevention, said if more addicts are prosecuted for giving birth, the fear of arrest and prison could create a chilling effect.
"Does that mean that we would not only be providing a clear disincentive to not come in for prenatal care but we'd be making it such that women, when they need to deliver, they have that fear?" she asked.
"Those are important questions and, boy, ... I don't even want to think about what would happen if women began to deliver their babies in places that are not safe."
Dr. Karen Farst, an expert on child neglect and at-risk children at Arkansas Children's Hospital, said the effects of illicit drugs can lead to health problems after birth, but that the majority of babies born to drug addicts show fewer signs of problems than do children whose parents have been taking prescription drugs or consuming alcohol.
She said research in the field has shown that children whose parents used methamphetamine or cocaine do show a tendency to have learning problems later on, but the risk is not as dire as some would make it out to be.
"We know that incarcerating moms when they have a substance-abuse problem that that may provide short-term protection for a child ... but we know that incarceration does not break the cycle of substance abuse," she said. "It is much better ... to put money into trying to get people clean and keeping them clean."
Riner said some people who are "totally eaten up by meth" may not get the necessary help and that he doesn't want to risk letting them endanger their children.
Diaz-Tello said if the court upholds McCann-Arms' conviction, the state could expect more incarceration and less treatment.
"Once prosecutors have a reason, whether it comes from the Legislature or a high court ... then [they] come down on the most marginalized of women," Diaz-Tello said.
Metro on 09/28/2015
SHARE THIS STORY
Print Headline: Advocates fear 'chill' if addict mother's conviction is upheld
Sponsor Content