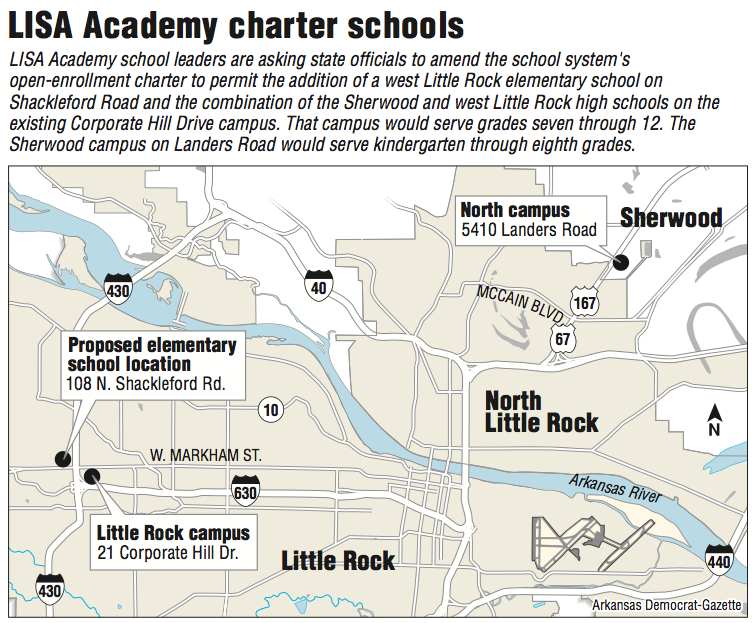 A map showing Lisa Academy charter school existing and proposed locations.
The Lisa Academy charter school system is asking the state to approve a reorganization and expansion of campuses in west Little Rock and Sherwood for the 2016-17 school year.
The application from the charter system, which started with a single school in 2004, is one of several proposed charter amendments sent to the state this month. It is the only one that would establish a new campus.
Lisa Academy system leaders want to combine their Little Rock and Sherwood charter high schools into one high school at the existing Little Rock campus on Corporate Hill Drive, plus open a new elementary school in the nearby Nichols Furniture Store building on Shackleford Road.
The Lisa Academy-North campus that is now serving kindergarten through 12th grade in Sherwood would become an elementary and middle school if the amendment to Lisa Academy's existing state charter were approved. The west campus would serve grades seven through 12, and a new elementary school would serve kindergarten through sixth grade.
The plan must be approved by the Arkansas Department of Education's Charter Authorizing Panel next month and, ultimately, by the Arkansas Board of Education.
The Charter Authorizing Panel -- made up of top-level staff members at the state Education Department -- has meetings scheduled for Oct. 14-15 and Nov. 18-19. Agendas for those meetings have not yet been announced.
"We are asking to increase the total enrollment number from 1,500 to 2,100," said Atnan Ekin, superintendent of the Lisa Academy system. "It is because of growth at both locations."
School system planners at Lisa -- which stands for Little Scholars of Arkansas -- envision an enrollment of up to 760 elementary and middle school students at the Sherwood location, which now has 700 students in kindergarten through 12th grade, Ekin said.
"The demand for elementary and middle school enrollment at the north location is very big," he said of a 991-student waiting list.
"Combining high schools would give the north location the opportunity to grow at the elementary and middle school levels. Actually, the amendment -- if it is approved -- will allow us to grow in all ways: at the high school, middle and elementary levels," he said.
The plan for expansion -- particularly the new elementary school at 108 N. Shackleford Road -- has already attracted the attention of the Little Rock School District.
Little Rock district Superintendent Baker Kurrus told the Arkansas Education Board earlier this month that the proposed elementary charter school on Shackleford would compete with the district's Terry Elementary School, a high-performing school on Mara Lynn Road.
He said about 80 percent of the children at Terry Elementary School are from low-income families, but 80 percent are scoring at proficient levels on state exams and the school has an "A" grade from the state.
"You have to decide whether you want a charter school right down the street," Kurrus told the Education Board. "It's 45 seconds if you drive to where a charter school location will be," he said, adding that charter schools draw high-performing students.
Kurrus questioned how state Education Board approval of charter schools in Little Rock affects his direction from the same board to improve the Little Rock School District. It has been operating under state control since Jan. 28 because of chronically low student achievement at six of the district's 48 schools.
"I'm not going to whine about it," Kurrus said. "You are going to get 100 percent from me, and our team is ready to compete, but the rules have to be considered. It's a policy matter."
Ekin said last week that the parents of Lisa Academy students want children in a unified school system -- kindergarten through 12th grade -- that is focused on college preparation and does not force them to move from one system to another.
"It will be very beneficial for our parents and students to open the elementary," he said, adding that there are almost 300 children of elementary school age who are siblings of older students already in the Lisa system.
But Ekin said he understands Kurrus' concerns.
"We're not trying to pull just advanced students from west Little Rock," he said of the proposed elementary school on Shackleford. "We are enrolling students from all over the city. One of our focuses is trying to pull students who are in home schools and private schools -- some of whom are current students' siblings."
Ekin said parents are looking for education options and that an elementary charter school in west Little Rock -- which does not now exist -- would be such an option.
The charter school amendment application notes that the high school in Sherwood has an enrollment of about 120 students, and the west campus has about 350 high school students.
Lisa Academy operators said combining the two high schools would allow for more extensive offerings of challenging Advanced Placement courses -- going from 10 at the Sherwood campus and 14 at the Little Rock campus to 17 Advanced Placement courses in 2016-17.
Additionally, the 13 elective courses at the Sherwood campus could be expanded to as many as 35 at a combined high school campus in 2016-17.
The number of sports programs could go from four in Sherwood and eight in Little Rock to 10 next year, according to the proposal.
The proposal says other advantages would include dedicated building space for the high school and a greater chance that high school teachers would teach only high school courses, instead of having to teach middle school courses, as well.
"Last year, 41.3 percent of LISA-North eighth-graders moved to another high school because of more offerings and dedicated high school building," the amendment application states. "This project will enable LISA North eighth-grade students to be retained in the LISA high school program."
The plan calls for Lisa Academy-North to provide transportation between the north campus and the west Little Rock campus for students. More than 88 percent of the parents who want their students in the combined high school requested the transportation between the two campuses, according to the proposal.
Other charter schools have also requested amendments to their plans that would take effect in the 2016-17 school year.
The 238-student Quest Middle School of Little Rock, for example, is seeking to change its name to Quest Academy to more accurately reflect its plan to add high school grades to the sixth through ninth grades it is now providing.
Quest Middle School of Pine Bluff, which now serves grades five through nine, is seeking permission to begin offering more elementary grades.
Metro on 09/28/2015
Print Headline: Charter school system seeking OK to expand
Sponsor Content