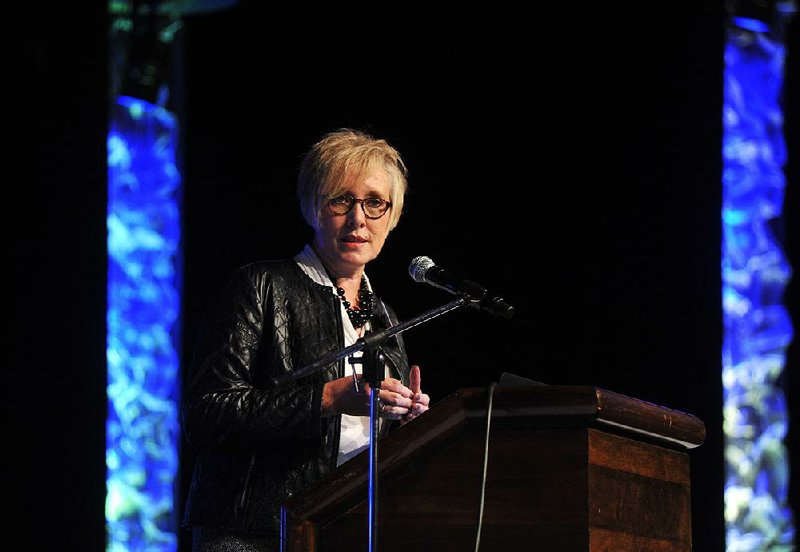 Darice Keating, president and general manager of ACT Aspire, addresses educators and policymakers Tuesday at the Arkansas Public School Resource Center's fall conference in Hot Springs. ( The Sentinel-Record / Mara Kuhn)
HOT SPRINGS -- The president of ACT Aspire, the new testing program mandated for Arkansas schools, said Tuesday that the elementary-into-high school exams are meant to identify gaps in student learning early -- before they derail a student's college and career plans.
Darice Keating, who became president and general manager of ACT Aspire this month, told more than 400 educators and policymakers attending the Arkansas Public School Resource Center's fall conference that fewer than 2 in 10 eighth-graders nationally are on track to be ready for college-level work when they graduate from high school.
"I know you all live that and think about that every day," Keating told the superintendents, principals and test coordinators about the research findings from ACT Inc., the maker of the ACT college exam.
"Research shows that the earlier that we can measure progress toward meeting educational standards, the more we can strengthen a student's chance to stay on target and to succeed," Keating said.
To that end, ACT Inc., which has done 50 years of research on teaching and readiness measures for college, joined forces in 2012 with Pearson, another education company that was developing technology for online testing, to develop what is now the ACT Aspire tests for third through 10th grades in English, math, reading, writing and science.
"These two industry leaders realized by combining strengths they could create a longitudinal career and college readiness assessment with scores linked to actual student performance on the ACT, and allow educators to intervene early and in a meaningful way to impact college and career readiness," Keating said.
Keating said that year-end Aspire test results in grades nine and 10 will predict the student test-taker's eventual ACT college entrance exam score. The test results for grades eight through 10 are also designed to provide information on a student's progress toward workforce readiness.
In Arkansas, the ACT Aspire is replacing the Partnership for Assessment of Readiness for College and Careers, or PARCC, exams that were given this past year. The PARCC exams replaced Arkansas' long-used Benchmark and End-of-Course exams that were developed in response to federal law that requires states to test students annually in math and literacy or risk losing millions in federal aid.
The PARCC tests were developed by a coalition of states based on the Common Core State Standards, which were the new math and English/language arts standards adopted by most states -- including Arkansas -- in 2010.
Complaints about the new standards and the PARCC tests led Gov. Asa Hutchinson, when he took office at the first of this year, to appoint a study committee to recommend possible changes in the standards and the test. That committee of educators, businessmen and parents that was headed by Lt. Gov. Tim Griffin urged abandoning the PARCC exams in favor of ACT Aspire.
The Arkansas Board of Education voted initially in June to stay with the PARCC exams. The board reversed its position a month later and voted to use the ACT Aspire tests after Hutchinson declined to reaffirm the state's commitment to the PARCC coalition. That initial PARCC coalition commitment was required of him as a newly elected governor.
The ACT Aspire exams are made up of a "summative" exam to be given at the end of each school year and periodic exams to be given throughout the school year. The results will be returned to schools by July 1 of each year. The tests will be given online in most Arkansas districts, but paper and pencil versions are also available if a district or school does not have adequate technology to support the online testing.
The periodic exams, to be provided as part of the state contract with the testing company, include interim assessments as well as classroom quizzes.
Those all will be available to Arkansas schools this school year in December or January. The testing program, including educator training, is getting a late start this year because of the change in test programs.
In subsequent years, the periodic tests will be available at the start of the school year. The results of the periodic exams will be available to teachers almost immediately after the students complete the tests.
Arkansas' public schools are continuing to use the Common Core State Standards in math and literacy as the basis for curriculum and classroom instruction this year, but the Arkansas Department of Education, at the urging of the governor, is undertaking a review of those standards over the course of this school year.
Audience members at Tuesday's conference session questioned how closely the new ACT Aspire exams are linked to what students are being taught.
J.J. Morley, an assessment specialist at the Arkansas Department of Education and a member of a panel on the ACT Aspire at Tuesday's conference, told the educators to continue to teach to current standards.
"Our message is follow your standards that are in place," Morley said.
One educator asked whether the Aspire system will result in eighth-grade Algebra I students taking an eighth-grade ACT Aspire test that does not cover Algebra I because it is a course more commonly taken in the ninth grade.
The ACT Aspire does not include specific subject-area tests like the former Arkansas End of Course Algebra I or geometry tests.
Keating said that the eighth-grade test will test skills that are at grade level, as well as skills that are below and above the tested grade level.
"You're telling us to teach our standards," one audience member said. "When the questions on the ACT Aspire were constructed, what standards were used to guide the construction of the questions?"
Keating responded that the ACT's college-ready benchmark standards were used to "back-map" standards for each grade, going back as far as the third grade. The test questions were then developed on the basis of those standards for each grade, she said.
The test questions align "at the domain level" of the Common Core standards, Keating said. The domain is a group of the individual Common Core standards or skills in a subject area.
Joe Cruse, director of client relations for ACT and another of the conference panel members, expanded on the matter, saying that the standards on which the ACT and ACT Aspire tests are based result from a process in which educators in elementary school through the freshman year of college are asked what skills are necessary for a freshman college student to be successful academically.
"That drives the test blueprints," Cruse said. "That's what helps us determine what is going to be the content in all of our assessments."
Cruse said colleges give the ACT the grades earned by freshman students at their institutions.
"We look back to see what ACT scores met a certain level of success at an individual institution," he said. "The sample we used to determine our most recent round of college-readiness benchmarks was from 214 different colleges and universities and from 230,000 students and their grades in their freshman college courses."
That is the data that are back-mapped all the way to the third grade with ACT Aspire to help determine whether a student is on track, Cruse said. That gives teachers time to make those interventions if students are not on track or provide students with challenges if they are above track.
Chris Barnes, director of elementary curriculum and instruction at Russellville School District, said after Tuesday's session that he appreciated all the information provided but has "real concerns about the alignment" between the educational standards and the ACT Aspire tests.
He said schools and teachers will be held accountable for the student achievement and results on the tests.
"If we are told to teach the standards, we need to have a test that is aligned to those standards so we can adequately address where our shortcomings are in schools," Barnes said. "I see this is trying to prepare students for the college-ready benchmarks and the ACT. It is not necessarily going to tell us how well our school curriculum is in addressing the standards that are being taught."
The Arkansas Public School Resource Center, the host of the annual conference, is a nonprofit membership organization that provides technical support and advocacy services for public schools with a special emphasis on charter schools and rural districts. It is funded in part by the Walton Family Foundation.
Metro on 09/30/2015
More top stories in today's Democrat-Gazette
Print Headline: Test chief: Failure targeted early
Sponsor Content