Matt Bell said he thought he had a prized souvenir when he found what looked like a cannonball from the Civil War.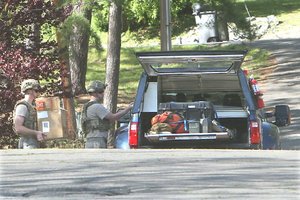 Photo by Richard Rasmussen
A Little Rock Air Force Base explosive ordnance disposal team loads into their vehicle a Civil War-era land mine found by a Hot Springs man this week. The team destroyed the mine Thursday at the Garland County landfill.
It wasn't until the relic turned out to be a very rare, 32-pound Confederate land mine with a pressure sensor fuse -- the first known to be discovered west of the Mississippi River -- that the Hot Springs resident became nervous about having it.
Bell called the Hot Springs Police Department on Thursday afternoon for assistance. Police then evacuated 20 residences in Bell's neighborhood and contacted the Little Rock Air Force Base in Jacksonville, which dispatched an explosive ordnance disposal team to remove the device from the bed of Bell's truck.
When X-ray tests determined there could be explosives inside the device, the bomb squad took the land mine to the Garland County Landfill and safely destroyed it, a police spokesman said.
"Once I found out what it really was, I was freaked out being with it," Bell said in a telephone interview Friday.
Land mines -- mostly converted iron cannonballs using gunpowder, a fuse and a metal detonation cap -- were rarely used during the Civil War and primarily were used by Confederates, according to a history.com article on unusual Civil War weapons. Some still-active land mines were recovered in Alabama in the 1960s, the website said.
Their use, or even existence, in Arkansas or elsewhere in the Civil War Trans-Mississippi area was even more rare, said Carl Drexler, an archaeologist with the Arkansas Archeological Survey office at Southern Arkansas University in Magnolia. Drexler is one of a few historians nationwide who focus specifically on Civil War archaeology.
"It would be the first one found this side of the Mississippi River," Drexler said Friday. "If it is a land mine, it would be really significant. They were very rare.
"They were actually most commonly associated with the war in Virginia and Georgia and areas like that," said Drexler, who has a doctorate in anthropology with a focus on archaeology of the Civil War homefront of southwest Arkansas. "They were used in 1862 during the campaign around Richmond and in 1864 when the Confederates tried to use them to stop [Union Gen. William T.] Sherman's March to the Sea. Sherman was nice enough to put Confederate prisoners of war in front of his column to let them find them first."
Bell found the explosive while doing excavation with a small track hoe on a construction job near Danville, Yell County, on Wednesday when the device rolled out of a ditch, he said.
"I thought it was a solid cannonball, a solid projectile," Bell said. "The guy working with me literally threw it out of the ditch. I scooped it up and put it in my truck. I just sat it in the back. It fit the criteria of a cannonball."
There were at least 11 skirmishes in Yell County during the Civil War, said Mark Christ, spokesman for the Arkansas Historic Preservation Program and an Arkansas Civil War historian. One occurred at Danville on March 28, 1864, he said, almost exactly 152 years before Bell's discovery.
Excited by the find, Bell said he drove with it 65 miles back to his home in Hot Springs. With the device in his house, he said he did online research about Civil War weapons and relics. He said he weighed and measured the device, which was 31.6 pounds and 6.25 inches in diameter.
Many 32-pound devices were converted artillery shells, normally fired from a fort or a ship, being too big for guns in the field, Drexler said.
It wasn't until Bell took his discovery to the new Civil War Museum West in Hot Springs that someone told him what he actually had uncovered.
"I told them I had a cannonball and the man said, well, yes and no. That is a land mine," Bell said. "Actually, it was a cannonball to start off with, I do believe.
"They would put a little glass vial with some sort of chemical in it and a piece of copper foil and a hard piece of copper for the cap," Bell said after further research. "When you set it you take that hard cap off, and 7 pounds of pressure will break that glass vial and the chemicals in the glass starts a reaction and a fire. The fire leaks down in there until it activates the gunpowder.
"That gives you the boom," he said.
Knowing what he had at that point, Bell said his excitement gave way to anxiousness.
"Even just to move it from the Civil War Museum back home, I was freaked out," he said. "I went back home with it. I tried to do some research to get an expert. I couldn't come up with something local, so I called the local police department."
Hot Springs police have had somewhat similar calls before, but not for something of this magnitude, said Cpl. Kirk Zaner, the department's public information officer.
"It was unique, I can say that," Zaner said Friday. "We've had it happen before when someone cleans out grandpa's garage and finds a grenade and it turns out to be a replica. Regardless, you take it serious."
To destroy the device, the Air Force explosive ordnance disposal team needed an area with a 3,500-foot minimum standoff distance, according to a Hot Springs Police Department news release about Thursday's evacuation and device disposal.
"Those things are designed, basically, to have a fairly substantial blast radius and to kill a lot of people in a pretty decent-sized area," Drexler said of such Civil War weaponry. "You don't want to be standing anywhere close to it."
Drexler spoke with the Police Department on Friday morning, Zaner said, to ask if any fragments were preserved. None had been recovered. Fragments from the device would "give us an idea of whether it was a converted cannonball or something special made, what its contents were," Drexler said. The thickness of the iron would show its caliber.
"There's a lot we can tell from a little piece," he said.
After news got out about the land mine Thursday, Bell said he's had "all kinds of calls" and Facebook messages and has been asked why he didn't have the device defused and keep it. A man in North Carolina, Bell said he found out, has two on display that have been defused.
"For one thing, I was worried about my family, and I didn't know what channels to take to get it disarmed," he said. "I probably could have found somebody and got it defused. But what would I do with it in the meantime?"
Metro on 04/02/2016