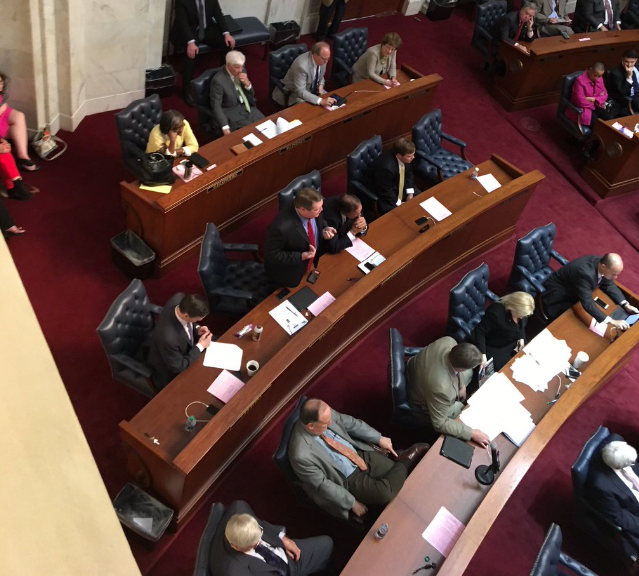 Arkansas Sen. Bryan King speaks before the Senate voted to pass Gov. Asa Hutchinson's plan to rework Medicaid expansion.
3 P.M. UPDATE:
The plan to keep Arkansas' hybrid Medicaid expansion is set for final votes in both the state House and Senate.
The House and Senate Insurance and Commerce committees advanced identical versions of the bill Thursday, hours after the proposal cleared both chambers. The bills face final votes Friday morning.
Republican Gov. Asa Hutchinson has proposed keeping the program, which uses federal funds to purchase private insurance for thousands of low-income Arkansans. He's called for requiring some participants to pay premiums, along with other restrictions.
The proposal faces a tougher fight in a session set to begin next week, with the budget bill funding the program needing three-fourths support in both the House and Senate.
Read Friday's Arkansas Democrat-Gazette for full details.
— The Associated Press
EARLIER:
A plan to continue Arkansas' private-option Medicaid expansion with changes passed both the state House and Senate on Thursday, but by smaller margins than needed for funding approval during the Legislature's fiscal session.
The House voted 70-30 in favor of Arkansas Works, Gov. Asa Hutchinson's plan to add new requirements for some recipients of private-option Medicaid. The Senate approved the measure 25-10.
Copies of the identical bills were then sent to committees in each chamber to start the process of final legislative approval. Once each chamber passes the other's bill, the plan will be sent to the governor.
Funding for the bill will require a three-fourths majority from both the House and Senate for approval during next week's fiscal session.
Opposition to the bill came from 39 Republicans and one independent.
Rep. Charlie Collins, R-Fayetteville, gave a 30-minute speech introducing the bill to the House, attempting to dispel skepticism from conservatives who oppose Medicaid expansion through President Barack Obama's Affordable Care Act.
Collins described the system — which uses federal subsidies to pay private insurers to offer coverage — as a rebuke of Obama administration proposals to add more people to Medicaid rolls.
Collins noted the state's 40-year-low unemployment rates and expanding labor market as evidence against fears that an expansion of Medicaid would create a "welfare state."
"The predictions of disaster from an employment situation have not come true," Collins said.
The expansion's critics, however, were steadfast in their arguments that support for the private option amounted to support for "Obamacare."
"It has addicted us to billions of dollars in Americans' general tax revenue," Mary Bentley, R-Perryville, said. "We are on an unsustainable path with Medicaid."
As the House first moved to vote on the bill, a problem with the machine that records representatives' votes forced the chamber into recess for 15 minutes.
Read Friday's Arkansas Democrat-Gazette for full details.
— John Moritz
Sponsor Content