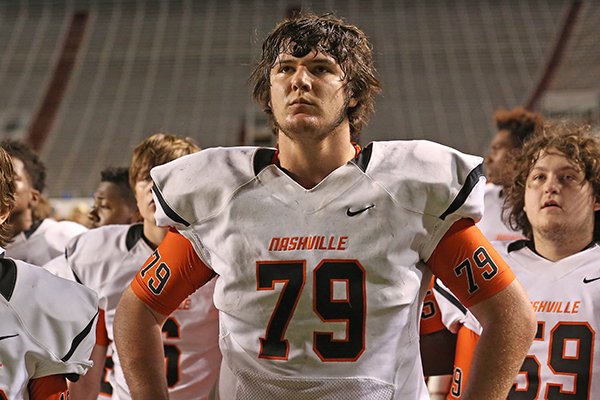 Nashville offensive lineman Kirby Adcock waits as he is announced MVP of the class 4A state championship game on Saturday, Dec. 12, 2015, at War Memorial Stadium in Little Rock. ( Evan Lewis, Texarkana Gazette )
Nashville offensive lineman Kirby Adcock grew up rooting for Arkansas and now will be able to live the dream of being a Razorback after making public his oral commitment to the Hogs Thursday night.
"It felt like a good fit," Adcock said. "Academically, athletically and socially. ... I felt comfortable there and it's just a nice place."
Adcock, 6-5, 282 pounds, picked Arkansas over scholarship offers from Indiana, Iowa State, Southern Miss, Louisiana Tech and Arkansas State. He received his scholarship offer from the Hogs during a visit to Fayetteville on Saturday.
"I knew I didn't want to pull the trigger that day because I wanted to [let it] sink," Adcock said. "I didn't want to make a rash decision."
His mother, Cindi, helped him reach the decision.
"She actually gave me a great analogy," Adcock said. "She said if you have all you need and want in a girl and another one winks at you, are you going to go over there and check her out or you going to stay with the girl you have? I said you know what mom? That makes a lot of sense."
Adcock anchored a Scrappers offensive line that helped produce 5,177 rushing yards, the highest in the state for any classification. He's looking forward to playing under offensive line coach Kurt Anderson, who came to Arkansas from the Buffalo Bills.
"I feel like it will be a great opportunity with him coming from the NFL ," Adcock said. "With the type of offense Arkansas runs, I feel like I'll really be developed well as an offensive lineman."
Adcock is Arkansas' sixth commitment for the 2017 class. Oral commitments are nonbinding.
Sports on 04/08/2016
Print Headline: Nashville offensive lineman gives verbal commitment to Razorbacks
Sponsor Content