Legislation to continue providing health coverage for more than 267,000 low-income Arkansans under the state's expanded Medicaid program cleared the state House and Senate on Thursday, but by smaller margins than will be needed next week to approve funding for the program beyond June 30.
Photo by Stephen B. Thornton
Rep. Greg Leding, D-Fayetteville, (left) shakes hands with Rep. Charlie Collins, R-Fayetteville, after the House Committee on Insurance and Commerce passed the Senate version of the Arkansas Works legislation Thursday at the state Capitol in Little Rock.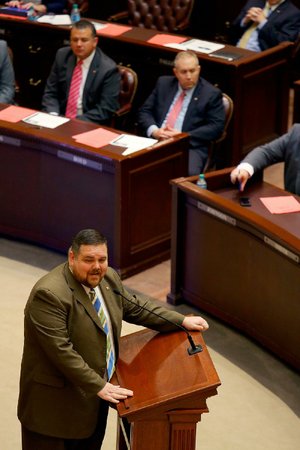 Photo by Stephen B. Thornton
Rep. Bob Ballinger, R-Hindsville, speaks against the Arkansas Works measure, HB1001, on the House floor Thursday at the state Capitol in Little Rock.
Opponents of the program vowed to try to block funding during the fiscal session, which starts Wednesday, and said they have the votes to do it.
House Bill 1001, which would continue Medicaid expansion while adding additional requirements and benefits for enrollees under a program that would be called Arkansas Works, passed in the House by a 70-30 vote during the second day of a special session of the Legislature.
The bill's identical counterpart, Senate Bill 1, passed 25-10 in the Senate.
After Thursday's votes, HB1001 was sent to the Senate and SB1 to the House. The insurance and commerce committees of each chamber then recommended passage of the bills.
Each chamber is expected to take a final vote today and send the bills to Gov. Asa Hutchinson for his signature.
Hutchinson said in a statement that Thursday's action on the Arkansas Works legislation set a "solid foundation" for approval in the fiscal session that starts on Wednesday.
During next week's session, legislators will vote on the appropriation bill for the state Department of Human Services' Division of Medical Services, including Medicaid expansion.
Approval of that bill requires a three-fourths majority in each chamber: 75 votes in the House and 27 in the Senate.
"I was pleased by the strength of the vote margin for the passage of Arkansas Works," Hutchinson said. "The results exceeded our expectations and are a clear indication that a very strong, bipartisan majority supports this policy for Arkansas."
Sen. Bart Hester, R-Cave Springs, said opponents of the expanded Medicaid program will vote against any bill appropriating funds for it.
The opponents will propose an alternative Medical Services Division appropriation, either through an amendment or special language, that excludes the funding, he said.
"We're playing some pretty hard chicken right now with both people's feet on the accelerator," Hester said. "I think the only thing that's going to bring resolution to this is a crash."
First approved by the Legislature in 2013, the expansion of the state's Medicaid program extended coverage to adults with incomes of up to 138 percent of the poverty level: $16,394 for an individual, for instance, or $33,534 for a family of four.
Most of those covered under the expanded part of the program receive the coverage through what is known as the private option, which uses Medicaid funds to buy coverage through private insurance plans.
SB1 and HB1001 would continue the coverage while making changes that Hutchinson has said would encourage enrollees to stay employed and take responsibility for their health care.
Those changes include charging premiums of about $19 a month to participants whose incomes are above the poverty level, subsidizing some enrollees' coverage through employer plans and referring some beneficiaries to job-training programs.
The legislation also authorizes the state to offer an extra benefit, such as dental coverage, as an incentive for enrollees to pay premiums and receive annual wellness exams.
All 46 Democrats in the 135-member Legislature voted for the legislation, which also received the support of 15 of the 25 Republicans in the Senate and 34 of the 63 Republicans in the House.
Except for Rep. Nate Bell, an independent from Mena, the legislators who voted against it were all Republicans.
Eight of the 10 senators who voted against the legislation said this week that they also plan to vote against the appropriation bill during the fiscal session.
The two others, Missy Irvin of Mountain View and Cecile Bledsoe of Rogers, declined to say Thursday how they will vote on the appropriation.
"I'd rather just wait," Bledsoe said.
Both senators voted last year in favor of the Division of Medical Services appropriation for the fiscal year that ends June 30.
Bledsoe voted against funding the division in 2013 and 2014. Irvin voted for the funding in 2013 and against it in 2014.
Senate President Pro Tempore Jonathan Dismang, R-Searcy, said he's optimistic about the prospects for the Division of Medical Services appropriation.
"It's never been easy," Dismang said. "I don't expect it to be easy, but what we're going to continue to do is put information in front of the members and let them make educated decisions on what's best, not only for the district but for the state as a whole."
He added that he expects a discussion on "the appropriateness of using the appropriations process to try to set policy that is not conforming to the majority of this body."
The federal government is paying the full cost of coverage for the expanded Medicaid program until Jan. 1, when Arkansas will become responsible for 5 percent of the cost.
The state's share will then increase every year until it reaches 10 percent in 2020.
Opponents of the program say it will add to the federal deficit, increase dependency on government benefits and ultimately drain the state budget, especially if Congress decides to decrease the federal government's share of the cost.
Supporters point to estimates by The Stephen Group, a Manchester, N.H.-based consulting firm, showing that the benefit to the state budget will outweigh the cost through at least June 30, 2021.
Over five years the state budget will gain a net $757 million through increased tax collections and lower spending in the traditional Medicaid program and on medical care for the uninsured, the firm estimated.
The estimates were prepared for a legislative task force formed last year that has evaluated Medicaid expansion and explored changes to the traditional Medicaid program.
Sen. Jason Rapert, R-Bigelow, said elected officials, hospital representatives and business owners in his district have urged him to support Medicaid expansion, citing the impact to the state budget of ending the program.
Comparing the program to "cough medicine that we just don't want to take," he said those who oppose the federal policy should run for federal office or support a balanced budget amendment to the U.S. Constitution.
"I don't want to do something that damages my local community and actually do nothing to change what happens in Washington, D.C.," he said.
SB1's sponsor, Sen. Jim Hendren, R-Sulphur Springs, noted that The Stephen Group's estimates show Medicaid expansion will bring an estimated $9 billion in federal funding into the state from 2017-2021.
That will help to offset $9.9 billion that the 2010 Patient Protection and Affordable Care Act will draw out of the state during that period through taxes on health care providers and insurers and cuts in Medicare reimbursement to hospitals.
Federal tax subsidies provided for health insurance to people with incomes too high to qualify for expanded Medicaid, will add about $4.9 billion in federal funding during the same period, for a net gain to the state of $4 billion.
Without Medicaid expansion, the state would face a net loss in federal funding of about $5 billion, the consulting firm has said.
Sen. Alan Clark of Lonsdale, who voted against the legislation, said the program is part of a trend toward more government involvement in health insurance.
"We're driving the bus to single-payer" insurance, he said.
Instead of supporting Medicaid expansion, Rep. Mary Bentley, R-Perryville, said Arkansas should make better use of Arkansas Department of Health clinics.
Children should be taught to live healthy and active lifestyles, and Christian clinics should be subsidized, she said.
Opposition to the Affordable Care Act has contributed to conservative victories in the House and Senate, including her own election in 2014, she said.
"I believe many of those hardworking Arkansans were angry at a change in their health care system that they did not want and was forced upon them," she said.
A Section on 04/08/2016
House vote on HB 1001
Here's how the House voted Thursday to approve HB1001, by Rep Charlie Collins, which makes changes in the state's expanded Medicaid program to emphasize work and wellness.
YEA (70)
Charlie Armstrong, D-Little Rock
Eddie Armstrong, D-North Little Rock
John Baine, D-El Dorado
Scott Baltz, D-Pocahontas
Rick Beck, R-Center Ridge
Camille Bennett, D-Lonoke
Charles Blake, D-North Little Rock
Justin Boyd, R-Fort Smith
Ken Bragg, R-Sheridan
David Branscum, R-Marshall
Mary Broadaway, D-Paragould
Karilyn Brown, R-Sherwood
Charlie Collins, R-Fayetteville
Andy Davis, R-Little Rock
Jana Della Rosa, R-Rogers
Dan Douglas, R-Bentonville
Lance Eads, R-Springdale
Les Eaves, R-Searcy
Jon Eubanks, R-Paris
Joe Farrer, R-Austin
Deborah Ferguson, D-West Memphis
Ken Ferguson, D-Pine Bluff
David Fielding, D-Magnolia
Charlene Fite, R-Van Buren
Lanny Fite, R-Benton
Vivian Flowers, D-Pine Bluff
Jeremy Gillam, R-Judsonia
Bill Gossage, R-Ozark
Michael John Gray, D-Augusta
Kim Hammer, R-Benton
Ken Henderson, R-Russellville
Kim Hendren, R-Gravette
Mary "Prissy" Hickerson, R-Texarkana
David Hillman, D-Almyra
Monte Hodges, D-Blytheville
Mike Holcomb, R-Pine Bluff
Doug House, R-North Little Rock
Joe Jett, D-Success
Bob Johnson, D-Jacksonville
Sheila Lampkin, D-Monticello
Greg Leding, D-Fayetteville
Kelly Linck, R-Flippin
Fred Love, D-Little Rock
Mark Lowery, R-Maumelle
Stephen Magie, D-Conway
Julie Mayberry, R-Hensley
Mark McElroy, D-Tillar
George McGill, D-Fort Smith
Ron McNair, R-Alpena
Reginald Murdock, D-Marianna
Micah Neal, R-Springdale
Milton Nicks, Jr., D-Marion
Betty Overbey, D-Lamar
Mathew Pitsch, R-Fort Smith
James Ratliff, D-Imboden
Chris Richey, D-West Helena
Warwick Sabin, D-Little Rock
Sue Scott, R-Rogers
Matt Shepherd, R-El Dorado
James Sorvillo, R-Little Rock
James Sturch, R-Batesville
Brent Talley, D-Hope
Clarke Tucker, D-Little Rock
DeAnn Vaught, R-Horatio
John Vines, D-Hot Springs
John Walker, D-Little Rock
Dave Wallace, R-Leachville
Jeff Wardlaw, D-Hermitage
David Whitaker, D-Fayetteville
Marshall Wright, D-Forrest City
NAY (30)
Bob Ballinger, R-Hindsville
Nate Bell, R-Mena
Mary Bentley, R-Perryville
Donnie Copeland, R-North Little Rock
Bruce Cozart, R-Hot Springs
Gary Deffenbaugh, R-Van Buren
Jim Dotson, R-Bentonville
Charlotte Douglas, R-Alma
Trevor Drown, R-Dover
Mickey Gates, R-Hot Springs
Justin Gonzales, R-Okolona
Michelle Gray, R-Melbourne
Justin Harris, R-West Fork
Grant Hodges, R-Rogers
Lane Jean, R-Magnolia
Jack Ladyman, R-Jonesboro
Tim Lemons, R-Cabot
Robin Lundstrum, R-Springdale
David Meeks, R-Conway
Stephen Meeks, R-Greenbrier
Josh Miller, R-Heber Springs
John Payton, R-Wilburn
Rebecca Petty, R-Rogers
Marcus Richmond, R-Harvey
Laurie Rushing, R-Hot Springs
Brandt Smith, R-Jonesboro
Nelda Speaks, R-Mountain Home
Dan Sullivan, R-Jonesboro
Dwight Tosh, R-Jonesboro
Richard Womack, R-Arkadelphia
Senate vote on SB 1
Here's how the Senate voted Thursday to approve SB1, by Sen. Jim Hendren, which makes changes in the state's expanded Medicaid program to emphasize work and wellness.
YEA (25)
David Burnett, D-Osceola
Ronald Caldwell, R-Wynne
Eddie Cheatham, D-Crossett
Linda Chesterfield, D-Little Rock
John Cooper, R-Jonesboro
Jonathan Dismang, R-Searcy
Joyce Elliott, D-Little Rock
Jane English, R-North Little Rock
Jake Files, R-Fort Smith
Stephanie Flowers, D-Little Rock
Jim Hendren, R-Sulphur Springs
Jimmy Hickey, R-Texarkana
Jeremy Hutchinson, R-Little Rock
Keith Ingram, D-West Memphis
David Johnson, D-Little Rock
Uvalde Lindsey, D-Fayetteville
Bruce Maloch, D-Magnolia
Bobby Pierce, D-Sheridan
Jason Rapert, R-Bigelow
Bill Sample, R-Hot Springs
David Sanders, R-Little Rock
Greg Standridge, R-Russellville
Larry Teague, D-Nashville
Eddie Joe Williams, R-Cabot
Jon Woods, R-Springdale
NAY (10)
Cecile Bledsoe, R-Rogers
Alan Clark, R-Lonsdale
Linda Collins-Smith, R-Batesville
Scott Flippo, R-Mountain Home
Bart Hester, R-Cave Springs
Missy Irvin, R-Mountain View
Blake Johnson, R-Corning
Bryan King, R-Green Forest
Terry Rice, R-Waldron
Gary Stubblefield, R-Branch