Gov. Asa Hutchinson signed legislation Friday preserving health coverage for more than 267,000 low-income Arkansans and said he hopes to avoid a "crash" over the issue during the Legislature's fiscal session that starts next week.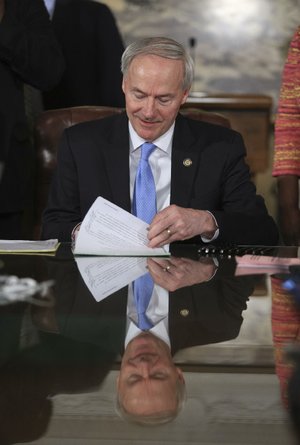 Photo by Staton Breidenthal
Gov. Asa Hutchinson signs the bills to continue the state's expanded Medicaid program on Friday at the Capitol. He then urged "consensus" on funding the coverage beyond June 30 despite opposition.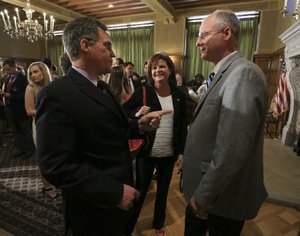 Photo by Staton Breidenthal
Rep. Laurie Rushing talks with Rep. Charlie Collins (left), R-Fayetteville, and Sen. Jim Hendren, R-Sulphur Springs, after Friday's Medicaid bill-signing ceremony. Rushing voted present on the measure Friday but said that she would vote for funding for the program.
The legislation authorizes the state to continue the expanded Medicaid program while making changes that Hutchinson has said would encourage participants to stay employed and take responsibility for their health care.
But the program faces a challenge in the fiscal session that starts Wednesday. Continuing Medicaid expansion past June 30 requires approval of the appropriation bill for the Department of Human Services' Medical Services Division.
Under the Arkansas Constitution, appropriation bills require a three-fourths majority of the members of both chambers of the Legislature: 75 House members and 27 senators.
Program opponents have vowed to block the Medical Services Division spending bill.
Hutchinson said he will reach out to opponents to make the case that the appropriation process shouldn't be used to try to overturn laws supported by a majority of legislators in the Republican and Democratic parties.
"There's a fundamental principle of government that we need to deal with, and that is that a minority should not derail the expressed will of the majority," Hutchinson said after signing into law a pair of identical bills legislators approved Friday morning.
The Senate and House versions of the bills twice received clear majorities in both chambers, but short of the three-fourths needed for the appropriation.
The governor made an apparent reference to comments a day earlier by one opponent, Sen. Bart Hester, R-Cave Springs, who said that the two sides are playing "chicken" and that "the only thing that's going to bring this to a resolution is a crash" during the fiscal session.
"I do not believe that we ought to be headed for a crash in this state," Hutchinson said. "We ought to be headed for a consensus."
After passing their respective bills on Thursday, the Senate passed the House version 20-15 on Friday, the same vote total as Thursday.
The House passed the Senate version 68-27 Friday. Four members didn't vote, and Rep. Laurie Rushing, R-Hot Springs, voted present during the third and final day of the special session on the revamped Medicaid program that will be called Arkansas Works.
Rushing said Friday that she and six other House members who also voted against the Arkansas Works legislation Thursday plan to vote for the Medical Services Division appropriation.
But in the Senate, Sen. Cecile Bledsoe, R-Rogers, on Friday became the ninth senator who voted against Arkansas Works to say this week that she planned also to vote against the Medical Services Division appropriation bill.
"I'm going to be a no," Bledsoe said Friday. "I'm a no, I'm a no, I'm a no."
Sen. Missy Irvin, R-Mountain View, didn't return a call seeking comment on the spending bill Friday. Irvin voted for the Medical Services Division appropriation in 2013 and 2015 but against it in 2014.
The Republican-controlled Legislature approved the Medicaid expansion in 2013 under Gov. Mike Beebe, a Democrat.
The expansion, authorized by the federal 2010 Patient Protection and Affordable Care Act, extended coverage to adults with incomes of up to 138 percent of the poverty level: $16,394 for an individual, for instance, or $33,534 for a family of four.
Most enrollees receive the coverage through what is known as the private option, which uses Medicaid funds to buy coverage through private insurance plans.
The Arkansas Works law directs Human Services Department officials to charge premiums of about $19 a month to participants whose incomes are above the poverty level and to subsidize some participants' coverage through employer plans.
The law also directs the department to refer some enrollees to job-training programs and to offer an extra benefit, such as dental coverage, as an incentive for enrollees to pay premiums and receive annual wellness exams.
Human Services Department spokesman Amy Webb said agency officials are working on an application for a federal waiver to allow the program and plan to submit it to the U.S. Department of Health and Human Services' Centers for Medicare and Medicaid Services this summer.
The waiver authorizing the private option expires at the end of this year.
Rushing said Friday that she's concerned that providing a subsidy for job-based coverage could lead to more government requirements for businesses.
She said her vote against Arkansas Works on Thursday also fulfilled a campaign promise she made in 2014 when she won election by unseating a Democrat.
But she said she doesn't want to "just throw off" more than 200,000 Arkansans from health coverage or to shut down the Medical Services Division.
"I don't think there will be a hijacking on the House side," Rushing said. "I think we've got the votes from people switching over."
Rep. Tim Lemons, R-Cabot, who also voted against the Arkansas Works legislation, said Friday he hasn't decided how he'll vote during the fiscal session.
"To me, the funding equation we'll be looking at next week -- it is connected somewhat -- but the two votes have to stand on their own merits," he said. "There's a lot at stake here."
That includes fulfilling the state's obligation to education, he said. If lawmakers do not fund Arkansas Works, Hutchinson has said, they will need to cut $100 million from other areas of the state budget to provide medical care for the uninsured, pay for increased costs in the traditional Medicaid program and account for the loss of premium taxes collected on private-option plans.
Lemons, an engineer, said he needed to take a hard look at the numbers over the weekend to make a final decision.
Hutchinson said Friday that he has "a lot of tools" to persuade members but that he wouldn't abandon his proposal to hire managed-care companies to provide health benefits for some Medicaid recipients.
Hutchinson had planned to include the managed-care proposal on the special session agenda, but he put the issue on hold at the request of House Speaker Jeremy Gillam and Senate President Pro Tempore Jonathan Dismang, who said lawmakers were divided on it.
"I think people who know how I work understand that I deal pretty straightforward with folks," Hutchinson said.
He didn't directly answer when asked whether he would consider making deals on other issues, but said Arkansas Works opponents are "people of conviction" who are "not interested in coming in and swapping votes."
He also indicated he didn't plan to pursue a legal argument that the constitution allows for appropriation to be approved with less than a three-fourths majority.
That was a possibility Hutchinson raised in February when he described the required majority as being too high.
"I want to win a three-fourths vote," Hutchinson said Friday.
Dismang also rejected the possibility of approving the appropriation with less than a three-fourths majority.
"Since I've been here, we've recognized the three-fourths vote requirement," Dismang said. "I think that still stands, and that's how we're going to move forward."
Hester, the senator from Cave Springs, said Friday that he expects the Legislature to end the fiscal session without approving a Medical Services Division appropriation.
Legislators would then have to reach a consensus on how to fund the Medicaid program before the new fiscal year starts on July 1, he said.
He would support the division's appropriation if it required state officials to cap enrollment in the program and "end it through attrition," he said.
But in written guidance issued to states in 2013, the Centers for Medicare and Medicaid Services said it likely would not approve such caps, saying they "do not further the objectives of the Medicaid program."
A Section on 04/09/2016