Arkansas Gov. Asa Hutchinson said Tuesday that he won't call a special session for lawmakers to consider his highway-funding plan this spring if they don't reauthorize the use of federal Medicaid funds to purchase private health insurance for low-income Arkansas in the fiscal session starting today.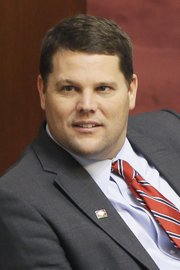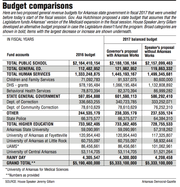 In January, the Republican governor unveiled his plan to increase state highway funding by about $45 million to $50 million a year to match about $200 million a year in additional federal highway dollars. He planned to tap state surpluses and reallocate some state funds.
But if the Republican-dominated Legislature fails to reauthorize funding for Arkansas' Medicaid expansion, "that means there is no ability to utilize surplus and to take more money from general revenue to fund highways," Hutchinson told reporters in the governor's conference room at the state Capitol. "That is the bottom line."
Hutchinson said the other proposed highway-funding plans that he's seen include a tax increase and that he's not going to put a tax increase on the call for a special session on highway funding "unless it can be shown that a majority of legislators support that, and I would be doubtful that a majority of legislators would support a tax increase."
His comments came less than 24 hours before the Legislature convenes at noon today for a fiscal session that will decide the fate of the Medicaid expansion, which provides health insurance to about 267,000 Arkansans.
But a leading opponent of the Medicaid expansion, Sen. Bart Hester, R-Cave Springs, said it would be hard to find many Arkansans who think the highways aren't adequately funded with several million dollars a day in state and federal funding.
"It is not a credible threat," he said in a telephone interview after Hutchinson's news conference. "We are adequately funded for highways.
"We could always use more, and there is always a desire for more highways. But I think [the funding level] is fine," he said.
The Medicaid expansion, enacted by the Legislature in 2013, extended coverage to adults with incomes of up to 138 percent of the poverty level: $16,394 for an individual, for instance, or $33,534 for a family of four.
Most of the people covered receive the coverage through the private option, which uses Medicaid funds to buy private insurance.
Legislation enacted in last week's special session would make changes in the program that Hutchinson has said would encourage enrollees to stay employed and take responsibility for their health care. Those changes include charging premiums of about $19 a month to participants whose incomes are above the poverty level, subsidizing some enrollees' coverage through employer plans and referring some beneficiaries to job-training programs. Hutchinson calls the program Arkansas Works.
The state will begin paying 5 percent of the cost of the program in 2017, and its share will gradually increase to 10 percent by 2020.
Reauthorizing funding for the program in fiscal 2017 requires 27 votes in the 35-member Senate and 75 votes in the 100-member House.
Nine senators have said they plan to vote against funding the program in the fiscal year starting July 1, and that's enough to block the reauthorization. Sen. Missy Irvin, R-Mountain View, has declined to say how she'll vote.
"You have nine or 10 on the Senate side that indicate they are going to vote no on funding [for the Medicaid expansion]," Hutchinson said. "We continue to have discussions with them. We continue to look for solutions, but they have not indicated they are going to vote yes on that funding."
Senate President Pro Tempore Jonathan Dismang, R-Searcy, said he plans to ask the Senate to approve funding for the Medicaid expansion as part of the appropriation bill for the Department of Human Services' Medical Services Division during either the first or second week of the fiscal session.
"It is just important to see where we are," he said in an interview. "Everything becomes a lot more real when you have a vote."
But Hester said, "I think we are going to show up and kill the funding before anybody gets serious about what the next step is.
"I don't think they are going to take the no's seriously until we vote, and that's coming," he said.
House Speaker Jeremy Gillam, R-Judsonia, said in an interview that he thinks the House has at least the required 75 votes to reauthorize funding for the Medicaid expansion "based on what the members have told me."
In case the Legislature doesn't reauthorize the funding, Gillam on Monday unveiled an alternative state budget that would cut state funding for the public schools, higher education institutions, prisons and other state needs.
Both Hutchinson's proposed general revenue budget and Gillam's proposal would increase the budget by $142.7 million to $5.33 billion in fiscal year 2017.
Gillam said Monday that the cuts in his proposal would be necessary to fill a $122 million shortfall created from the state no longer accepting federal Medicaid dollars to purchase the private health insurance. Gillam said he and Joint Budget Committee co-Chairman Rep. Lane Jean, R-Magnolia, put together the plan.
Gillam, who voted in last week's special session for Arkansas Works, said his plan would reallocate more than $100 million in the budget largely to pay for shifting some people who are covered under the expansion to the traditional Medicaid program and also to pay for expected increases in uncompensated-care expenses for state agencies such as the University of Arkansas for Medical Sciences.
The state director for Americans for Prosperity's Arkansas chapter, David Ray, said Tuesday that Gillam's alternative budget "is an attempt to say 'the sky is falling' and scare citizens into supporting the continuation of Obamacare's Medicaid expansion.
"Instead of putting important services like foster care on the chopping block, it would be more responsible to cut back on the hundreds of millions in corporate welfare given to profitable companies and utilize the surplus funds that are already available," Ray said in a written statement.
Gillam on Tuesday declined to comment about Ray's remarks.
Hutchinson said the state doesn't have enough surplus funds to plug the more than $100 million budget shortfall in the proposed budget in the event the Medicaid funding isn't reauthorized, and surplus funds are "one-time money and the [proposed budget] cuts are long-term cuts."
As for cutting corporate welfare, Hutchinson said that both Americans for Prosperity and the Koch brothers "oppose economic incentives, but they take economic incentives for their industry. So you know what their argument is? We will operate under the rules given to us and that's the same principle I am applying.
"We are operating right now making the best decision for Arkansas under the rules that are given to us by the federal government," the governor said. "If those rules change, we'll make different decisions down the road."
Backed by billionaire brothers David and Charles Koch, Americans for Prosperity has been active in Arkansas during the past few election cycles. It helped elect Hester in 2012 to the state Senate.
Hutchinson declined to say whether he would sign the alternative House budget if the Legislature passed it.
"First of all, I don't want to get to that budget. I want to pass my budget. I want to be able to fund Arkansas Works," Hutchinson said.
Hutchinson said the House leaders proposed a $9.5 million increase in funding for the Children and Family Services Division for foster care in their alternative budget, rather than the $20 million increase that he proposed, which would raise the total budget to $91 million.
Opponents of the Medicaid expansion have questioned whether the increased funding for foster care can come from elsewhere.
"The only suggestions that I have heard is to sell War Memorial Stadium and to sell AETN [Arkansas Educational Television Network]," Hutchinson said.
Last month, Hester called for selling War Memorial Stadium in Little Rock and cutting state funding for AETN and the stadium.
"I don't think there is a consensus to do either of those two items," Hutchinson said.
"I don't think those are realistic proposals, and so if they have got ideas as to where we should cut, we are open to them. I would like to think the alternative House budget is a discussion point and it is also a wake-up call as to the consequence of not funding Arkansas Works," he said.
He said that the foster-care system is not meeting national standards and that the state needs more caseworkers.
"The need for a $20 million increase in funding for foster care is just to stay even, just to keep the status quo and not to go backward," the governor said.
Metro on 04/13/2016