When last we saw Jon Favreau in the director's chair, he was busy trying to convince the Hollywood suits and power-brokers that he could still produce a crowd-pleaser with the transparent, simple-minded Chef. In the eyes of the big studios, he had a lot to atone for after the spotty Iron Man 2, and poorly received Cowboys & Aliens.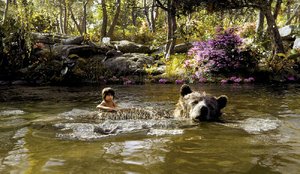 Mowgli (Neel Sethi) and Baloo (voice of Bill Murray) float down a lazy river in Jon Favreau's The Jungle Book.
Apparently, all has been forgiven, as Disney has seen fit to entrust him with a reported $110 million and put him at the helm of one of its former properties, based on the collection of stories by Rudyard Kipling. The end result suggests it was a trust reasonably rewarded. Favreau's film, virtually entirely CGI save for a human child lead, is a serviceable mix of action, computer-provided visual splendor, Disney-approved morality, and fine voice work from its star-studded cast.
The Jungle Book
89 Cast: Neel Sethi, (voices of) Bill Murray, Ben Kingsley, Idris Elba, Lupita Nyong'o, Scarlett Johansson, Giancarlo Esposito, Christopher Walken, Garry Shandling, Brighton Rose
Director: Jon Favreau
Rating: PG, for some sequences of scary action and peril
Running time: 105 minutes
The boy, Mowgli (Neel Sethi), is being raised as a cub by his wolf-father Akela (Giancarlo Esposito) and mother Raksha (Lupita Nyong'o), at the behest of an elderly, wise panther, Bagheera (Ben Kingsley). In Mowgli's part of the jungle, the animals all follow an established code of behavior -- a governmental hierarchy that Kipling, accused by critics of being a rabid British imperialist, would likely have found exceedingly comforting -- including a sort of peace pact so all the different residents can come to the main watering hole without fear of being hunted. All the animals follow the laws save one, Shere Khan (Idris Elba), a fearsome tiger who seems to have it in for the boy. He demands that Mowgli be sent out of the jungle and back to his people, lest he grow into manhood, and bring fiery devastation to everyone.
After some debate, Mowgli intuits that his presence among his wolf pack is breaking the group into factions, and reluctantly agrees to be led to a man-village by Bagheera. Soon it becomes clear that Shere Khan's real intent is to kill the boy outright -- for reasons at first unspecified -- and he takes gruesome action to try and lure him back to the area so he can be duly dispatched.
Fearing for his life, Mowgli goes on his own, eventually meeting the amiable bear Baloo (Bill Murray, in a role absolutely tailor made to his comic skills), who saves him from a giant, seductive anaconda, Kaa (Scarlett Johansson). The two then pal around until he's finally tracked down by Bagheera. There are several other adventures, including one where Mowgli is kidnapped by a platoon of monkeys, who take him to their ape king (Christopher Walken), but eventually, of course, the film has to end with Mowgli's showdown with the fierce Shere Khan, setting in motion the fate of the entire jungle in the process. Neverminding the fact that Khan initially has a point about the boy eventually growing into a man and destroying their delicate eco-system, the film quickly establishes that the tiger simply has it in for the kid and gratefully leaves it at that.
The film sticks largely to the Disney version of Kipling's works, ironing out complications and harshnesses, condensing elements, villainizing Kaa, who is actually one of Mowgli's protectors in the books, and removing some of Kipling's more condescending elements.
Despite his indie bona fides -- Favreau wrote and starred in the classic Swingers, and wrote/directed Made, another comic vehicle for him and his pal Vince Vaughn -- Favreau took to the mainstream at his earliest convenience, with family-centered films such as Elf and Zathura: A Space Adventure. Whatever the venue, however, a big key to his success has been his ability to work with actors, and to get solid comic performances out of them. In this, given an exemplary cast, he is allowed to shine. Kingsley is commanding; Murray is at his affable best; Walken, who sings one of the film's few musical homages to the 1967 Disney animated version, a bouncy "I Wan'na Be Like You" (and don't worry, there's enough "Bare Necessities" to please fans of the original soundtrack); and Johansson, in her brief role, makes for an exceedingly alluring anaconda (she also has a fine version of "Trust in Me" for the closing credits).
Everyone is very good, but the standout simply has to be Murray. If ever there were an actor born to play the irascible Baloo, it is he. His line reading as the bear is forced to climb a steep mountain to help save Mowgli ("There's a bird ... that can't be a good sign") is absolutely indelible, and his casual deadpan works wonders playing off the boy's sometimes grating emphatic enthusiasms.
As for the CGI animation, which essentially comprises every element of the film aside from the live-action Mowgli, we've come a long way since the stilted, dim-looking animated figures in Jurassic Park. The animals' movements are more natural, the lighting effects exquisite, and the facial expressions realistic enough to generate something along the lines of genuine empathy. Favreau's jungle world is fantastical, but not a magical, fairy tale land, where nothing has to follow nature's laws. We might wonder how Mowgli maintains his pageboy haircut, but we don't have to question the entire use of the animal kingdom. If you can get past the idea of animals willfully subscribing to a series of laws and not just doing whatever they can to survive -- it's called the "law of the jungle" for a reason, you know -- then there is a fair amount to enjoy here.
The fact that it's being released now is also just as well for the studio. As Kipling's works have been added to the public domain, any studio can produce a version of his work. With that in mind, there is another star-heavy version of A Jungle Book, with Christian Bale, Cate Blanchett and Benedict Cumberbatch already in the works from Warner Bros., slated for a 2018 release. Fans of Kipling -- or just redundancy in general -- can commence rejoicing.
MovieStyle on 04/15/2016