It's hard to set a gentle comedy like Tim Story's 2002 hit Barbershop in today's South Side Chicago. With the troublingly high murder rate, it's no wonder director Malcolm D. Lee (The Best Man) and writers Kenya Barris (black-ish) and Tracy Oliver (Survivor's Remorse) have chosen to include it as part of the story in the latest sequel. For the most part, Lee and company still manage to coax solid laughs and to give the grim facts the gravity they deserve.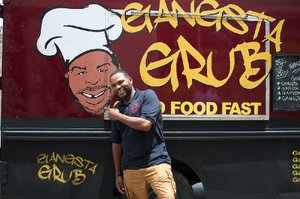 J.D. (Anthony Anderson) has acquired a food truck in Barbershop: The Next Cut, the follow-up to 2004's Barbershop 2: Back in Business.
While Calvin (Ice Cube) is certainly proud of his South Side roots, he's beginning to wonder if maintaining his family business in its original location is such a great idea. With a bloodbath going on in the streets, he asks patrons to hand over their weapons before grooming them.
Barbershop: The Next Cut
85 Cast: Ice Cube, Cedric The Entertainer, Regina Hall, Sean Patrick Thomas, Anthony Anderson, Jazsmin Lewis, J.B. Smoove, Common, Nicki Minaj, Utkarsh Ambudkar
Director: Malcolm D. Lee
Rating: PG-13, for sexual material and language
Running time: 112 minutes
Having a teenage son only makes him more nervous. Jalen (Michael Rainey Jr.) and his pal Kenny (Diallo Thompson) can barely get down the street without stumbling into a standoff between rival gangs. Kenny's dad, Rashad (Common), is one of Calvin's co-workers, which makes the situation inside the shop more tense.
Without telling his employees or even his business partner Angie (Regina Hall), Calvin and his wife make a deal with an amusingly shady entrepreneur named One-Stop (J.B. Smoove) to find a new location in the more peaceful north.
Before packing up, Calvin and his fellow stylists try a plan to make their section of town safer. They corner two of the most dangerous gang leaders and make them agree to a cease-fire over the weekend. In return, they and other merchants will offer their services for free. The idea sounds naive, but because just about every other initiative has failed, Calvin and company would be fools not to try it.
One refreshing development with this installment is that Cedric The Entertainer's loudmouthed Eddie comes off as less buffoonish. This time around, he reveals a few insights that have allowed him to stay alive in just about any locale, much less South Side Chicago. Cedric also shows some dramatic chops he hasn't demonstrated before.
Lee does one thing in Barbershop: The Next Cut I wish more filmmakers would do: He casts teens (or actors who look like them) to play Calvin and Rashad's sons and the gang members. Gangsters aren't known for their longevity, so seeing younger performers playing them makes their descent into crime seem real.
As with the first film, the supporting cast is loaded with intriguingly odd characters who seem exaggerated but authentic. There are people who have homes but who choose to hang out in Calvin's shop even though they don't need his services. Considering the sheer variety of legitimate and illegitimate products that One-Stop sells, maybe this isn't so surprising.
MovieStyle on 04/15/2016