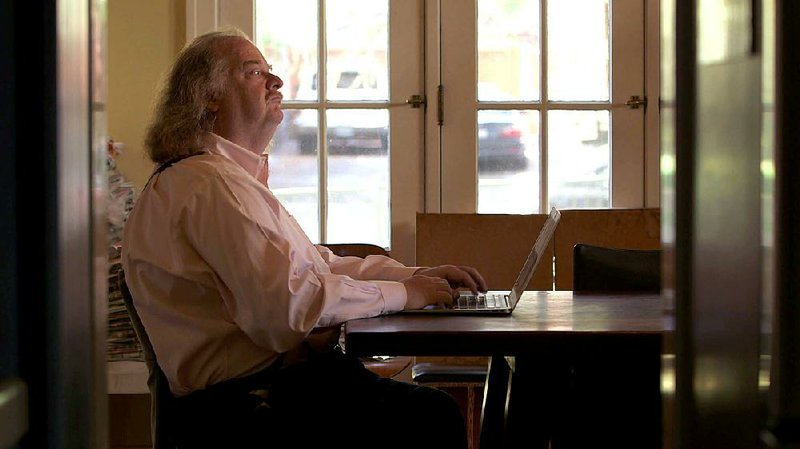 Pulitzer Prize-winning restaurant critic Jonathan Gold and his explorations of a hidden Los Angeles are examined in Laura Gabbert's documentary City of Gold.
Is it cooking that makes us human?
That's a theory put forward in Laura Gabbert's City of Gold, a charming documentary about Los Angeles Times' Pulitzer Prize-winning food critic Jonathan Gold, an accessible sage who tastes life's flavors mainly in the ethnic yet quotidian eateries of the lesser known parts of what may be our least containable big city.
City of Gold
86 Cast: Documentary, with Jonathan Gold, David Chang, Roy Choi
Director: Laura Gabbert
Rating: R, for language
Running time: 96 minutes
While parts of Los Angeles are instantly recognizable to people who have only seen the city play itself in movies (and this film would make an excellent supplement to Los Angeles Plays Itself, Thom Anders' masterful survey of movie architecture), Gold works the rich veins of food and culture by seeking out authentic culinary experiences in the places that don't make the tourist guidebooks -- the taco trucks, pho stands and Korean barbecue joints of the city's interior. And through these experiences, Gold gets at larger socioeconomic issues -- the race and class tensions that impinge upon the immigrant dream.
City of Gold argues for its subject as a kind of philosopher gourmand, a happy Yoda Buddha able to parse history, custom and economics through his formidable palate. Gold wields his great power for good, bestowing life-changing reviews on little hole-in-the-wall restaurants that live off the modest trade of their friends and neighbors. (That he also sometimes writes obliterating pans is not something this amiable sort-of-fawning documentary is willing to get into.)
Gold comes across as a wonderful guide, intelligent and nerdy and genuinely interested in the lives of the people whose worlds he breaks in on. His plainspoken, unaffected take on the social experiment that is Los Angeles is probably as vital as anyone's, and his insight into the demographic shifts that made and remade his city are deeply fascinating.
While filmmaker Gabbert downplays Gold's literary style -- no movie can too long bear the reading aloud of restaurant reviews, even those as witty and warm as Gold's typical work -- we are shown evidence that he procrastinates until deadlines force him into action. He's apparently tough on editors' nerves, though he's married to his chief editor -- the Times' Laurie Ochoa, who has worked with him since their days together on the alternative L.A. Weekly, where Gold, a failed cellist, was a proof reader and music writer.
Gold's love of his hometown comes through in the film, which feels slight only in retrospect. We're privileged to see this city -- which can feel hostile and provisional, a superficial gloss on what will one day surely return to desert -- through his generous eyes. Gold understands the problems that afflict L.A. and loves it anyway.
Or at least he loves the people who have found their way there, and the ways they accommodate themselves to living side by side in neighborhoods that might change drastically from block to block. He knows that one way to understand your neighbor is to eat what they eat, in their company.
While the documentary occasionally verges on hagiography, with a few too many testimonials from immigrant restaurateurs crediting Gold with bringing them to the notice of broader clientele, it doesn't irritate or even challenge assumptions. It's just a nice movie about a nice man who knows a lot about Los Angeles and the humans who do its cooking.
MovieStyle on 04/15/2016
Print Headline: City of Gold
Sponsor Content