The fate of legislation reauthorizing the use of federal Medicaid funds to purchase private health insurance for low-income Arkansans is in limbo in the Arkansas Senate.
Senate Bill 121 failed to clear the Senate on Thursday, falling two votes short of the 27 required for approval in the 35-member chamber.
The bill would grant the Department of Human Services' Medical Services Division $8.4 billion in spending authority, including $1.7 billion for Medicaid expansion, during fiscal 2017, which starts July 1.
The Joint Budget Committee later balked at adding a proposed amendment to SB121 that would prohibit the Medical Services Division from spending funds on the Medicaid expansion with the tacit understanding that Republican Gov. Asa Hutchinson would issue a line-item veto of the amendment if the Republican-dominated Legislature approved the amended bill. After the committee's meeting, Hutchinson spokesman J.R. Davis said, "The governor has made it clear to both Democrats and Republicans that if he receives a DHS medical services appropriations bill defunding Arkansas Works, he will use the line-item veto."
The Joint Budget Committee voted 22-22 on the amendment proposed by Senate Majority Leader Jim Hendren, R-Sulphur Springs. Twenty-nine votes were required for approval of the proposed amendment by the 56-member committee. Hendren, a nephew of the governor, supports this version of Medicaid expansion.
"I am not surprised how this went today," Senate President Pro Tempore Jonathan Dismang, R-Searcy, said Thursday.
"It is a process and we'll continue to work through it," said Dismang, who is one of three legislative architects of Arkansas' version of the Medicaid expansion.
"The first vote in the Senate fell short of the three-fourths vote required, but I'm pleased by the growing bipartisan recognition that the DHS Medical Services appropriation bill in the end will be fully funded," Hutchinson said in a written statement. "That is the responsibility of government and must be done. I'll continue to work with both Democrats and Republicans to achieve a successful resolution."
In the 2013 and 2014 sessions, legislation reauthorizing the use of Medicaid funds for the expansion program failed several times in the House before it ultimately won the required 75 votes for approval.
Senate Minority Leader Keith Ingram of West Memphis said it wasn't easy for Gov. Mike Beebe, a Democrat, "to get that 27th vote" in the Senate for authorizing funding for the Medicaid expansion in 2013 and 2014, "but he got it."
He said Hutchinson "has a bully pulpit in his office and certainly he can use a stick or use a carrot, and ... I think that he needs to do that on people that are obstructionist."
The Medicaid expansion, enacted by the Legislature in 2013, extended coverage to adults with incomes of up to 138 percent of the poverty level: $16,394 for an individual, for instance, or $33,534 for a family of four.
Most of the 267,000 people covered receive the coverage through the private option, which uses Medicaid funds to buy private insurance coverage.
Legislation enacted in last week's special session would make changes in the program that Hutchinson has said would encourage enrollees to stay employed and take responsibility for their health care. Those changes include charging premiums of about $19 a month to participants whose incomes are above the poverty level, subsidizing some enrollees' coverage through employer plans and referring some beneficiaries to job-training programs. The legislation calls the program Arkansas Works.
Through this fiscal year, the program was fully funded by the federal government. The state will begin paying 5 percent of the cost of the Medicaid expansion and its share will gradually increase up to 10 percent by 2020. The state funds to match the federal funds will be $43 million in fiscal 2017, said Amy Webb, a spokesman for the Department of Human Services.
SENATE
The Senate's 25-10 for SB121 mirrored the vote on legislation enacted last week to make changes in the private option program and call it Arkansas Works.
Twenty-seven votes are required to approve the spending authority bill in the 35-member Senate and 75 votes are required for approval in the 100-member House of Representatives, where House Speaker Jeremy Gillam, R-Judsonia, has said he had at least 75 votes for the measure.
The Senate's vote Thursday came after Sen. Bryan King, R-Green Forest, a Medicaid expansion opponent, questioned why "a bill of this magnitude ... is being rammed through this building."
Joint Budget Committee co-Chairman Sen. Larry Teague, D-Nashville, replied that the bill has been subject of good discussion by senators.
He said it's probably unusual for the Senate to consider approving the Medical Services Division's appropriation during the first week of a fiscal session.
King said that "there needs to be more time" to review the bill.
Teague said the Senate needs to resolve whether the Medicaid expansion's funding is reauthorized to make decisions on the general revenue budget for fiscal 2017.
Hutchinson's proposed $5.33 billion general revenue budget for fiscal 2017 assumes that the Legislature reauthorizes Arkansas' Medicaid expansion. It would increase the budget by $142.7 million, largely for the state Department of Human Services and the public schools, and factors in the nearly $101 million cut in individual income-tax rates that the 2015 Legislature enacted.
Hutchinson said Tuesday that he won't call a special session for lawmakers to consider his highway-funding plan this spring if they won't reauthorize the Medicaid expansion's funding in the fiscal session.
JOINT BUDGET COMMITTEE
Hendren's proposed amendment to SB121 would bar the Department of Human Services from allocating, budgeting, spending or using appropriations under a section of the bill for services, coverage or premium assistance to people enrolled in the Arkansas Works' Medicaid expansion.
"The bottom line is, we as a General Assembly have a duty to pass an appropriation for the Department of Human Services. We demonstrated about an hour ago that currently we don't have the ability to do that in the Arkansas Senate," Hendren told the committee.
"This language should meet the concern of those who are opposing the appropriation as it stands today," he said. "There [are] hundreds of thousands of people who depend upon the services provided by the Department of Human Services."
Hendren said that "I am confident that we will probably see a line-item veto" by the governor of his proposed amendment if an amended bill is approved by the Legislature.
Then, the Legislature "will have the opportunity to exercise the legislative prerogative to override that veto. That's the way that process is supposed to work and for us to start trying to manipulate that process is where we become dysfunctional," he said. A majority vote would be required in the House and Senate to override a veto.
But Sen. Alan Clark, R-Lonsdale, who is a Medicaid-expansion opponent, said, "I think this is an extremely dangerous move for the Legislature.
"I love this governor, although he probably has his doubts right at the moment. But I don't care who the governor is. What we are doing is we are turning over the power of the Legislature over to the executive branch, the same thing that we complain about in Washington all the time," Clark said.
Hendren said it's a bad precedent for some lawmakers to continue to try to change state policy through the appropriations process and "not only fail to accept the overwhelming will of the Legislature, but then to say that if the governor dares to exercise his right of veto, we will still block an appropriation."
Then, Sen. Jason Rapert, R-Bigelow, said he learned Thursday that "the morning-after pill, the chemical abortion bill, is a covered item as emergency contraception.
"Is that definition something that the Arkansas DHS ... can actually change?" he asked the Medical Services Division's director, Dawn Stehle.
Stehle replied, "We are looking at how it is defined in the current policy today and I am looking to see whether or not that is a federal requirement. It is my understanding it is, but that is something we are confirming now."
Rapert said, "I have been standing strongly in favor of Arkansas Works because I believe that truth is more important than rhetoric.
"And on this issue, we have advised many times that this was not happening and to find this information out 15 minutes before we come in here for this discussion has actually pulled me back to a position where it is going to be really hard to move forward, finding out that it is actually paying for a chemical abortion, which is not a contraception. It is the killing of a little baby," Rapert said.
Webb, the Human Services spokesman, later said that because the state is buying private insurance plans governed by the Patient Protection and Affordable Care Act, the plans must include access to certain health benefits, including contraceptives like the so-called morning-after pill.
"These are the same rules that govern businesses or anyone else buying nongrandfathered individual or group insurance plans," she said.
Hendren's amendment then fell seven votes short of the 29 required for committee approval. Most House and Senate Republicans supported it, while Democrats largely opposed it.
"I wouldn't call this approach dead yet. We'll keep on working on folks and we'll get there," Hendren said.
HOUSE
In the House of Representatives, the general appropriation measure to provide $1.34 million in spending authority to pay for mileage and per diem for lawmakers as well as travel expenses for judicial officers failed for lack of a three-fourth's majority required for approval. The bill is House Bill 1002.
Under the state constitution, that appropriation must be passed before either chamber can pass any other legislation, HB1002 failed with 68 representatives voting for, 11 voting "present" and 21 members not voting. Twenty-seven House Democrats either didn't vote or voted "present."
The House Democratic Caucus announced Wednesday that it opposed passing any funding bills until the fate of funding for the Medicaid expansion is determined.
Gillam said Thursday that it appeared that the House Democrats were making good on that pledge.
He said that any moves to hold up the appropriation process by Democrats are no different from the opposition by some Senate Republicans to hold up SB121 because of objections to the Medicaid expansion.
Gillam said he doesn't think that House members would shirk from their support of the Medicaid expansion because of the maneuvering and ultimate failure of the attempts to move the Medical Services Division appropriation forward in the Senate and Joint Budget Committee.
"Right now so much of that is fluid. A lot of that is on the Senate end. We're going to see, I guess, how folks feel about it," Gillam said. "All of this today was so fluid... [It] prevented us from having any kind of real readings on who's going to vote, who's not. The membership has expressed that they'll be supportive of the appropriation as it is."
Legislators are next scheduled to meet on Tuesday.
Metro on 04/15/2016
Senate vote on Senate Bill 121
Here's how the Senate voted Thursday on SB121 to grant $8.4 billion in spending authority for state and federal funds, including $1.7 billion for the Medicaid expansion, to the Department of Human Services' Medical Services Division in fiscal 2017. Twenty-seven votes are required for approval in the 35-member Senate.
YEA (25)
David Burnett, D-Osceola Ronald Caldwell, R-Wynne Eddie Cheatham, D-Crossett Linda Chesterfield, D-Little Rock
John Cooper, R-Jonesboro Jonathan Dismang, R-Searcy Joyce Elliott, D-Little Rock Jane English, R-North Little Rock
Jake Files, R-Fort Smith Stephanie Flowers, D-Pine Bluff
Jim Hendren, R-Sulphur Springs
Jimmy Hickey, R-Texarkana Jeremy Hutchinson, R-Little Rock
Keith Ingram, D-West Memphis David Johnson, D-Little Rock Uvalde Lindsey, D-Fayetteville Bruce Maloch, D-Magnolia Bobby Pierce, D-Sheridan Jason Rapert, R-Bigelow Bill Sample, R-Hot Springs David Sanders, R-Little Rock Greg Standridge, R-Russellville Larry Teague, D-Nashville Eddie Joe Williams, R-Cabot Jon Woods, R-Springdale
NAY (10)
Cecile Bledsoe, R-Rogers Alan Clark, R-Lonsdale Linda Collins-Smith,
R-Pocahontas
Scott Flippo, R-Mountain Home Bart Hester, R-Cave Springs Missy Irvin, R-Mountain View Blake Johnson, R-Corning Bryan King, R-Green Forest Terry Rice, R-Waldron
Gary Stubblefield, R-Branch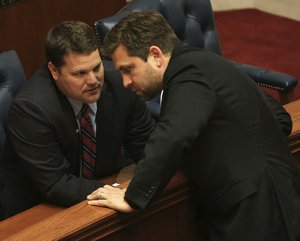 Photo by Staton Breidenthal
Senate President Pro Tempore Jonathan Dismang (right), R-Searcy, confers with Sen. Bart Hester, R-Cave Springs, on the Senate floor Thursday before a vote on the Medicaid appropriations bill. The Senate voted 25-10 on the bill, two votes short of the 27 needed for passage.