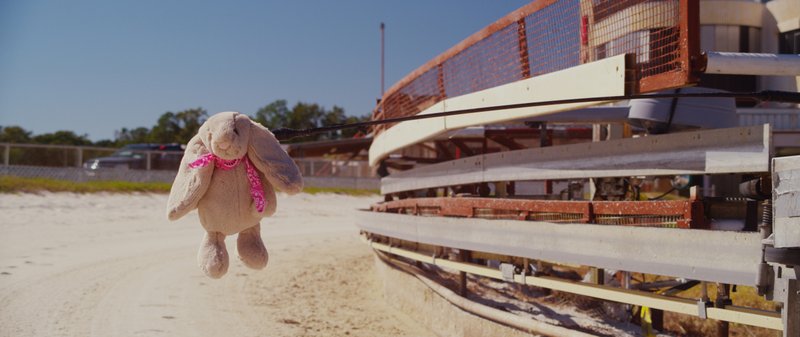 Pictured is a plush rabbit, a chase toy (commonly called Rusty) for greyhound racing.
So many stories begin with an email and end with a keystroke. If in between a reporter finds himself on U.S. 61 headed north to Blytheville, that's unusual.
But this is the story of an unusual bachelor farmer from Blytheville who hopped off a cotton combine in the fall of 2014 and told his parents, Wally and Ann Smith, he had a damn fool idea to make a movie. Last year, he did just that. On Feb. 3, less than two days after he'd gotten the call that the Atlanta Film Festival would premiere Here Comes Rusty, he died in bed with one finger on his laptop. He was 35.
Here comes reporter. Cue the travel montage. Gas up the Mercury, Priceline a stay at the Comfort Inn, cross off "Jimmy John's road hoagie," then interstate, interstate, U.S. 61.
He reaches for his messenger bag and that email with the parents' phone number.
"Hello Arkansas Democrat, I was told you guys may be interested in our story," younger brother Hughes Smith wrote to a general inbox late last month, subject line: "Arkansas Farmer Produces & Co-Writes Feature Film in Atlanta Film Festival."
Subject: Ross Smith.
His Feb. 6 obituary is stapled to the email. In lieu of flowers, memorials may be made to the Blytheville Humane Society and First Presbyterian Church Blytheville.
Past the John Deere dealership and something called Prehistoric Pet, past the most baroque Baptist church anywhere in Arkansas, past the Chick-a-Deal and the Dixie Pig and all the evidence that Blytheville's best is behind her, is a row of impressive, moneyed manses for King Cotton's gentry. And the very last of these is the Smiths'.
Inside, the obituary request for humane society donations comes into comic relief. There's a Jack Russell and a King Charles, a cockatoo Miss Peepers and a cage full of finches. There's a goldendoodle, an Australian shepherd, a standard poodle, and now Ross's two Persians and another cat. A second tropical bird is at a Memphis vet.
"Just for comfort. Just for love," Ann Smith says, by way of explaining this zoo. "And I think my boys grew up with that love. And if you had allergies, you leave the room or you get shots. No getting rid of the animals over the people."
At Ole Miss, Ross brought home two goats to give his mother on her birthday "because he thought that was just the best gift he could give me."
They've passed on.
We'll all pass on, she says, and what a reunion that will be: pets and people.
In the greatroom, surrounded by eight or nine of Ross's guitars (all beautiful and some quite valuable), Ann Smith sits before a pile of pictures on the dining room table (hundreds more in boxes), and before Ross himself.
"He'll be watching us," she tells the reporter, who waits for "from on high" but instead is waved to the mantel where Ross's unadorned box of ashes rests between two plush Rusty rabbits -- chase toys for racing greyhounds.
THE COL. (Ret.)
Here Comes Rusty is the story of a grizzled, bankrupt greyhound track owner who bets the place on a single race. His adversary and brother-in-law is an insufferable car salesman. His sidekicks are an 11-year-old guitarist and bandmate who, despite his fawning fealty, reminds him of his crumbling health and business, and a just slightly older consigliere called "College."
The adversary is played by Fred Willard; the sister, North Little Rock's Joey Lauren Adams; the 11-year-old, Brandon "Taz" Niederhauer, now on Broadway in Andrew Lloyd Webber's School of Rock; "College," former child actor Paulie Litt. And the star is Col. Bruce Hampton (Ret.), who, at 68, is neither retired nor military. He's a musician.
"I get three or four phone calls a year to do a movie," Hampton says, "and they're usually borderline maniacs that live in Saskatchewan."
But as early as the 1970s he'd played shows at Juanita's, he says, and more recently, Sticky Fingerz, and Arkansas is "my spiritual birthplace." He had a small but memorable role in Billy Bob Thornton's Sling Blade. Before that, there was an Arkansas shoot for a movie on the life of Ernest Hemingway, "the worst movie ever made and it never went to press."
"There's something really wrong if they want me," he says.
Not this time.
Rusty is a Southern folk tale Ross Smith cut from whole cloth for Hampton. The comedy comes in sight gags, and the characters are a little half-baked. It's not experimental, but its verisimilitude is, like Hampton's own oeuvre, absurdist.
The acting swings from Adams' authentic ability to "become" to Hampton's charming inability to become anyone else. One reviewer gave it a B in part because it doesn't "make a profound statement." Director Tyler Russell says "it stays within the realm of what it is and it doesn't go outside of it."
Which is exactly the opposite of its creator.
ROSS AND HUGHES
Ross Smith is the grandson of a Blytheville cotton mill owner. It was largely up to Ross to help the family make a generational shift a few years ago from milling to straight farming (soybeans of late), and a year before filming he'd assured his dad that was his intention. Inspired by his mother's beauty, he once planted an acre of peonies for her.
Until 2015, the only filming anyone can remember was captured on a camcorder. He was 8.
"Here Comes Bertha," Ann says.
"No, Bertha Goes to Washington," Wally says.
"Bertha Goes West!" she says.
And Hughes Smith was Bertha, a bosomy bombshell of a 3-year-old in a coiffed blond wig. The boys made the bar up like a saloon, and it was childhood friend Pat Black's role to be a grown man and hit on Hughes, whose own lamentable lot was to speak like a baby doll and by golly act seduced.
More than two decades later Ross Smith began writing Rusty after an experience meeting Hampton at a casino and watching him gamble. It's unclear if he intended a career in movie production.
"He just wanted to make one movie," Hampton says. "I mean, I don't think he wanted to do it a lot. He just wanted to get this done."
(And now, he says, it's time for him to return the favor. He means it. He's worked it up. "Maybe in Arkansas, called Focus on Poultry. I think I have 10 working titles, and one of them is that. It might be Deadly Luggage. Or Cheese Digest.")
Hughes Smith, 30, who's credited as a producer, says it was always a paean to Hampton, a Mardi Gras float for a stage god. "That was his main thing was helping out Col. Bruce, I guess."
On a coffee table inside the family room is something called a Look Book, a kind of business proposal for a movie project, this one bound and cloth-covered like a children's book. It was made after Hampton had signed on, and Hampton brought Niederhauer, but the rest of the cast was just wishes and what-ifs. There's Billy Bob Thornton, Danny McBride and Thomas F. Wilson, better known as "Biff" from Back to the Future. "TBD," it says.
FILM FESTIVAL
Here Comes Rusty is pure film festival malt, from its 81-minute running time and its swag (pink bandannas and plushy Rustys) to its impossible story, fictional and real. One of its marquee draws, Joey Lauren Adams, made a name for herself in early '90s low-budget cult films such as Dazed and Confused and Chasing Amy -- both studio films, it should be said; both helmed by singularly compelling auteurs, Richard Linklater and Kevin Smith, respectively, for whom this was not their first film. In 2006, she made a festival-circuit darling herself, Come Early Morning.
"Everything has changed so much, and when that hit home was, was it The Interview with James Franco? It started a cyber war," Adams says. "President Obama was talking about it. Three weeks later, no one was talking about it. There's just so much content now. I don't know that there'll ever be a Dazed, you know? Or Chasing. Because they just don't live that long."
If it was a long shot of being made two years ago, Rusty's chances of lucrative distribution seem worse. Much worse. But Hughes Smith and Russell are bullish. Smith says the revenue components -- rights to stream, sales, merchandise -- could mean millions. Russell says for him and his crew this was always business, and his people mean to get paid.
The first day of February the Smith family buried its paternal matriarch, Jean Smith. Later, Russell phoned Ross Smith to say Here Comes Rusty would premiere at the Atlanta Film Festival, long believed the most glamorous of achievable debuts.
"I remember calling him and he was just so, so excited. He's like, 'I'm pacing around. I'm walking in circles. I can't stop. What do we -- what do we do now?' I'm like, 'Now you just take an hour off. Relax.' He's like, 'Oh, yeah, yeah. I'm just gonna put the phone down now. I'm just going to relax.'"
"I found out later on he'd called more than everybody on the crew and told them congratulations."
"He called me," says Paulie Litt, the child actor who turns 21 today, "and the first thing he said was, 'We did it. We made it!' I said, 'You sure did. You made it.'"
For nearly all of them these were the last words they shared with the man who on set was the man.
That Wednesday morning, Feb. 3, a Blytheville friend, Gene Peppers, stopped by. He'd been helping Ross organize and pack for Austin, Texas, where he was meeting Russell. Peppers, according to the family, found Smith lying in bed with his legs crossed and one arm propped under his head and a finger on his laptop, working even in death.
The parents say it was an aortic aneurysm, a hemorrhage so cataclysmic it would explain the placid countenance.
EMPTY HOUSE
Later, as the reporter and Wally leave to drive over to Ross's house, Ann predicts "you'll feel his warmth, his energy." She hasn't stepped foot in the house since her son's death.
It is instead cold. Cluttered with the artifacts of a filmmaker's post-production work. A dry-erase board outlining Rusty's marketing plan stands on a desk, a stack of signed actor employment agreements on the counter, The Complete Guide to Distributing an Indie Film on the couch and an Off Camera magazine in unopened plastic next to a pack of menthols.
"Shut the door behind you," Wally demands, somewhat inscrutably.
In the den the bookshelves are glutted, and the most recent reads are stacked on a desk -- screenplays for Snatch and The Royal Tenenbaums, William Goldman: Four Screenplays with Essays and How to Write Dazzling Dialogue.
Then the bedroom. The deathbed is stripped, the comforter lumped onto a treadmill. Above the bed is an enormous painting done by his mother of three precious cat faces.
Upstairs is Hughes' room. The house, like the movie, presumably falls to him. Just as, outside, draped over a planter beside the front walk, there's an empty moose mascot costume from the movie he needs to pick up. Yes, there's a moose mascot in Here Comes Rusty. It's not an insignificant role.
And then there's the farm.
"I'm torn," Wally says, "because this is a small town, dying out, no place for a young single guy. He said he would come back and farm. My dream was always to farm with both boys."
Back at the big house, just sitting in the pickup, Wally says the Atlanta premiere earlier this month was all anyone could wait for. "I'd been running on this film premiere, and only now is it back to normal, and it never will be."
When Wally was working for the cotton miller Ross Hughes Jr., the family lost a daughter, Ann's sister, at the age of 19. He was sympathetic, but working alongside the man he calls his best friend, he just could not know the dad's despair. Could not.
Is this a reckoning, he wonders.
COMING ATTRACTIONS
Russell has submitted Rusty to film festivals from coast to coast, Chicago to London. This year, too, they'll only begin to learn what kind of return they'll make on the project. It takes two years, Russell says.
When Here Comes Rusty got its premiere April 3 at the Buckhead Theatre in Atlanta, "It was a great healing for everyone who was tight with Ross," Hampton says.
For Adams, the legacy of Rusty reminds her of fellow North Little Rock native Mary Steenburgen. Adams is the daughter of a lumber yard owner and a housewife, and Hollywood was Xanadu, but when she was old enough to drive she would park her car in front of Steenburgen's childhood home "and think, if she did it, I can do it."
"Had she not been from here, I don't know that I would have had the guts," and what she means by it all is this: "Kids in Blytheville are going to hear about Ross."
Leaving Blytheville, a gale kicks up a loamy squall that turns the horizon milky. The fields hugging the highway look sterile, though of course they aren't. The reporter has about as much sense of the growing season as a farmer does non-linear film editing.
"Do you believe in signs?" Ann had asked before receding finally into her house. "I hope Ross will come back and give me a sign."
Then she turns and fires. "You make him live!"
That is a team effort, he wishes he'd said, but not a long shot.
Style on 04/17/2016
Print Headline: Rabbit at rest
Sponsor Content