Michael Poore of Bentonville is an academic leader with a track record of success in complicated urban districts, state Education Commissioner Johnny Key said Tuesday about his choice to replace Little Rock Superintendent Baker Kurrus.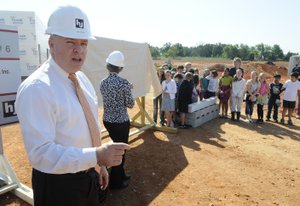 Photo by NWA Democrat-Gazette file photo
Michael Poore, superintendent of Bentonville Public Schools, speaks Sept. 28, 2011, during a ceremony for a new kindergarten through sixth grade school that was under construction near Central Park Elementary.
Key told reporters and others at a noon news conference in Little Rock that Poore, who resigned Monday as Bentonville schools superintendent to become the state-controlled Little Rock district's $225,000-a-year chief executive officer on July 1, has had a "stellar career," much of it in two Colorado school systems.
"He has a background of working with teacher unions, working in the community, working with the minority community, working with the poverty community, and he brought that experience to Arkansas," Key said. "And in the five years that he's been in Bentonville, he has been able to manage a district of tremendous growth."
Key, who was accompanied by Kurrus at the news conference, said Kurrus, 61, a Harvard-educated attorney and businessman, will continue working through June 30 when his $150,000-a-year contract expires.
"He is not being fired," Key said of Kurrus, who has headed the Little Rock district since May. He said Kurrus "did nothing wrong and did everything right" in setting the stage for the district's next leader.
"It is the end of the contract. It is time to shift from the work he has done to the work that a true, strong academic leader can do," Key said.
Later Tuesday in Bentonville, Poore told a group of administrators that he is excited about the challenge of running the Little Rock district.
"I've heard for two or three years in this state, nobody can go fix that district," Poore said. "Now, you all know it's not going to be me who fixes the Little Rock School District, but I'm going to make everybody help fix the Little Rock School District. That's my goal, and I think I'm going to get that done."
Poore choked up several times as he talked about accepting Key's offer of the Little Rock job.
Poore, who earns $209,500, said his decision wasn't about any kind of personal financial gain.
"It had to be about, is it the right thing in terms of what I think best utilizes my skills," Poore said. "It's all about a challenge, and it was a challenge I think that does fit me."
Key said work on a new Little Rock middle school on Ranch Drive near Don Roberts Elementary and a new high school in southwest Little Rock will continue to move forward under Poore's direction. The Bentonville district has opened three new schools during Poore's tenure, and it is in different stages of building three more, including a second high school.
Key said he is asking Poore to increase academic performance in the state's largest district, with about 24,000 students.
On Jan. 28, 2015, the Little Rock district was taken over by the state Board of Education, its elected school board was dismissed and its superintendent was placed under state direction. Those actions were taken because six of the district's 48 schools were labeled by the state as academically distressed. Fewer than half of the students at those schools scored at proficient or better on state exams over three years.
The commissioner said Tuesday that he also will ask Poore, 54, to establish partnerships with all area school districts, charter schools, and civic and community organizations to build support for public education.
The Arkansas Board of Education earlier this month directed that such a plan be developed after a weekslong debate over plans to expand the independently operated eSTEM and LISA Academy charter school systems within the Little Rock district. Kurrus had argued that the expansions would be detrimental to the traditional districts, but the Education Board approved them at a March 31 meeting.
Poore has experience in providing opportunities in career and technical fields to support students who go to college or directly into the workforce, Key said. The Bentonville superintendent's emphasis on school and business partnerships, through the Ignite program, makes it possible to put students in settings where they can learn workforce skills while also growing academically.
Key said he became familiar with Poore and his work when Key was in the Arkansas Legislature. He said it was his decision to make Poore the new superintendent but that he had talked with Gov. Asa Hutchinson about it. He notified state Board of Education members of the selection in recent days.
The state Education Board had to vote last year to approve Kurrus' appointment to the superintendent job because Kurrus does not have the legally required state licenses to be a teacher or superintendent. A state board vote is not required for Poore, who is state-licensed.
The Education Department on Tuesday emphasized Poore's leadership in developing a plan that provides direction for the Bentonville district.
That Northwest Arkansas district has 16,060 students -- of whom 500 are black, 1,722 are Hispanic, and 261 are American Indian or Pacific Islanders. The annual budget is $139 million. About 26 percent of students last year were from low-income families, compared with more than 70 percent in Little Rock. More than 80 percent of the Little Rock district's students are members of minority groups.
Poore, who said he has asked Kurrus to stay in some capacity, said he's interested in focusing not on what's wrong in Little Rock but on what the aspirations are among its residents.
"That's how you create a strategic plan," Poore said. "That's how we did it in Bentonville. And in my belief, that's the best way to create a plan to move forward in Little Rock."
Poore, whom Key described as having a servant's heart, has a bachelor's degree in history and teacher education from Colorado State University at Fort Collins, and a master's degree in curriculum, instruction and educational leadership from the University of Colorado at Colorado Springs. He has an educational specialist certificate from Harding University in Searcy.
He started his career in 1984 as a high school history teacher and coach in Colorado Springs, District 11. He later became an assistant principal, and from 1997 to 2002, he was a high school principal. He served one year as director of assessment and technology support there, as well.
He was superintendent of Sheridan, Colo., schools from 2003-07. That district had 1,700 students, and 90 percent of its elementary students qualified for subsidized school meals because of low family income. At least 45 percent of the students were English-language learners. The district was removed from the Colorado academic watch list in two years, according to Poore's resume, and he helped lead a successful campaign for voter approval of a bond issue.
From 2007 until his move to the job in Bentonville in 2011, Poore was deputy superintendent and chief academic officer in Colorado Springs, a district of some 60 public traditional, alternative and charter schools.
Poore and his wife, Marianne, a former Bentonville district employee, have been married nearly three years. Poore has three children of his own, and his wife has two, all of whom range in age from 21-27.
Poore's contract with the state to work in Little Rock is not yet final. A two-page draft contract is for a one-year commitment. It contains no performance or achievement goals for the new leader.
A lot of Tuesday's news conference at the state Education Department focused on Kurrus, who in the past 11 months had improved the district's chain of command, won concessions from employees, initiated two new schools, and worked generally to improve efficiency and increase savings in a district with a budget of more than $300 million.
Key said Kurrus was the one person who stood out in his mind last year when a replacement was needed for then-interim Superintendent Dexter Suggs Sr., who resigned in the midst of allegations he had plagiarized his doctoral dissertation.
Key said Kurrus "has worked night and day on the issues that needed to be tackled. I cannot brag enough about the work that Baker Kurrus has done since last May when he took on this role." He also said that the public reaction to Kurrus' leaving the job made it clear that there is "great love for Baker Kurrus. And I love him, too. I have asked him to either formally or informally stay engaged in the Little Rock district."
Kurrus said he and his staff will work with Poore, with whom he spoke Sunday, to get him up to speed on district operations, including with what Kurrus said were difficult and dynamic financial issues, as well as changes in the organization of the district employees.
Asked if he saw a connection between his argument against the expansion of charter schools and the expiration of his contract, Kurrus said he "didn't go there."
Asked if the expansion of the charters will derail the traditional district, Kurrus said the district is working to be the best it can be, to give parents options that they will accept and to enroll as many kids as "want to take advantage of the best district that serves this area."
"If you compare us apples to apples, and look at our results -- they are in the newspaper -- I think we have a pretty good story to tell, and it is getting better," he said.
Kurrus said he is taking a previously planned short vacation but will work hard through the end of his contract. He started his day Tuesday at 3:30 a.m. by feeding his dogs.
"If we could only have the enthusiasm of dogs," he said to a laugh at the news conference. "They get the same thing to eat every morning. They jump around, wagging their tails and say, 'Let's enjoy the day, let's make the most of what we have in front of us even if it is the same old Purina Dog Chow.
"That's kind of my attitude. I'm going to tear into every day from here on out. We're going to rip and run between now and July 1 and see where we end up."
Asked what his next job will be, Kurrus -- who served on the Little Rock School Board for 12 years -- said the past year has been a labor of love and that he wants to continue to be a help to the district.
"It's complicated. If you have been a business executive, you don't want to crowd anybody else. If I'm not in charge, I'm not in charge. I can play that role, but it is going to be tricky," he said.
The news of Kurrus' contract nonrenewal spread Monday, causing dismay among some employee, community and business groups, as well as some legislators.
On Tuesday, Bill Kopsky, the father of two district pupils and executive director of the Arkansas Public Policy Panel -- a group that has worked to build public involvement in the district -- called for Key to reverse his action on Kurrus, whom he described as the only superintendent that has led the turbulent district to academic gains in recent years.
"You are watching the dismantling of Little Rock as a functional, vibrant city," Kopsky said about the decision, which was made without consulting with district and city representatives. "It's just tragic. It's going to kill economic development, and it's going to kill any chance of struggling neighborhoods to come together."
The Little Rock Regional Chamber of Commerce issued a statement Tuesday expressing surprise and concern about Kurrus' departure and applauding his "selfless service and excellent results."
"His impact has been immensely positive, and he has set the district on a new and better path. His efforts should be used as a foundation for continued progress by the district," said the release issued under Chairman Jeff Hathaway's name.
The Little Rock Board of Directors on Tuesday night discussed a resolution expressing dismay about Kurrus' dismissal after less than a year of service during which the district saw "monumental steps towards stability and progress."
Information for this article was contributed by Dave Perozek of the NWA Democrat-Gazette and by Chelsea Boozer of the Arkansas Democrat-Gazette.
A Section on 04/20/2016
Jan. 25, 2011: The Bentonville School Board approves a three-year contract with Michael Poore, deputy superintendent of curriculum in Colorado Springs, Colo., School District 11, to become Bentonville's superintendent. He received an annual salary of $200,000.
July 1, 2011: Poore begins as Bentonville's superintendent.
Fall 2011: The board considers ways to alleviate overcrowding at Bentonville High School. Poore proposes building a separate facility for ninth-graders, an option that initially earns the board's support; however, the board soon changes course and opts to try for a second high school.
June 26, 2012: Voters deny the district's request for a 6.7-mill tax increase that would have raised $128 million for a second high school and other projects. About 58 percent vote against the proposal.
August 2012: The district opens its fourth middle school (Bright Field) and 10th elementary school (Willowbrook).
June 17, 2013: The board agrees to proceed with another attempt to build a second high school, this time proposing a 2.9-mill tax increase.
August 2013: The district opens its third junior high school (Fulbright). Twenty new classrooms at four elementary schools also open.
Sept. 17, 2013: The proposed 2.9-mill tax increase to build a second high school passes. About 70 percent of voters agree to it.
Feb. 17, 2014: Tension among board members flares up when rumors circulate at least some board members do not want to extend Poore's contract. Board member Rebecca Powers says Poore has been "bullied and abused" by other board members and that the process of evaluating him had become "corrupted."
Feb. 20, 2014: The board, after appearing deeply divided over the fate of Poore's contract, meets for hours of private discussion before voting unanimously to create a new three-year contract for him.
June 23, 2014: The board approves a new three-year contract for Poore, one that outlines specific goals for him to achieve in the upcoming year.
June 26, 2014: A proposal led by Poore to convert R.E. Baker Elementary School into a charter school fails to garner sufficient board support. A vote on the matter ends in a 3-3 tie.
Nov. 17, 2014: The board rejects proposed attendance zone changes at the elementary, middle and junior high levels, in part because of public dissatisfaction with Poore's plan.
June 29, 2015: The board approves a revised set of goals for Poore for the upcoming school year and extends his contract through June 2018.
Aug. 17, 2015: The board rejects proposed changes to the district's Equal Employment Opportunity policy, ending a debate that had played out over the previous four months.
Dec. 14, 2015: Poore and the elementary school principals convince the board to eliminate the district's two-calendar system starting next school year, despite some strong opposition.
Feb. 16, 2016: The board adopts new attendance zones for the elementary and middle school levels.
April 18, 2016: Poore informs the board he has accepted the job as superintendent of the Little Rock School District.