The announcement that Little Rock School District Superintendent Baker Kurrus' contract would not be renewed confused and upset state senators from the city, who said they received no warning or explanation.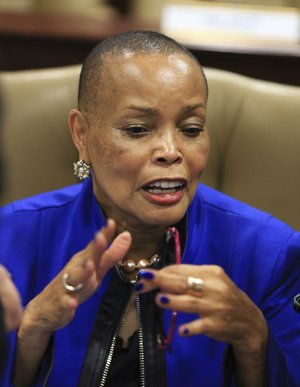 Photo by Staton Breidenthal
Sen. Joyce Elliott, D-Little Rock, talks with reporters Tuesday about her frustration over the state not renewing its contract with Little Rock School District Superintendent Baker Kurrus.
Some Little Rock lawmakers -- including Democrats key to a strategy to sidestep state senators opposed to the Medicaid expansion -- said the move had cost much of their faith in the governor.
"The timing was not ideal," Gov. Asa Hutchinson told reporters Tuesday afternoon.
Sens. Linda Chesterfield and Joyce Elliott, both Democrats from Little Rock, vowed to press the governor for an explanation for the change in leadership of the state-controlled district. The senators put a hold on the Department of Education's budget in order to visit with Education Commissioner Johnny Key, who serves as the Little Rock district's school board and was responsible for the decision.
Chesterfield and Elliott are retired teachers; Chesterfield, like Kurrus, also once served on the Little Rock School Board.
The two Little Rock senators stopped short of saying they would block a plan designed to win approval of some Medicaid expansion opponents.
"We're in the midst of negotiations. We want the 267,000 folks to maintain health care coverage -- no doubt about that," Chesterfield said. "We also want the 25,000 students in the Little Rock School District to also have stability."
However, she said, the governor's plan to line-item veto an amendment that would eliminate the Medicaid expansion requires trust between lawmakers and the executive branch.
News of the shake-up in the Little Rock district, which broke Monday night, came hours after Hutchinson visited the Legislative Black Caucus to lobby for his veto plan for the Medicaid expansion. Chesterfield, Elliott and others at the caucus said his visit helped build trust between them -- all Democrats -- and the Republican governor.
"Yesterday, the governor took time, he came, we talked, we had an exchange and I really felt very positive about that meeting," Elliott said. "But at the same time -- think of this -- the governor had to know while he was speaking with us and building trust on this issue what was happening on the back end. Surely, he knew."
They said their trust was shaken by the administration's move.
"Baker Kurrus has taken the time to know the schools. He's taken the time to know the students, the faculty, the parents and the community," Chesterfield said. "He is building trust and we are beginning to trust him and out of the blue of the western sky comes some guy from Bentonville we've never heard of. There is no cultural affinity between Bentonville and the Little Rock School District.
"I did not want Baker to come in, but I am so respectful of what he has done since he's been here," she added.
Around noon Tuesday, Chesterfield was seen sitting by the governor's office. The senator and the governor confirmed the meeting in the afternoon.
Hutchinson told reporters that Elliott and Chesterfield expressed frustration about a failure to communicate.
"I obviously want to be in the listening mode whenever you have Sen. Chesterfield, Sen. Elliott and others that are so invested in Little Rock School District," he said. "They're an important voice. I want my door to be open with them and I want to make sure that we do a better job of communicating with them."
Neither would discuss the meeting in detail.
The senators and the governor had different explanations for why the state did not renew Kurrus' contract.
"[Kurrus is] a businessman and he really was brought on at a time of transition," Hutchinson said. "He did an excellent job, but we have to transition from a business leader to an education leader, and that's what this transition is about."
The senators said they believed Kurrus was let go because he argued against expanding the LISA Academy and eStem Public Charter Schools systems. Kurrus had said the independently operated public schools draw higher-achieving, more affluent students, leaving the traditional district with fewer resources to educate a greater proportion of students with special needs.
Asked directly, Key and Hutchinson said the charters weren't the reason they decided not to renew Kurrus' contract.
"He dared to advocate for the children in the Little Rock School District, which is why he was hired as the superintendent in the first place," Chesterfield said. "I do believe that had he not taken the position that charter schools were evidently damaging the ability of the Little Rock School District to operate as it should, then I think he'd still be the superintendent."
Michael Poore, superintendent of the Bentonville School District since July 2011, will take Kurrus' place. Rep. Jim Dotson, R-Bentonville, said Poore has used charter schools to relieve some of the pressures caused by the area's soaring population, but a large, traditional high school will also open soon.
"He's worked pretty well hand-and-hand," he said.
Rep. Bruce Cozart, R-Hot Springs, who chairs the House Education Committee, said Tuesday morning that Kurrus' stance on charter schools "may have been one of the bites there."
"I think we're all kind of shocked and surprised, but don't understand the reasoning. I can understand why, because that's what the governor wanted to do, maybe a friend of his -- that's neither here nor there with me -- but I thought Mr. Kurrus was doing a good job, as I think a lot of people did. It's not my decision to make. I'm just kind of shocked," he said.
"I'm not sure where the governor stands completely on the charter schools -- if he's 100 percent sold on them -- but I know who some of the people he works with are. The Walton Foundation is big on charter schools, so that could have been. I don't know. That's speculation on my part."
Dotson said Poore is known in Northwest Arkansas for spearheading a program called Ignite, which allows high school students to receive specialized job training, including concurrent college credits.
Poore works well with the community and pulls parents and students together, Dotson said.
"We'll severely miss him. We're kind of devastated," he said. "I can't say enough good things about him."
Tony Wood, superintendent of the Jacksonville/North Pulaski School District and a former education commissioner, said Kurrus is also a rare leader.
"He's an extraordinary individual, in regard to integrity, character, intellect. Capable, capable, capable," he said. "Look at the tenure he gave to Little Rock as a board member.
"There's infinite needs, but there's finite resources," he added.
That's why the district needs a good leader, he said.
As soon as a news conference with Key and Kurrus ended Tuesday, the education commissioner left the room, but Kurrus shook hands with those in the audience before walking out the front door.
"I live here," Kurrus said. "Unlike other superintendents who may have been here before, but gone somewhere else, I live here. I'll be here."
Metro on 04/20/2016