HOUSTON -- As more than a foot of rain deluged the nation's fourth-largest city, inundating homes, shutting down highways and leaving at least six people dead, Houston's mayor said there was no immediate solution.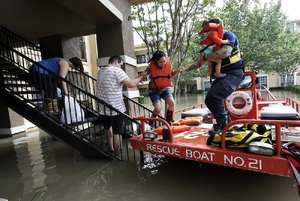 Photo by DAVID J. PHILLIP / AP
Residents are evacuated from their apartment complex Tuesday in Houston. Storms have dumped more than a foot of rain in the area, flooding dozens of neighborhoods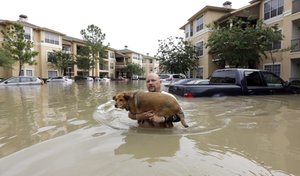 Photo by DAVID J. PHILLIP / AP
Louis Marquez carries his dog Chocolate through floodwaters Tuesday after rescuing the dog from his flooded apartment in Houston.
Flash flooding and a 50 percent chance of more rain were possible after nearly 18 inches fell in 24 hours. The National Weather Service had the area under a flash flood watch through this morning.
"A lot of rain coming in a very short period of time, there's nothing you can do," Mayor Sylvester Turner said Monday.
Scores of subdivisions were flooded, and most schools remained closed, although the city itself was returning to normal Tuesday. Municipal offices reopened Tuesday, and by midmorning, fewer than 10,000 CenterPoint Energy customers were without power, an improvement from 24 hours earlier when electricity failures topped 100,000. Houston's Metropolitan Transit Authority resumed service, and most highways within the city were open.
Outside the city and into the suburbs of northwest Harris County, runoff from Monday's rains pushed creeks over their banks and forced more people to evacuate their homes overnight.
In addition to its location, Houston's "gumbo" soft soil, fast-growing population and building boom that has turned empty pastures into housing developments all over the city's suburbs make it vulnerable to high water.
Harris County has seen a 30 percent jump in population since 2000. Its surrounding counties have grown by nearly 10 percent since 2000, according to the Greater Houston Partnership, a business group.
Some of the resulting developments include adequate greenspace for water runoff, but not all of them do, said Philip Bedient, an engineering professor at Rice University.
"Could we have engineered our way out of this?" Bedient asked. "Only if we started talking about alterations 35 or 40 years ago."
Rainstorms last year over Memorial Day weekend caused flooding that required authorities to rescue 20 people, most of them drivers, from high water. Drivers abandoned at least 2,500 vehicles, and more than 1,000 homes were damaged by flooding.
The year before, flash flooding in Houston and suburban counties left cars trapped on highways.
Still, those storms pale in comparison with the devastation from Hurricane Ike in 2008 and Tropical Storm Allison in 2001. Allison left behind $5 billion in damage and flooded parts of downtown and the Texas Medical Center, which sits near the Brays Bayou, a key watershed.
Jeff Evans, the National Weather Service's chief meteorologist for Houston, said Monday's soaking and the 2015 Memorial Day deluge were the second- and third-biggest rain events on record after Allison, which dumped more than 30 inches of rain on parts of the city over two days.
He said the El Nino weather phenomenon, caused by heightened surface temperatures in the eastern Pacific, could "be a player in why we've had so many big rain events this year."
Evans said rain fell in some places Monday at a rate of 3-4 inches per hour.
"No matter what drainage system you build, anything will struggle with that kind of volume in that short a time," he said.
Bedient has worked with the Texas Medical Center on better preparing its facilities for large rainfalls. Those preparations include the use of a sophisticated weather alert system that gives the medical center extra time to activate gates and doors that block excess rainwater.
Improving the monitoring of specific watersheds and flood-prone areas might give affected residents the extra bit of time they need to save lives and take protective measures.
"We can't solve this flood problem in Houston," Bedient said. "All we can do is a better job warning."
The upper-level low that took heavy rain to Texas will pump moisture into Arkansas, although National Weather Service forecasters say the state will not see the deluge that Houston and Dallas saw.
Weather service meteorologist Charles Dalton of North Little Rock said the state should see "garden-variety" showers and light thunderstorms through Thursday evening. No severe weather is expected, he said.
"There are no signals of strong convection or heavy rain in this," he said. "We could see some impulses sparking off a few thunderstorms, but nothing severe."
Rain entered Arkansas late Monday and will move slowly east across the state. The southern half of the state should see more rainfall, although accumulations may not top 1-2 inches total, he said.
Dalton said remnants of the system should cross the Mississippi River by Friday.
He said meteorologists are watching another system that could bring heavier storms to the state by midweek next week.
Information for this article was contributed by Michael Graczyk, Nomaan Merchant and Frank Bajak of The Associated Press; and by Ken Heard of the Arkansas Democrat-Gazette.
A Section on 04/20/2016