The Arkansas House of Representatives on Thursday narrowly approved and sent to the governor a measure that, through political and procedural maneuvers, is aimed at preserving funding for the state's Medicaid expansion. Gov. Asa Hutchinson promptly vetoed a part of the bill that would have stopped the funding.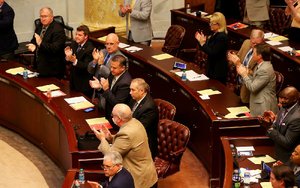 Photo by Stephen B. Thornton
House members stand to applaud adoption of a resolution honoring the late Ray Thornton on the floor of the House at the state Capitol on Thursday. Thornton, who died April 13, served the state in many roles, including as a congressman, university president, attorney general and Supreme Court justice.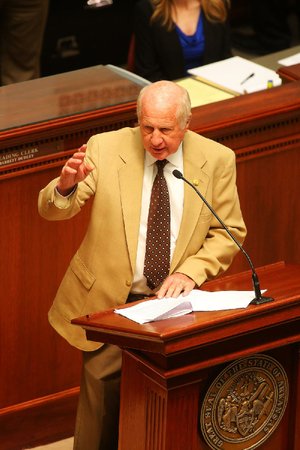 Photo by Stephen B. Thornton
Rep. Kim Hendren, R-Gravette, speaks against Senate Bill 121 on the floor of the House on Thursday at the state Capitol in Little Rock. Hendren said he supported the Medicaid expansion but opposed the tactics needed to pass the bill to fund it.
By a vote of 76-13, the House approved Senate Bill 121, the appropriation for the Medical Services Division, which includes authorization to use federal dollars to pay for private health insurance for poor Arkansans. The bill was amended Wednesday in the Senate to "sunset" -- or end -- that Medicaid expansion spending on Dec. 31 of this calendar year.
The House tally -- which had one more vote than the 75 needed to pass an appropriations measure -- was taken with the full knowledge that Hutchinson planned to use a line-item veto to remove the sunset provision and allow funding for the Medicaid expansion, now called Arkansas Works, to continue.
Hutchinson advocated the line-item strategy so the expansion's opponents could vote for a bill that ended the funding. Later that afternoon, Hutchinson made good on his promise and vetoed that portion of the bill, which will now go back to the Senate, where only a simple majority is needed to uphold or overturn a veto.
In a special session earlier this month, the 100-member House voted 70-30 for the changes in the Medicaid expansion that create the Arkansas Works program.
But on Thursday, eight Republicans who voted against the enabling legislation for the Arkansas Works program voted for SB121. One Republican, Rep. Karilyn Brown of Sherwood, voted "present" but later filed a letter with House officials stating she meant to vote "yes." Of two Republicans who voted for the enabling legislation, one voted no and the other voted present Thursday.
Shortly after marking his line-item veto, which effectively preserves funding for the state's Medicaid expansion, Hutchinson said he was pleased by the bipartisan support for the funding bill.
"My goals have been to have some stability in [the] Arkansas health care system. I believe we accomplished that objective," Hutchinson said. "My goal is to accomplish it without dragging this out at length. That has happened, it seems, in times past. We wanted to minimize the debate, minimize the controversy." Thursday was the ninth day of the fiscal session.
In the Senate, opponents said they plan to attempt to override the veto on the Legislature's return Tuesday -- a possibility that many, including the governor, felt was unlikely.
"We are confident that there is a majority vote to sustain the veto," Hutchinson said.
SB121 would give the state an $8.4 billion spending authority through its Department of Human Services' Medical Services Division, reserving about $1.7 billion for the state's Medicaid expansion next fiscal year. The bill also includes spending authority for a range of Medicaid programs.
It was first defeated in the Senate last week when it failed to reach the three-fourths majority needed for passage. Then an amendment was adopted that stated funding of the Medicaid expansion would cease by the end of the year -- an amendment that allowed opponents of the program to vote for its eventual demise -- and the bill squeaked through the Senate on Wednesday by a 27-2 vote, the bare minimum needed.
Just like Wednesday in the Senate, the bill was debated on the House floor Thursday.
Rep. Robin Lundstrum, R-Springdale, voted against SB121, arguing it put too much of an onus on the taxpayer.
"Are we choosing to take a path to becoming a welfare state? Today is not a day for high-fives or slaps on the back. Today we are choosing failure over success," Lundstrum said. "We should always measure success in government not by how many citizens we help but by how many citizens don't need our help. Growing government is never a good or healthy goal for our state. ... We are taking a step towards the march of federal control and government expansion."
Rep. Laurie Rushing, R-Hot Springs, was one of the eight House Republicans who voted against the Arkansas Works enabling legislation in the special session but who voted yes for SB121.
"While I personally disagree and believe we can do better than Arkansas Works. ... I will not vote to cut or defund [the Department of Human Services] because I personally disagree with one program," Rushing said. "The beauty is ... those of us who voted no and were opposed ... we have accomplished what we asked for. ... We all know [Hutchinson] is willing to use the line item veto, but he's willing to put that burden [of continuing the Medicaid expansion] upon himself."
The Medicaid expansion now covers about 267,000 Arkansans, most of whom are now covered by the private option, which takes federal money to buy private insurance coverage. The program extended medical coverage to those with incomes at 138 percent of the poverty level: $16,394 for an individual or $33,534 for a family of four.
With Arkansas Works, Hutchinson made changes to the plan that encourages work and personal responsibility for enrollees.
The state's Medicaid expansion, up until now, has been wholly paid for by the federal government. On Jan. 1, the state will start paying 5 percent of the cost and by 2020, will shoulder 10 percent of the cost. State officials said that Arkansas will pay $43 million in fiscal 2017 to match the federal funds.
Hutchinson said that failing to continue the Medicaid expansion program would create a "hole" of more than $100 million in the state budget, a gap he said would lead to cuts in key state services and one that would stop him from calling a special session for his plan to increase state spending on highways as a way to secure more matching federal highway dollars.
The Medicaid expansion has been divisive among Republicans since a trio of Republican senators worked with then-Gov. Mike Beebe, a Democrat, to create and pass the private option in 2013. It took several House votes in 2013 and 2014.
In the first Senate action on SB121 last week, 10 Republican senators voted against the bill.
The plan to overcome the opposition from the 10 senators via line-item veto was difficult to accept, at least initially, for lawmakers on both sides.
The first effort in committee to add a funding ban to SB121 left many Democrats, who support the Medicaid expansion, conflicted about voting against something they championed, as well as ceding their work to the governor.
During the floor debate Thursday, Rep. Kim Hendren, R-Gravette, the father of the amendment's sponsor, Sen. Jim Hendren, R-Sulphur Springs, said he supported Arkansas Works and the governor but that he did not like process -- being asked to vote for ending something he stood behind and wait for Hutchinson's veto to restore it.
"My no does not mean no and my yes does not mean yes because of this bill, the way it's written," Hendren said. "That's how we start doing the right thing in the wrong way, ladies and gentlemen. It just confuses me and everybody. ... [By voting yes, lawmakers are] accepting a precedent for your kids, and my kids ... that we should not be doing."
Kim Hendren voted no but said he would have voted yes if it appeared that his vote would have been the difference between passage and failure.
After the vote, Hutchinson said he enjoyed Kim Hendren's floor speech, in which the legislator read a back-and-forth email exchange between him and his son. Kim Hendren's wife is Hutchinson's sister.
"Rep. Hendren said what he needed to say on the floor," Hutchinson said. "In terms of this effort, the key thing was transparency. There hasn't been any hiding the ball. Everybody today knew exactly what they were voting on, why they were voting on it, what they were trying to accomplish with it."
House Speaker Jeremy Gillam, R-Judsonia, said the line-item veto, though unusual, wouldn't leave any ill feelings among lawmakers about the legislative process.
"I think this shows the state just how business can be done between the legislative branch and the executive branch. ... That's exactly what they want us to do, is to work together to solve problems," Gillam said. "This [strategy] wasn't something ... you'll see often, probably in my legislative career, I think it will be the one and only time it will ever happen. I don't foresee it as ceding authority to the governor because we can override the governor."
With the fate of the program settled, for now at least, some legislative leaders hope that this is the last time a fiscal session grinds to a halt over its funding.
Gillam said he has no issue with legislators debating the merits of the policy of Hutchinson's plan in the future, but he is hopeful that future fiscal sessions won't be used as a chance to debate policies set in previous sessions.
"It is my hope that we're going to be able to pivot from these kinds of discussions on appropriations and debates ... [to discussions on] actual, substantive reforms," Gillam said. "My hope is we ... move away from this kind of brinkmanship ... with DHS' budget. ... It's imperative to us that we give [the Human Services Department] some stability and consistency."
House Minority Leader Michael John Gray, D-Augusta, said he thinks both parties are fatigued by impasses over appropriations for the state's Medicaid expansion and that this may be the last such fight.
"I think everyone hopes so. ... I think Arkansans hope so," Gray said. "Seems like this national rhetoric [used by opponents of Arkansas Works] is getting old. As our districts get educated on all the ramifications of these budget issues surrounding these appropriations, I hope this puppy is put to bed."
Rep. Bob Ballinger, R-Hindsville, an opponent of Arkansas Works and the private option before it, said he thinks such fights will persist.
"Of course [it will continue]. We're supposed to provide oversight and scrutiny," Ballinger said. "I'm disappointed by how the process kind of broke down and switched to the veto thing because it thwarted that debate. I think it's possible that if people are reasonable and if it causes people to have to compromise, I think that makes for better government."
The House will reconvene Tuesday at 1:30 p.m. The Senate will reconvene on Tuesday 1 p.m.
Information for this article was contributed by Brian Fanney of the Arkansas Democrat-Gazette.
A Section on 04/22/2016
House vote on Senate Bill 121
Here's how the House voted Thursday on an amended SB121 to grant $8.4 billion in spending authority for state and federal funds, including $1.7 billion for the Medicaid expansion, to the Department of Human Services' Medical Services Division in fiscal 2017.
Seventy-five votes were required for approval in the 100-member House.
YEA (76)
Charlie Armstrong, D-Little Rock
Eddie Armstrong, D-North Little Rock
John Baine, D-El Dorado
Scott Baltz, D-Pocahontas
Rick Beck, R-Center Ridge
Camille Bennett, D-Lonoke
Charles Blake, D-North Little Rock
Justin Boyd, R-Fort Smith
Ken Bragg, R-Sheridan
David Branscum, R-Marshall
Mary Broadaway, D-Paragould
Charlie Collins, R-Fayetteville
Andy Davis, R-Little Rock
Jana Della Rosa, R-Rogers
Dan Douglas, R-Bentonville
Trevor Drown, R-Dover
Lance Eads, R-Springdale
Les Eaves, R-Searcy
Jon Eubanks, R-Paris
Joe Farrer, R-Austin
Deborah Ferguson, D-West Memphis
Ken Ferguson, D-Pine Bluff
David Fielding, D-Magnolia
Charlene Fite, R-Van Buren
Lanny Fite, R-Benton
Vivian Flowers, D-Pine Bluff
Jeremy Gillam, R-Judsonia
Bill Gossage, R-Ozark
Michael John Gray, D-Augusta
Michelle Gray, R-Melbourne
Kim Hammer, R-Benton
Ken Henderson, R-Russellville
Mary "Prissy" Hickerson, R-Texarkana
David Hillman, D-Almyra
Monte Hodges, D-Blytheville
Mike Holcomb, R-Pine Bluff
Doug House, R-North Little Rock
Joe Jett, D-Success
Bob Johnson, D-Jacksonville
Jack Ladyman, R-Jonesboro
Sheilla Lampkin, D-Monticello
Greg Leding, D-Fayetteville
Tim Lemons, R-Cabot
Kelly Linck, R-Flippin
Fred Love, D-Little Rock
Mark Lowery, R-Maumelle
Stephen Magie, D-Conway
Julie Mayberry, R-Hensley
Mark McElroy, D-Tillar
George McGill, D-Fort Smith
Ron McNair, R-Alpena
Reginald Murdock, D-Marianna
Micah Neal, R-Springdale
Milton Nicks, Jr., D-Marion
Betty Overbey, D-Lamar
Rebecca Petty, R-Rogers
Mathew Pitsch, R-Fort Smith
James Ratliff, D-Imboden
Chris Richey, D-West Helena
Laurie Rushing, R-Hot Springs
Warwick Sabin, D-Little Rock
Sue Scott, R-Rogers
Matt Shepherd, R-El Dorado
Brandt Smith, R-Jonesboro
James Sorvillo, R-Little Rock
James Sturch, R-Batesville
Brent Talley, D-Hope
Dwight Tosh, R-Jonesboro
Clarke Tucker, D-Little Rock
DeAnn Vaught, R-Horatio
John Vines, D-Hot Springs
John Walker, D-Little Rock
Dave Wallace, R-Leachville
Jeff Wardlaw, D-Hermitage
David Whitaker, D-Fayetteville
Marshall Wright, D-Forrest City
NAY (13)
Bob Ballinger, R-Hindsville
Donnie Copeland, R-North Little Rock
Gary Deffenbaugh, R-Van Buren
Mickey Gates, R-Hot Springs
Justin Gonzales, R-Okolona
Justin Harris, R-West Fork
Kim Hendren, R-Gravette
Robin Lundstrum, R-Springdale
Josh Miller, R-Heber Springs
John Payton, R-Wilburn
Marcus Richmond, R-Harvey
Nelda Speaks, R-Mountain Home
Dan Sullivan, R-Jonesboro
PRESENT (11)
Nate Bell, R-Mena
Mary Bentley, R-Perryville
Karilyn Brown, R-Sherwood
Bruce Cozart, R-Hot Springs
Jim Dotson, R-Bentonville
Charlotte Douglas, R-Alma
Grant Hodges, R-Rogers
Lane Jean, R-Magnolia
David Meeks, R-Conway
Stephen Meeks, R-Greenbrier
Richard Womack, R-Arkadelphia